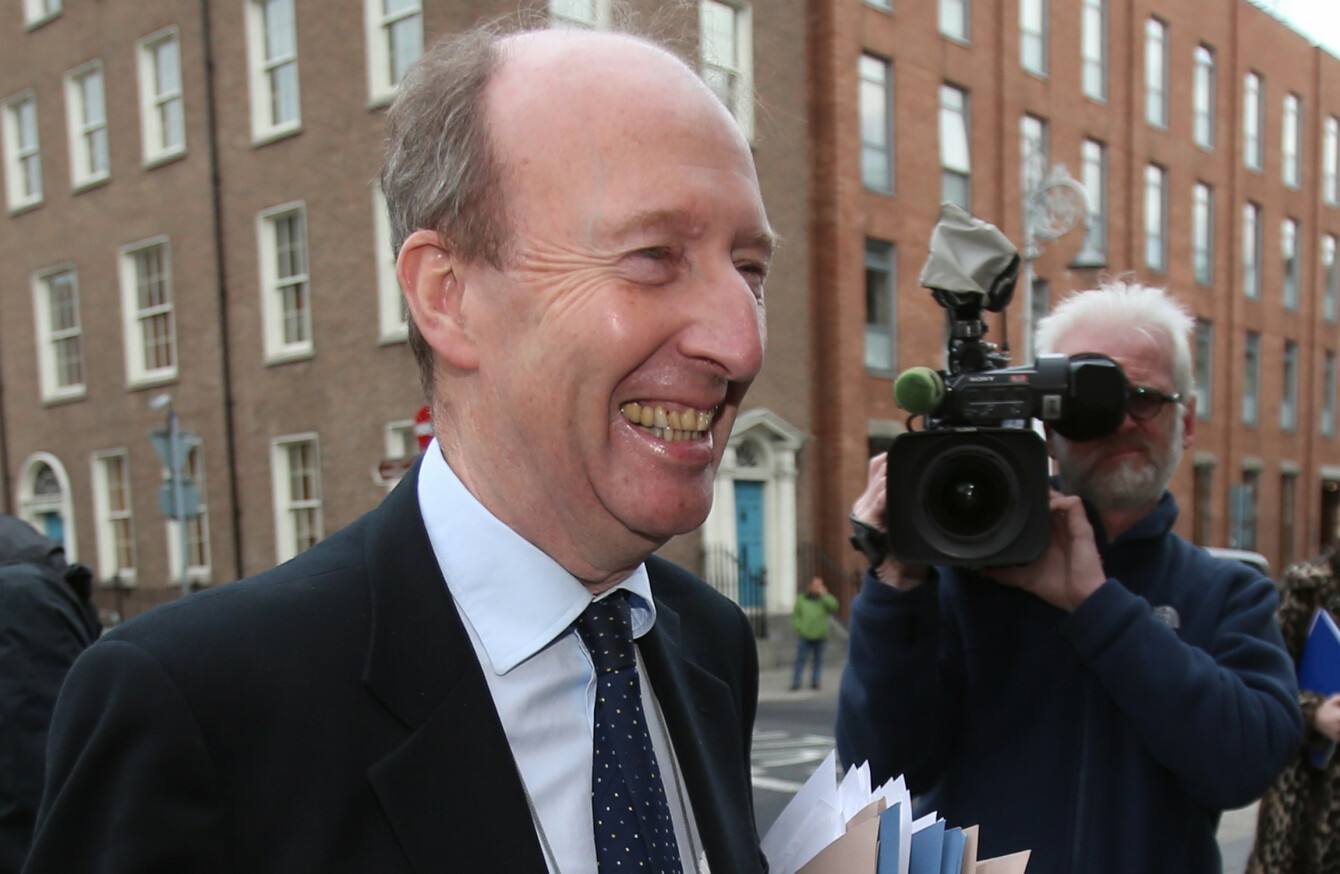 Minister Shane Ross
Image: Niall Carson/Press Association
Minister Shane Ross
Image: Niall Carson/Press Association
TRANSPORT MINISTER SHANE Ross has said he is "very pleased" the Fine Gael party have ruled out a free vote on his new drink driving legislation.
Fine Gael TDs and senators will not have a free vote on the controversial new law, after a majority of members agreed to a "united approach to supporting the Bill".
The new law will result in anyone caught driving over the legal alcohol limit getting a minimum three-month ban.
Currently, anyone with a full license caught driving with an alcohol level between 50mg and 80mg is liable to three penalty points on their license and a €200 fine.
The Bill was discussed at the Fine Gael parliamentary party meeting this evening, where it is understood 24 contributors spoke about the proposed Road Traffic Bill, with many asking for the party whip not to be imposed.
During the summer, the Taoiseach Leo Varadkar said all Fine Gael ministers would have to support the Bill, but it is understood he was anxious for all Fine Gael members to show united front on the issue and avoid a free vote.
'Mature decision'
Minister Shane Ross told TheJournal.ie this evening that he is happy that Fine Gael made a "mature decision" to support his Bill.
He said he is now confident his Bill will make it through the House, despite Fianna Fáil stating they will not support it.
"Fianna Fáil are still against it, I hope they will come around," said Ross.
Fianna Fáil argues that the current measures should be strengthened, by increasing penalties to five penalty points and a €500 fine. It does not approve of a three-month driving ban.
A member of his own group, the Independent Alliance member Sean Canney, has also indicated that he will not be supporting the Bill.
The minister said it had been flagged to him that a number of TDs in the Fine Gael party had concerns with the Bill, but he said clearly they had "come around" to the idea.
"This means it should go through unamended," he said.
"I am very pleased this evening. Ultimately, this Bill is about bringing in new measures that will save lives," he added.
The Fine Gael party chairman, Martin Heydon, did undertake to explore what measures could be introduced to strengthen rural transport links in general.
A number of TDs, such as Fianna Fáil's Robert Troy and Junior Minister Brendan Griffin, have stated that rural transport must be improved, so that those living in the country can go to the pub and return home safely.
Both TDs have also floated the idea of giving publicans tax breaks and incentives to provide transport to bring their customers home, however, the idea has been shot down by the minister.
Ross said meetings have been held with stakeholders, such as the Irish Vintners Association, the Irish Farmers Association, Irish Rural Links and the National Transport Authority in bid to come up with concrete ideas of how to help with rural isolation.
"We recognised that pubs are closing down in rural areas. I want to preserve the social life of those who live in rural Ireland, and if we can, we will come with some concrete solutions," he said.
The Bill will be introduced next Thursday, with Ross stating he is confident it will progress very quickly.