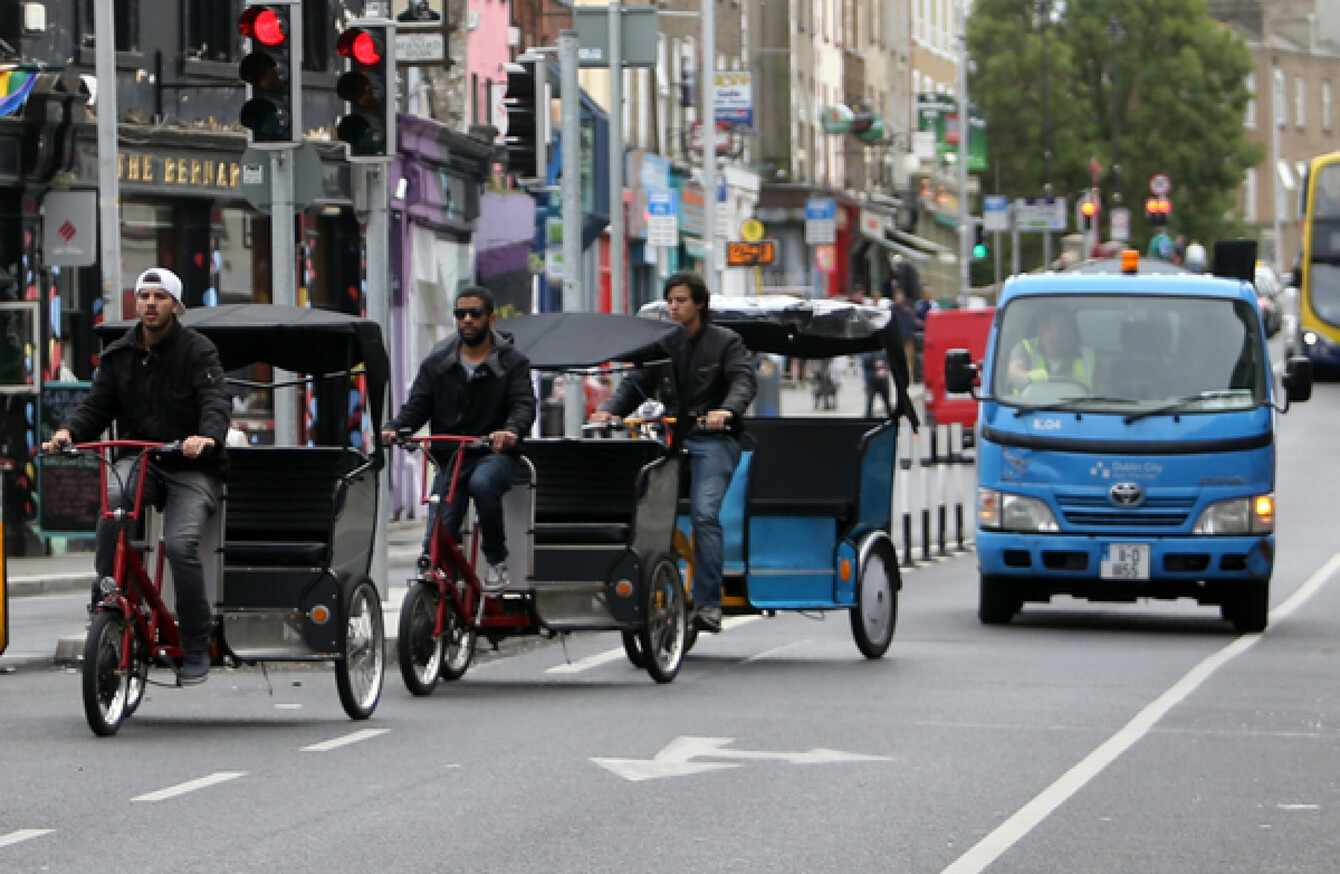 MINISTER FOR TRANSPORT Shane Ross has proposed an outright ban on rickshaws due to safety concerns and because of the costs of regulating the sector.
Speaking before the Oireachtas transport committee today Minister Ross outlined a range of concerns about rickshaws including dangerous driving, passenger safety and criminality.
The minister said that 154 rickshaw drivers have been arrested under the Misuse of Drugs Act in the Pearse Street District alone over the past 18 months.
Despite these concerns Ross stopped short of confirming that there will be an outright ban, saying he will announce a preferred policy decision before the end of the Dáil term.
"It is clear to me that the choice is between a full and effective licensing regime and complete prohibition. Retaining the status quo is not an option," he said.
The minister said he favours prohibition because of the significant resources that would be needed to regulate the sector, these include introducing a licensing scheme, controlling fares and enforcing penalties for offences.
He outlined how an outright ban requires fewer resources than attempting to regulate rickshaws.
The minister revealed that the National Transport Authority (NTA) wants to regulate the mode of transportation but the Department of Transport wants them banned.
He also recounted two rickshaw journeys he took as part of his research in which the drivers broke numerous rules, including driving on the footpath and driving on the wrong side of the road.
"We nearly lost you minister," Cork North Central TD, Mick Barry, quipped.
Sinn Féin TD Imelda Munster queried the minister's preference for banning rickshaws, asking if it was motivated by "laziness".
"Every other country has managed to regulate rickshaws," she said.
It's the pure lazy option to ban them, try and keep up with other countries.
The comment was strongly rejected by the minister who said that rickshaws are banned in London.
Rural bus link
During the committee Minister Ross also faced a grilling on the late night rural bus service pilot scheme.
Independent Cork TD Michael Collins said the scheme was "designed to fail" because, finishing up at 11pm, it will bring people home too early.
"This will benefit your constituents,"  Ross responded, "You're saying it's only in a small way. Why don't you take a small way for a start?"
Ross later said that he will ask the NTA to look at extending the schedule until later in the night.
The minister also had a lengthy and heated exchange with Kerry TD Danny Healy-Rae over the bus service and the Road Traffic Bill, which aims to increase penalties for those caught drink-driving.
The discussion culminated with Ross accusing Healy-Rae of not responding to his contact when he visited Kerry and thanking the Independent TDs brother Michael, who was not present, for giving him an extensive tour of the county.
Healy-Rae angrily said that the minister only contacted him on the morning he arrived.