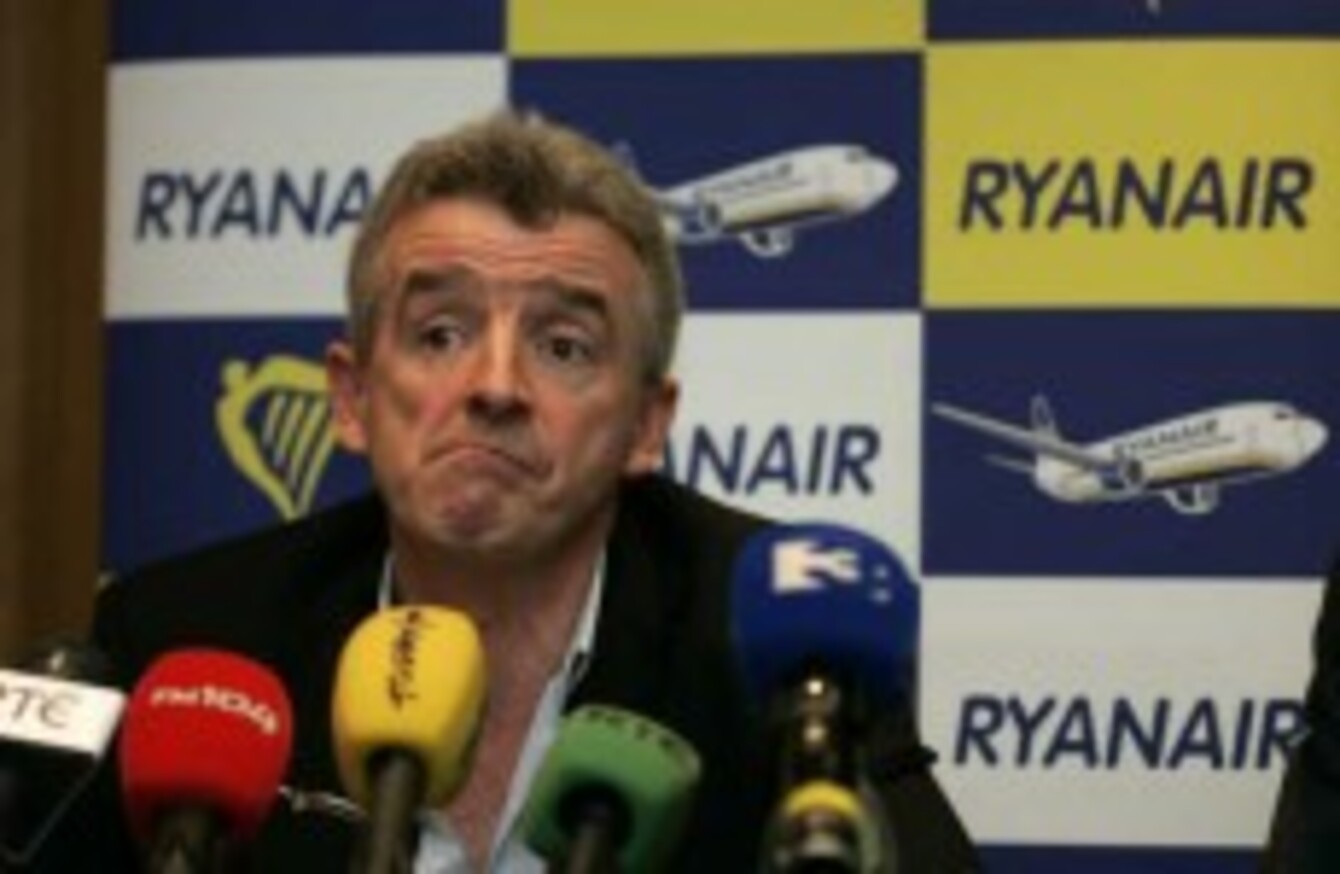 Michael O'Leary slams Shannon Airport Authority in a letter to Clare County Council
Image: Eamonn Farrell/Photocall Ireland
Michael O'Leary slams Shannon Airport Authority in a letter to Clare County Council
Image: Eamonn Farrell/Photocall Ireland
MANAGEMENT AT SHANNON Airport has refuted claims that it is pricing itself out of existence, stating that Ryanair is making false statements based on "self-serving untruths."
The remarks were made by a spokesperson for the airport after a letter was received by Clare County Council from Ryanair CEO Michael O'Leary, in which he slated the council, as well as the airport's operators.
In his letter, O'Leary claims that passenger numbers will fall below 1.5 million in 2011. According to Gordon Deegan's report in the Irish Examiner, the controversial CEO said that traffic at Shannon continues to implode because of increased charges.
Dismissing the details in Friday's letter, the spokesperson for Shannon Airport said that Ryanair had requested €4.70 be paid to them for each passenger they delivered to the airport.
"Ryanair's letter to local councillors is self-serving and has no basis in fact," the airport's management told TheJournal.ie. According to the spokesperson, passenger charges have only increased by €1.58 in late 2010 after a six-year price freeze.
"It is both bizarre and ironic considering that Ryanair, in accusing the airport of over-pricing, has itself recently introduced a compulsory €2 each-way 'improbability charge' for all passengers," continued the spokesperson.
Ryanair had claimed that the DAA, the airport's operators, increased its charges by 33 per cent in November 2010.
Clare County Council
Local councillors in Shannon did not escape the scathing attack by O'Leary. He was writing in response to a motion passed in July by the Council to call on the airline to deliver on its promise to increase passenger traffic at the airport.
According to a report by Owen Ryan in the Clare Champion, the CEO wrote, "Perhaps Clare County Council should, at its next meeting, allocate some time to understanding why traffic at Shannon Airport has and continues to collapse and how growth could be restored instead of passing useless and erroneous resolutions requesting Ryanair to deliver upon an invented commitment that was never made, on the basis of the abolition of an air travel tax, which has not been abolished."
Ryanair also reiterated its calls for the abolition of the air travel tax. Minister Leo Varadkar said last week that he is still waiting on assessments and responses from airlines before making a decision on whether or not to get rid of the €3 charge.