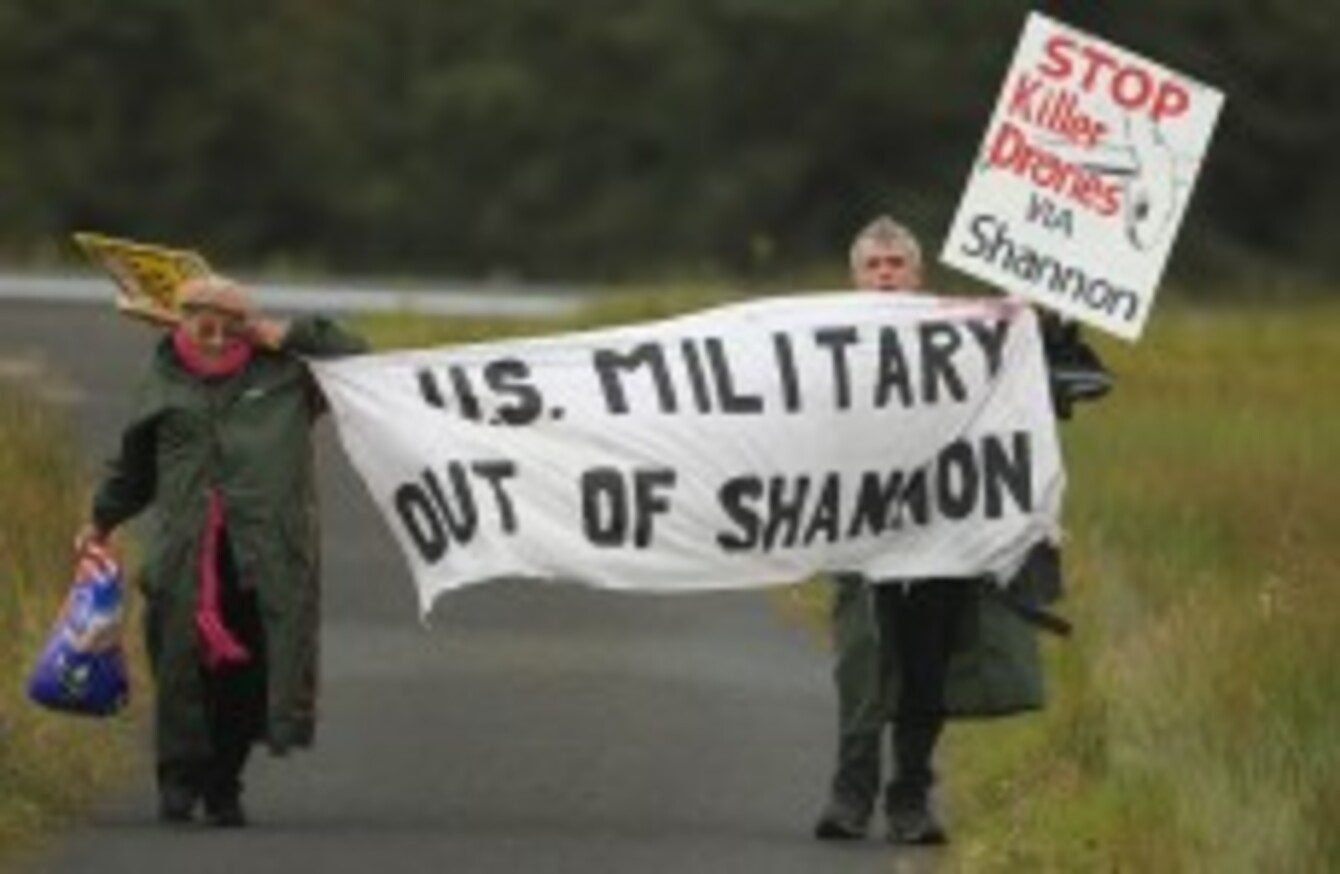 File photo of Shannon Peace activists Niall Farrell and Margaretta D'arcy attempting to block the runway of Shannon Airport
Image: Niall Carson/PA Wire
File photo of Shannon Peace activists Niall Farrell and Margaretta D'arcy attempting to block the runway of Shannon Airport
Image: Niall Carson/PA Wire
THE JUSTICE MINISTER tonight said that it would "not be appropriate" to comment on the rights and wrongs of jailed 79-year-old anti-war activist Margaretta D'Arcy.
Responding in the Dáil to a Topical Issues motion about D'Arcy, Shatter said that the only way D'Arcy could be released was if she signed a pledge to not enter restricted areas of Shannon Airport, something she has thus far declined to do.
Deputies Eamon O'Cuiv, Mick Wallace, Clare Daly and Richard Boyd-Barrett all spoke on the motion, each calling on Shatter to intervene in the matter, particularly stressing D'Arcy's battles with cancer and Parkinson's.
O'Cuiv said that D'Arcy's detention in Limerick Prison "sends out the wrong signals", while Daly, who appeared as a witness in D'Arcy's trial, called it a "national scandal".
Boyd-Barrett and Wallace both urged Shatter to examine the use of Shannon Airport by the US military.
Shatter said that the issue was not about an individual's right to protest, rather about upholding the law.
"I have to say that encroaching on an airport runway is a very serious and very dangerous act. It potentially places the lives of those who encroach at risk. It also puts the lives of the gardaí, airport workers and airplane passengers in danger. It is a highly irresponsible act and cannot be justified by adherence to any cause."
Shatter then took aim at his counterparts.
No one is above the rule of law no matter what their age. To those who call for the individual's immediate release I ask should this individual by future action on her own or accompanied by others again be permitted to again encroach on a runway?
"Are you prepared to give a free pass to those who so behave and, by so doing, place lives at risk and the law in disrepute?"