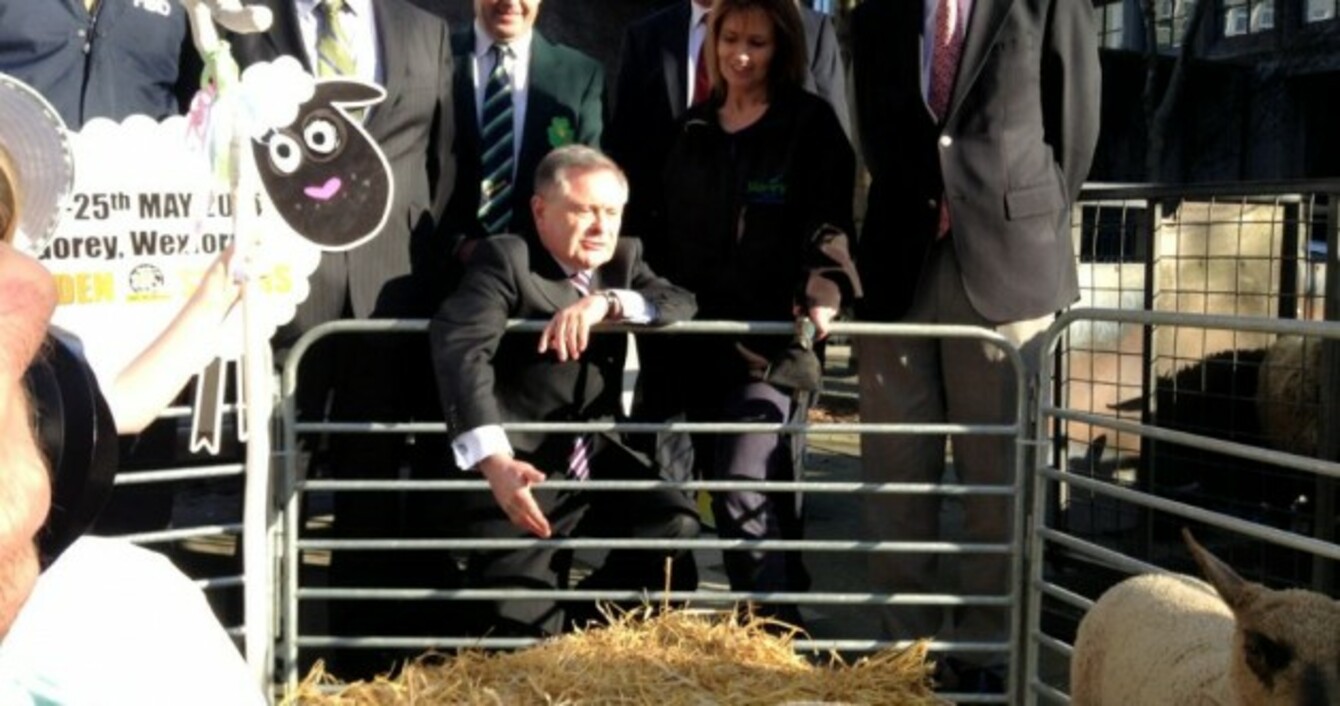 Image: Daragh Brophy/TheJournal.ie
Image: Daragh Brophy/TheJournal.ie
"I WOULDN'T BE too quick… they're a little frisky."
— The advice of Public Expenditure Minister Brendan Howlin to his cabinet colleague, the Agriculture Minister, this afternoon.
Howlin had already been in the glare of the cameras on Kildare Street for a good ten minutes before Simon Coveney's arrival at the photo-op — arranged to promote next month's Golden Shears world sheep-shearing championships in Gorey.
In spite of a press release that had raised the prospect of some ministerial sheep-shearing, so far none had transpired — much to the disappointment of the various assembled members of the fourth estate.
A pen — complete with mini-haystacks, mini-sheep (lambs, for the agricultural experts amongst our readership) and a patient looking 'Little Bo Peep' — had been set up near the front doors of the Department of Agriculture. Next to it — a larger, shepherdess-less version, containing some more mature, slightly woollier mammals.
Howlin had arrived at around half-five, completed the required round of glad-handing, and spent several minutes posing for photos next to the lamb enclosure — without at any point looking the least bit interested in relieving any livestock of their winter attire.
The excitement stepped up a notch with Coveney's arrival, however.
In spite of his Cabinet colleague's 'frisky' warning — within seconds the Fine Gael TD (and holder of a B Sc. in Agriculture and Land Management) had his jacket off, his shirt sleeves rolled up, and a sheep by the neck, in a masterful grip.
When the moment of truth arrived, however, the Cork deputy also passed up the chance to demonstrate his skills.
"I'll leave it to the expert," Coveney offered — after posing for photos with the electric clippers firmly in the 'off' position. "It's a while since I've done it."
"Have you done it before?" enquired Howlin.
"Of course. I'm from a good agricultural background."
(Youtube:
TheJournal.ie
)
With that, it was back to the Department for Minister Howlin — as he left his ministerial colleague to indignity of the lamb enclosure, and a few final livestock-themed poses.
As a passing garda had been casting a bemused eye over the whole affair — TheJournal.ie decided to enquire if everything had been carried out strictly in line with the law.
I'm not entirely sure… Don't you have to be a Freeman of Dublin to do this sort of thing?"
Nevertheless, the officer seemed happy enough to let it slide.