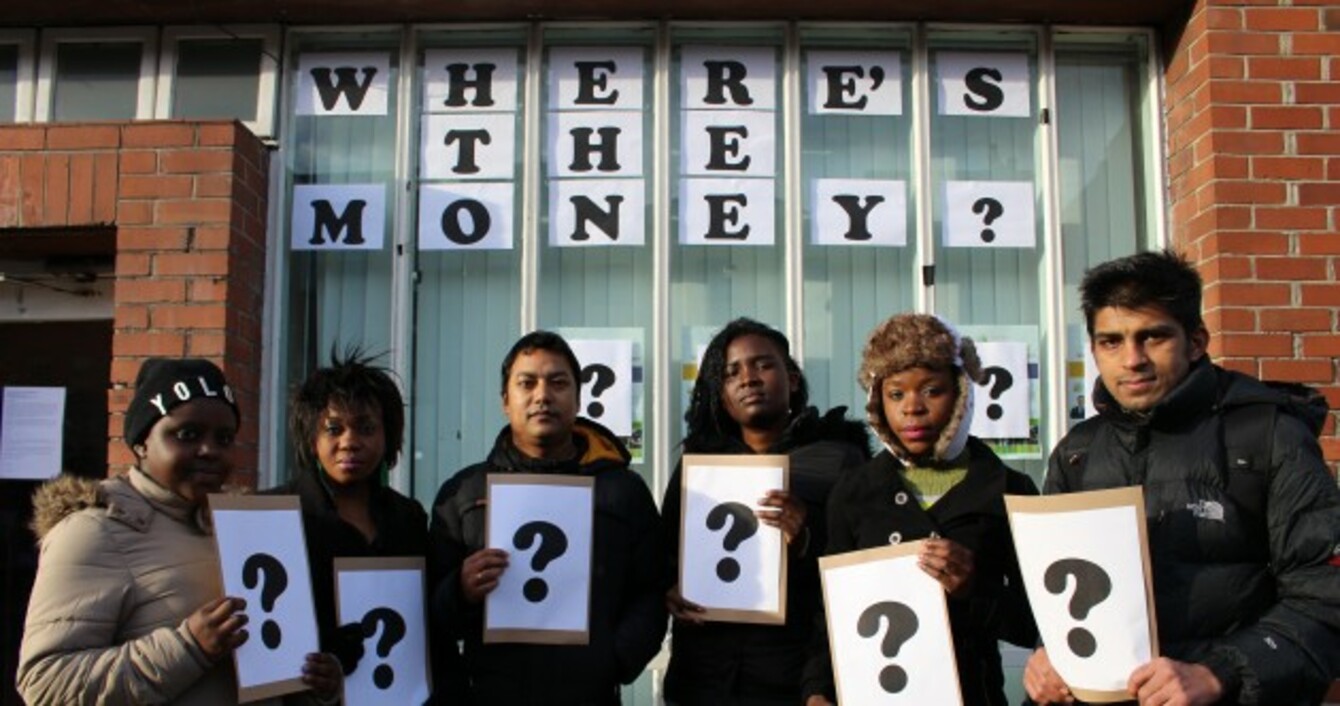 Updated: 18.48
STUDENTS HAVE HELD a vigil outside the closed doors of Shelbourne College in Dublin this morning following the revelation that they could be owed up to €500,000 from the college.
RTÉ reports that the private college, which closed its doors last November, is alleged to owe over half a million euro to international students from India, Nepal, Malawi, Bangladesh and other developing countries.
Many students paid out fees of between €4,000 and €5,000.
Dave Moore from the Irish Council for Overseas Students (ICOS) joined some of the college's students at the vigil at 11am outside the deserted college building on Dublin's Camden Street.
Today it emerged that the college has applied for voluntary liquidation. The Irish Naturalisation and Immigration Service (INIS) has said the college will be "immediately removed from the Internationalisation Register", which means that no immigration permission will be issued in respect of it.
In a statement released this evening, INIS said it is "aware of allegations that the college has failed to refund monies due to certain students whose visa applications were refused".
"While INIS cannot comment on specific allegations regarding refund of fees it is understood that some funds remain outstanding and the affected students should continue to pursue this issue with the college.
INIS has previously put Shelbourne College on notice requiring that confirmation be provided that students entitled to a refund had received that refund as required under the immigration rules and in accordance with the college's refund policy. INIS has pursued this matter with the management of the college since this issue came to its attention. INIS will be in further contact with the appropriate Garda authorities in relation to this matter.
The council said that arrangements for students affected by the closure of the college will soon be available online. Students currently residing in Ireland should visit the INIS's site, while others should contact the Non-EEA Student Taskforce.
Not re-opening
Moore said today was the proposed date set for the re-opening of the school in another location.
Students in Ireland were promised in November that the college would re-open on this date. Since then, all evidence has pointed to the contrary – but today is a final reckoning with the realities.
Here we are on the 12th of January outside a deserted building. The staff have heard nothing to follow up on the promises, the students have heard nothing to follow up on the promises.
Moore said upwards of 150 students have been affected.
Moore said that all of those affected are hoping Irish authorities will pursue an urgent answer and "bring some justice to this terrible situation".  
"To make sure this type of situation can never happen again, ICOS reiterates the need for escrow arrangements for up-front student fees to protect visa applicants for private colleges."
Suffering
Faith Chitosnga arrived in Ireland from Malawi four months ago to study social healthcare management. Her parents had save for years to pay about €3,500 in fees.
Along with other students present at the vigil, she called for the Government to step in. She had one message for the managers of the college, who have been uncontactable since November:
Please, wherever you're hiding, we need that money. We suffered to raise that money. You can't just take our money and go – it's not fair. Wherever you are, please give us back our money, we're suffering.
#Open journalism No news is bad news Support The Journal

Your contributions will help us continue to deliver the stories that are important to you

Support us now
Despite what's happened, she said she is "very hopeful" her money will be refunded.
Nabin Shahi, who is representing 23 of the Nepalese students affected, does not share her optimism.
He ran a company that helped students travel to Ireland to study. He said the students he is working on behalf of are collectively owed €91,850.
"Each and every day they ask me when will I get the money, but I don't have an answer … I'm not hopeful."
Additional reporting: Christina Finn
Originally published: 9.36