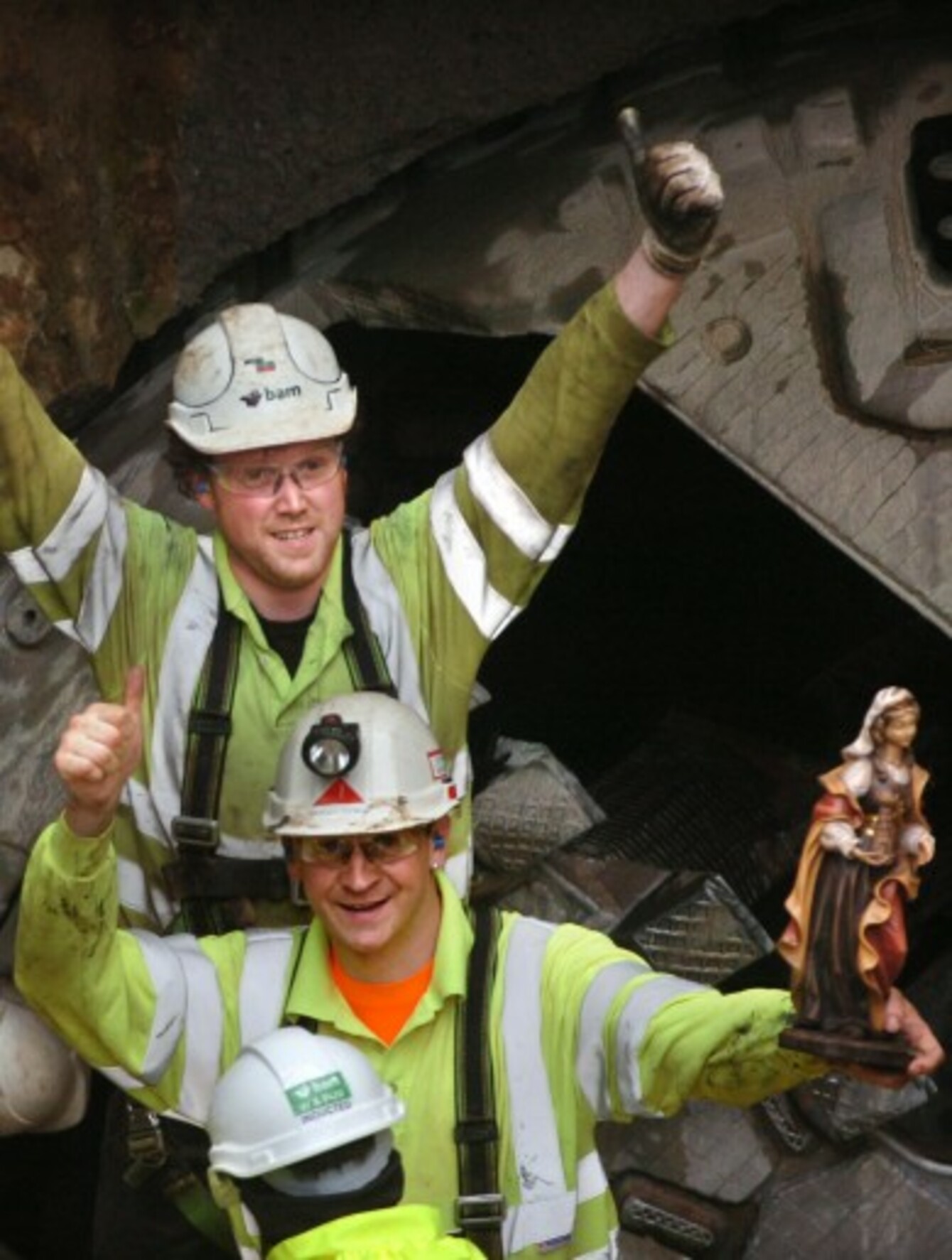 Tunnellers Thomas Healy , Glenamoy, and Thomas Gander. Austria, with a statue of St Barbara.
Image: Henry Wills
Tunnellers Thomas Healy , Glenamoy, and Thomas Gander. Austria, with a statue of St Barbara.
Image: Henry Wills
THE COMPLETION OF the longest tunnel in Ireland is being celebrated by Shell Ireland – but the works have not been without disruption or tragedy.
The construction of the 4.9 kilometre-long tunnel has been mired in controversy over the years with many residents and activists protesting to stop the building of the pipeline and the tunnel that runs under Sruwaddacon Bay, a special area of conservation.
The tunnel, which will house the onshore section of the Corrib gas pipeline, is located in county Mayo and has surpassed – by 300 metres – the Dublin Port Tunnel as the longest tunnel in Ireland.
The tunnel will be used to connect the previously laid 83 kilometres offshore pipeline from the Corrib Field to the Bellanaboy Bridge Gas Processing Terminal.
Excavation of the Corrib tunnel started in January 2013 using a German designed tunnel boring machine (TBM) called 'Fionnuala'.  The 140-metre long TBM and its crew have been working around the clock, drilling through rock, sand and clay at depths of between 5.5 metres and 12 metres under Sruwaddacon Bay.
Emerging from the tunnel after breaking the final metres of rock, Shell worker Thomas Gander held up a small statue of St Barbara.
Speaking to TheJournal.ie, a spokesperson for Shell said that St Barbara is the patron saint for tunnelers.
"The project is a joint venture between BAM Civil and Wayss & Freytag, who are based in Germany. Before every tunnel dig there is usually a blessing. In November 2013, there was a blessing in Mayo and the TBM was christened 'Fionnuala' because the area has a connection to the Children of Lír," he said.
He explained that once the final rock had been broken, Gander brought out the statue. "It is a tremendous sense of achievement for the workers to complete the tunnel," he explained.
The spokesperson explained that now the tunnel is complete, work will begin in the next few weeks to install the gas pipeline. Gas testing will then be carried out with flow of gas to begin by 2015, he said.
Also speaking to TheJournal.ie, Shell to Sea activist Maura Harrington said:
Shell can celebrate all they want, but the fight is by no means over.
She noted that there were a number of court cases coming down the line in relation to the Corrib pipeline and a final decision would be made then on the project.
She also mentioned that it was timely to remember Lars Wagner who died while working on the construction of the tunnel in September of last year.
The 26-year-old had worked as a subcontractor to the firm building the tunnel and was part of the machine maintenance support crew on the TBM.
Wagner would have celebrated his birthday yesterday.