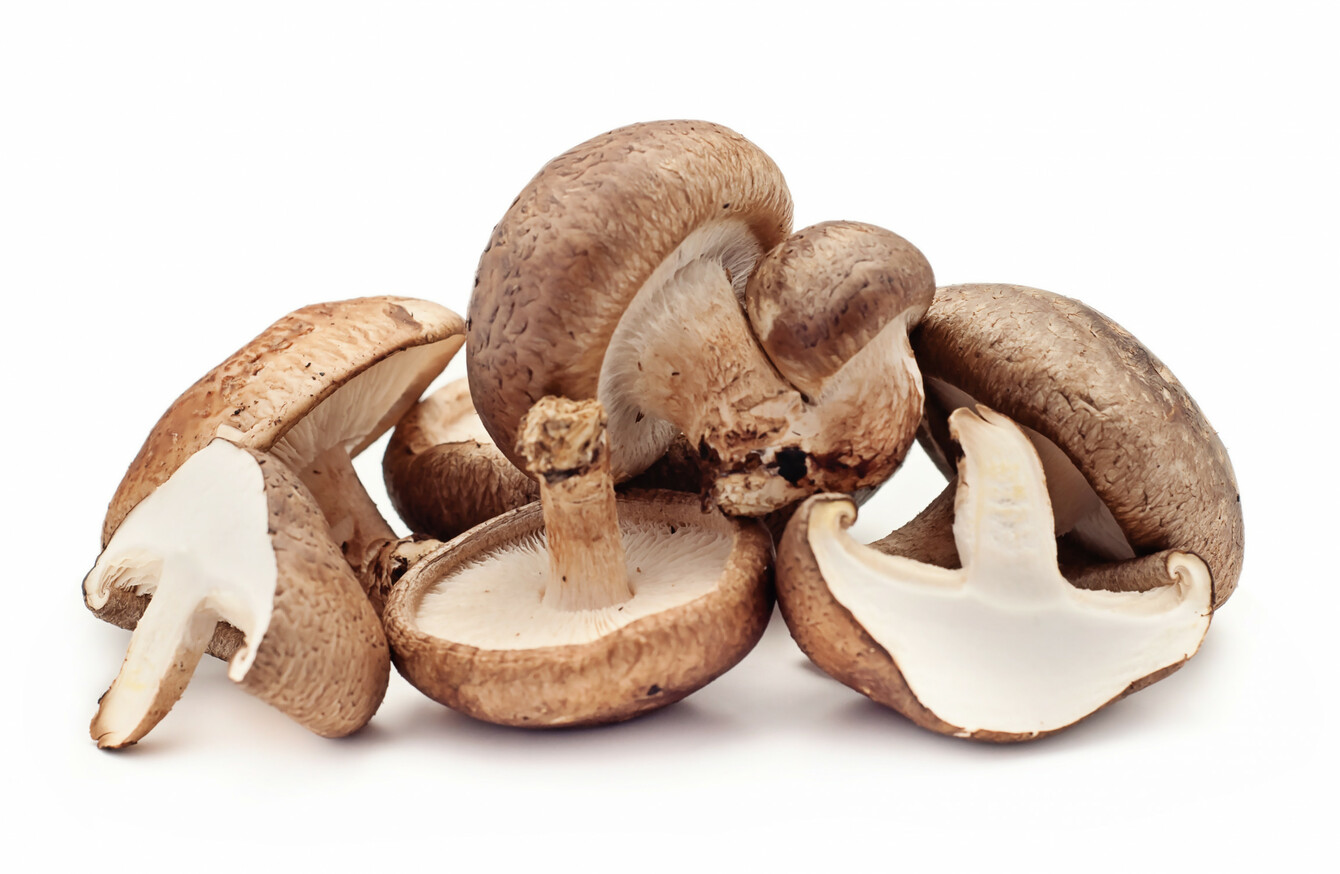 Shiitake mushrooms
Image: Shutterstock/Emily Li
Shiitake mushrooms
Image: Shutterstock/Emily Li
SHIITAKE MUSHROOMS MAY hold the cure to tackling bacterial infections, such as pneumonia and sepsis, according to researchers in Athlone IT.
Following a five-year joint research effort between AIT's bioscience research institute and NUI Galway, scientists discovered they can exploit the immune stimulation properties of shiitake mushrooms to address the emergence of antibiotic-resistant bacterial strains.
"We've managed to successfully harness the immune-priming properties of medicinal mushrooms to treat lower respiratory tract infections caused by bacteria, such as Klebsiella pneumoniae, that possess multiple resistances to antibiotics," said Professor Neil J Rowan, Director of the Bioscience Research Institute at AIT. 
Reachers were investigating the use of beta-1-3, 1-6-D-glucan – a naturally occurring sugar found in the cell walls of fungi – to combat chronic bacterial infections, such as sepsis and pneumonia, which led to the development of a new therapeutic innovation.
"Pneumonia is one of the most common causes of acute lung injury and respiratory distress syndrome and accounts for 5% of deaths in Ireland – yet no specific therapy exists. Meanwhile, seven people are dying of 'silent killer' sepsis every day. Our findings have the capacity to radically transform our approach to dealing with antimicrobial resistance and human illness more generally," Rowan said. 
Emma Murphy, a doctoral candidate undertaking research at AIT has developed the world's first biotechnology process capable of producing high purity quantities of this fungal compound, suitable for intravenous usage.
The research team is now in the process of exploring commercial development of the process for scale-up.
#Open journalism No news is bad news Support The Journal

Your contributions will help us continue to deliver the stories that are important to you

Support us now
Rowan hopes this discovery will also tackle the overuse of antibiotics which he says has contributed to the "dramatic spread of sophisticated multiple drug-resistant bacterial pathogens that, if left unchecked, could cause a global disaster".
In less than 30 years, antimicrobial resistance could cause even more deaths than cancer. The findings from this research, which exploits the immune stimulation properties of exotic medicinal mushrooms, could be the key to addressing this increasingly global problem.
It is hoped that future research may be extended to exploring the potential of this new therapeutic intervention to help patients with Chronic Obstructive Pulmonary Disease and for people living with Cystic Fibrosis – a chronic lung condition that causes the overproduction of mucus in the lungs.