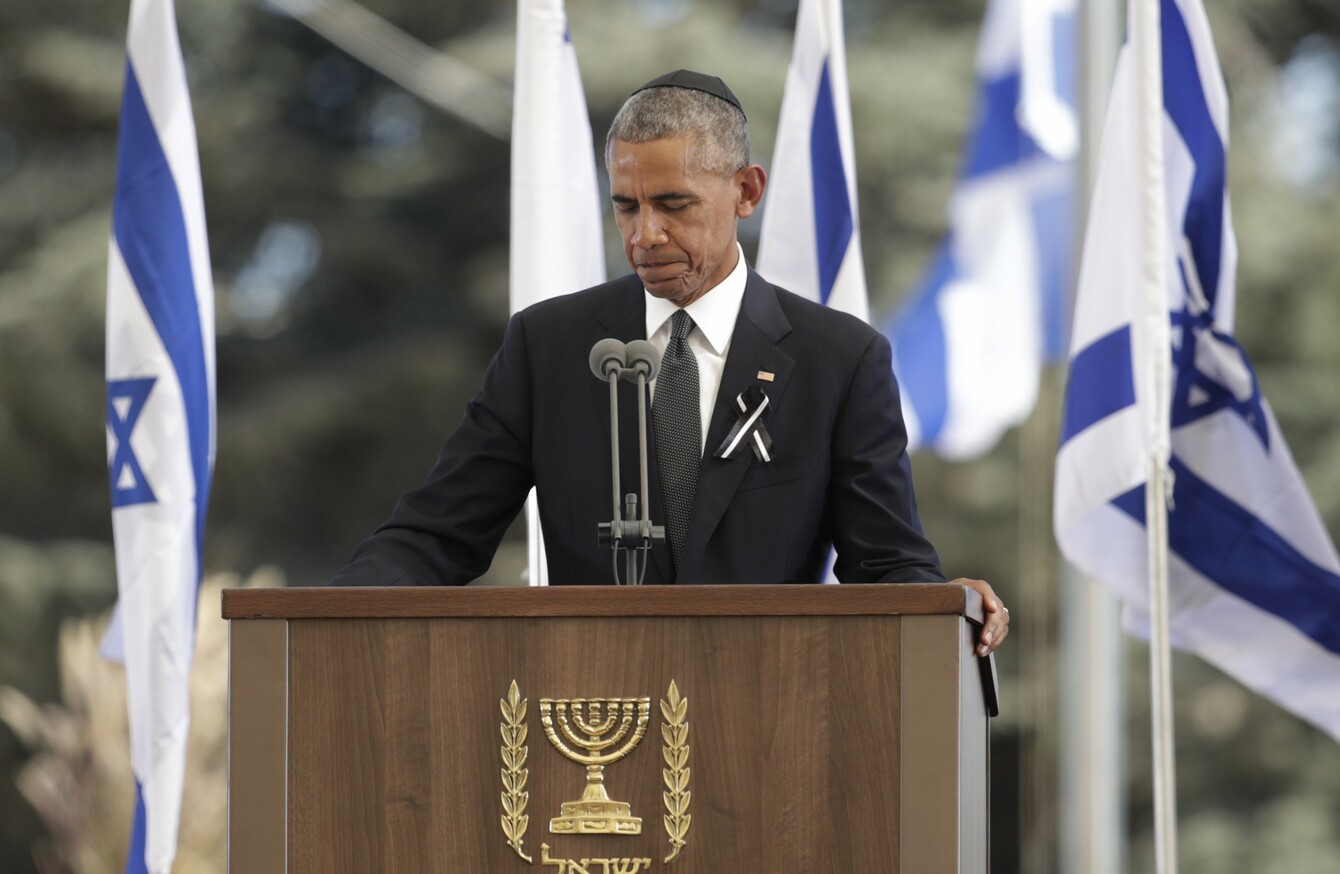 US President Obama speaks at the funeral of former Israeli President Shimon Peres earlier today.
Image: Carolyn Kaster
US President Obama speaks at the funeral of former Israeli President Shimon Peres earlier today.
Image: Carolyn Kaster
WORLD LEADERS BID farewell to Israeli former-president and Nobel Peace laureate Shimon Peres at his funeral in Jerusalem today.
"In many ways he reminded me of some other giants of the 20th century that I had the honour to meet: men like Nelson Mandela, women like Her Majesty Queen Elizabeth," said US President Barack Obama, who wore a black Jewish skullcap at the ceremony.
Current Israeli President Benjamin Netanyahu hailed his one-time rival, and recalled a late-night discussion the two men had on Israel's security and future.
Netanyahu was seen with tears in his eyes at the ceremony after earlier telling mourners that Peres was a "great man of the world" and had "lived a life of purpose".
He soared to incredible heights. He was a great man of Israel, he was a great man of the world. Israel grieves for him, the world grieves for him, but we find hope in his legacy, as does the world.
Former US president Bill Clinton was also among those who paid their last respects there, appearing moved as he stood in silence before the coffin.
Clinton had helped usher in the Oslo peace accords between Israel and the Palestinians in the 1990s, which resulted in the Nobel prize for Peres.
He also spoke at the funeral, giving a warm eulogy in which he said Peres's "critics often claimed he was a naive, overly-optimistic dreamer. They were only wrong about the naive part."
A brief peace
Netanyahu and Palestinian president Mahmud Abbas also shook hands and spoke briefly at the funeral today in a rare public encounter between the two men.
On Wednesday, Abbas described Peres as a "brave" partner for peace.
Abbas negotiated with Peres and signed the Oslo peace accord of 1993, which earned Peres the Nobel prize alongside Israeli prime minister Yitzhak Rabin and Palestinian leader Yasser Arafat.
Abbas was seated in the front row of the funeral, reportedly at the request of Peres's family.
Obama, who has had a testy personal relationship with Netanyahu, made a point of mentioning Abbas at the start of his eulogy and said his "presence here is a gesture and a reminder of the unfinished business of peace."
Obama said later, speaking of Peres, that "the Jewish people weren't born to rule another people, he would say".
Security forces were on high alert as the funeral began, with roads closed and thousands of officers deployed.
Some 70 countries were represented, with the range of leaders illustrating the respect Peres gained over the years in his transformation from hawk to committed peace advocate.
Ireland is represented at the funeral by Minister for Foreign Affairs and Trade, Charlie Flanagan who described Peres as "a visionary".
"Mr. Peres was a visionary who recognised that the two-state solution is a paramount interest for the people of Israel," Flanagan said.
"I hope that his life and his leadership will inspire political leaders committed to establishing lasting peace in the region to make that aspiration a reality."
President Michael D Higgins said that Peres would "be remembered for his courage that saw him change course from confrontation to reconciliation".
Shimon Peres' life and political actions were shaped by his deep commitment to his ideals, by his wisdom and by dedication to his country and to peace in the region.
The death of Peres on Wednesday at the age of 93 drew tributes from around the world for Israel's last remaining founding father.
An estimated 50,000 people filed past his coffin as it lay in state outside parliament in Jerusalem throughout yesterday.
The funeral took place under a white canopy in the leafy national cemetery, where many Israeli dignitaries are buried.
Around 8,000 police were deployed for the commemorations. Preventative arrests of both Jews and Palestinians were made ahead of the funeral to avoid potential disruptions, police said.
"We are dealing with an operation on an unprecedented scale," said police chief Roni Alsheikh.
The last time such an event was held in Israel was the 1995 funeral for Yitzhak Rabin, Peres's rival in the Labour party but partner in negotiating the Oslo accords.
Peres will be buried next to Rabin, who was assassinated in 1995 by a Jewish extremist opposed to the accords.
Criticism from Arab nations
In a career spanning seven decades, Peres held nearly every major office, serving twice as prime minister and as president, a mainly ceremonial role, from 2007 to 2014.
He won the 1994 Nobel Peace Prize jointly with Rabin and Palestinian leader Yasser Arafat for his role in negotiating the Oslo accords, which envisioned an independent Palestinian state.
He was also an architect of Israel's nuclear programme, with the country now considered the Middle East's sole nuclear-armed nation, though it has never declared it.
While Peres is hailed in the West as a peacemaker, many in the Arab world, including among the Palestinians, regard him a "war criminal".
They have cited his involvement in successive Arab-Israeli wars, the occupation of Palestinian territory and his support for settlement building before his work on Oslo.
He was also prime minister in 1996 when more than 100 civilians were killed while sheltering at a UN peacekeepers' base in the Lebanese village of Qana fired upon by Israel.
Islamist movement Hamas, which runs the Gaza Strip, condemned Abbas for offering condolences to Peres's family, saying it "disregards the blood of the martyrs and the suffering of the Palestinian people".
There have been very few tributes from Arab nations, though Egyptian Foreign Minister Sameh Shoukry was attending the funeral.
Egypt and Jordan are the only two Arab countries to have signed peace treaties with Israel.
Rise to political power
Born in Poland in 1923, Peres emigrated to what was then British-mandated Palestine when he was 11.
He joined the Zionist struggle and met David Ben-Gurion, who would become his mentor and Israel's first prime minister.
Peres became director general of the nascent defence ministry aged just 29.
After leaving office as president, he had sought to maintain an active schedule, particularly through his Peres Center for Peace.
He was hospitalised in January for heart trouble, but said he was eager to return to work upon leaving.
In March, he met British supermodel Naomi Campbell at his Peres Center for Peace during an event linked to International Women's Day. On the same day, he met visiting US Vice President Joe Biden.
Despite his reputation as a statesman, Peres never managed to outright win a national election. Many in Israel opposed to the Oslo accords also blamed him for what they saw as their failure.
But in later life, especially during his time as president, he came to be widely embraced.
© – AFP 2016 with reporting by Rónán Duffy