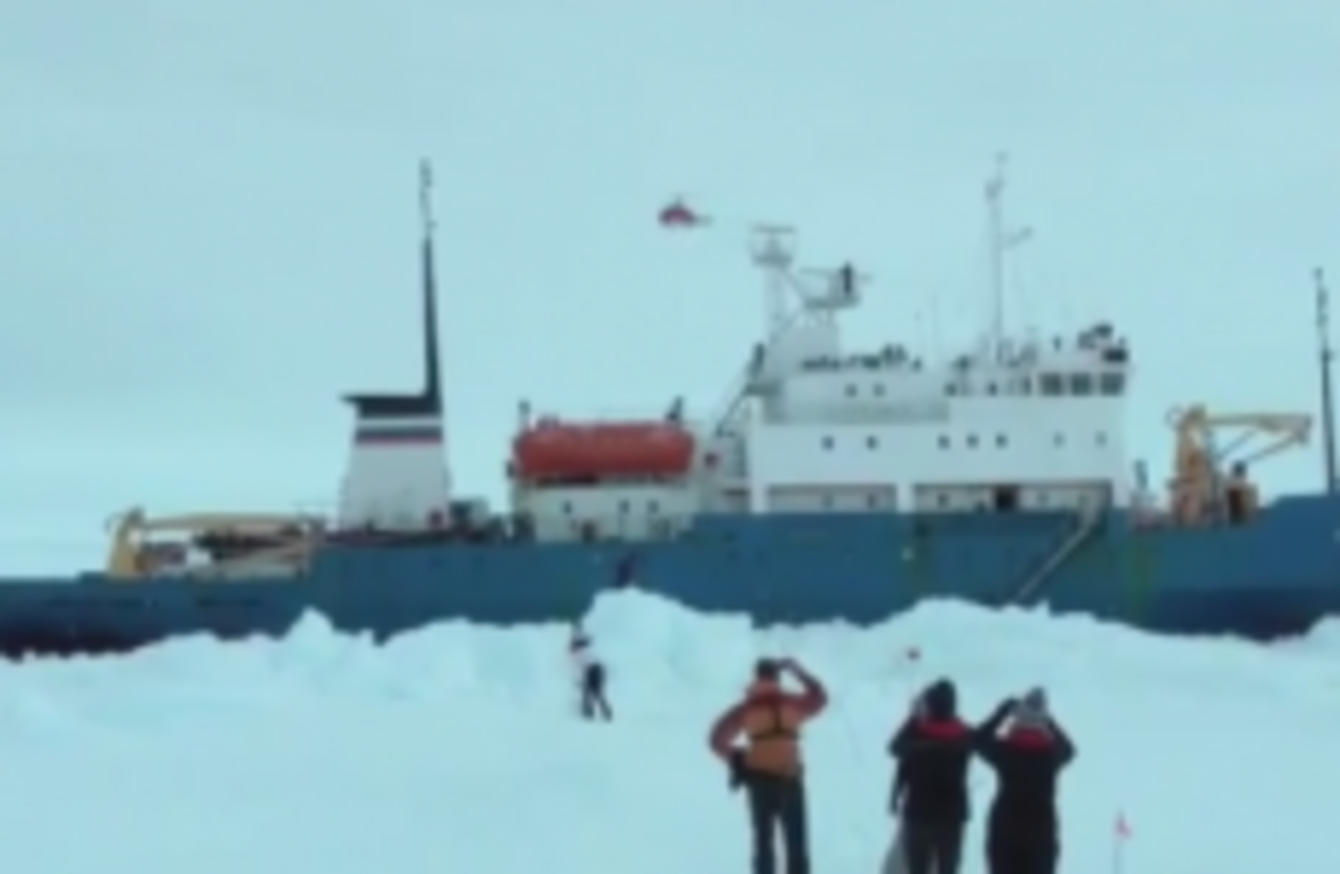 Passengers watch as a helicopter flies over the stranded ship
Image: Screengrab
Passengers watch as a helicopter flies over the stranded ship
Image: Screengrab
PASSENGERS ABOARD A scientific expedition ship which has been trapped in thick ice in Antarctica since Christmas Day are to be rescued by a helicopter after the latest attempt at a rescue failed.
The ship, which has been recreating an Arctic expedition from 100 years ago, has been stranded for almost seven days now, as a number of icebreaker vessels have tried but been unable to reach it.
The ice around the ship is estimated to be up to 3 metres thick. The ship, called the Akademik Shokalskiy, is stranded about 1,500 nautical miles south of Australia with 74 scientists, tourists and crew on board.
In the latest rescue attempt, an Australian vessel which had gotten as close as 10 nautical miles to the trapped vessel was unable to get any further as it faced getting stuck in ice itself.
The Australian Maritime Safety Authority which is coordinating the rescue said a helicopter on board a nearby Chinese vessel will now be used to get the 52 passengers from the ship. The 22 crew members are expected to remain with the vessel.

(Video: Intrepid Science/YouTube)
"This rescue will be a complex operation involving a number of steps and subject to factors such as weather," the AMSA said in a statement.
The passengers are likely to be rescued in groups of 12 and transported to the Chinese ship before being transferred in one group to the Aurora Australis, the nearby Australian vessel.
The weather is still bad in the area so the helicopter will not be able to make an attempt at a rescue until tomorrow at the earliest.
Decisions related to carrying out the rescue may be made at short notice to take advantage of any sudden changes in the weather.
Up until now passengers have been able to leave the ship to walk on the ice and continue to carry out their experiments.
The search and rescue operation began on Christmas morning when a rescue coordination centre in the UK received a distress message via satellite from the Akademik Shokalskiy.