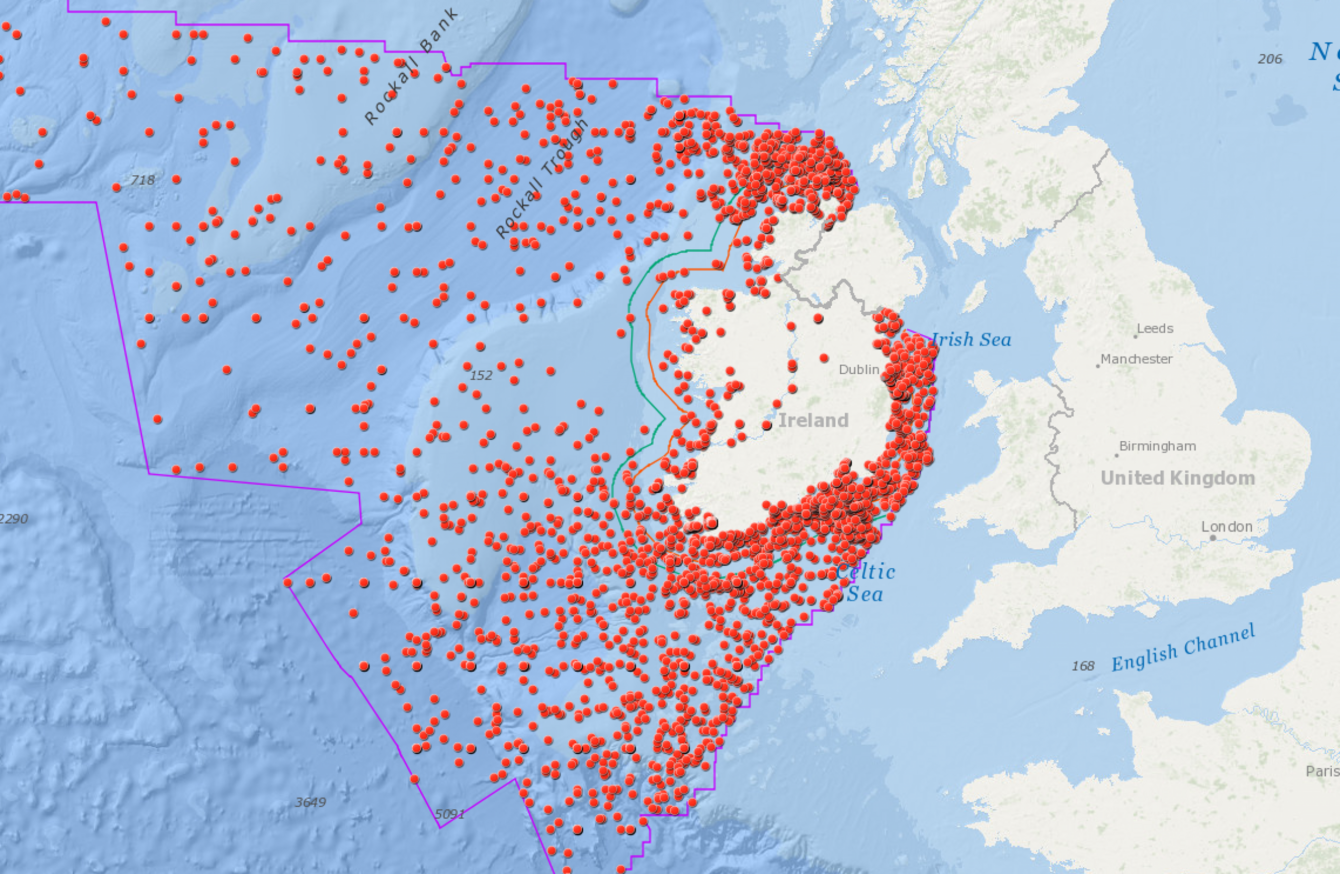 Image: National Monuments Service
Image: National Monuments Service
A HOST OF historically significant vessels are among the thousands of shipwrecks that can be found on a new interactive map that was launched this week.
The 'Wreck Viewer' features exact locations for around 4,000 recorded wrecks, while information on an additional 14,000, whose location has not been fully confirmed, is also available to download.
The oldest wrecks on the map are logboats found in inland lakes and rivers, many of which date back into prehistory. A recently recorded logboat from Lough Corrib has been dated to 1100 BC.
Six Spanish Armada wrecks from the attempted invasion of England in 1588 were successfully identified and plotted.
They are La Trinidad Valencera (Kinnagoe Bay, Donegal), La Juliana, Lavia and Santa María de Visón (Streedagh, Co Sligo), Santa Maria de La Rosa (Blasket sound, Co Kerry) and the Girona (Antrim).
You can scout around and try to find the ships of your own accord or even use the handy search function to locate a particular wreck you are looking for.
Some of the most famous wrecks on the map are:
RMS Leinster: Over 500 lives were lost when the RMS Leinster was torpedoed by a German U-boat near the Kish light on October 10 1918. The Leinster was hit by three torpedoes only a few weeks before the end of WWI.
La Surveillante: This French Frigate was part of a 48 strong French fleet with 15,000 troops that was sent to invade Ireland in 1796.  It was scuttled in Bantry Bay in January 1797.
SS Muirchú: This was previously known as HMY Helga. It shelled rebel positions during the 1916 Rising and transported Free State Troops during the Civil War. In 1947 it became the first ship in the new Irish Naval service. However it didn't last long as it sank southwest of the Saltee islands in May 1947 while being towed to a scrapyard.
RMS Lusitania: Briefly the world's largest passenger ship, nearly 1,200 lives were lost when the Lusitania was torpedoed by a U-boat on May 7 1915. It sank 22 km south of the Old Head of Kinsale. Hundreds of bodies were buried in two mass graves in Cobh, Co Cork. International outrage at the attack increased calls for America to enter WWI.
RMS Tayleur: This sailing ship ran into a storm off Lambay island, while en route to Australia from Liverpool, in 1854. It was the ship's maiden voyage and over 300 lives were lost. The ship contained all the necessities for starting a new life in Australia including fire grates, wire fencing, crockery, ploughs and headstones. It is now a popular dive site.
A spokesperson for the Department of Culture, Heritage and the Gaeltacht said the map has generated a lot of interest since it was launched on Wednesday.
"Because of the international dimension to many of the vessels wrecked in Irish waters there has also been a strong interest from abroad," the spokesperson said.
It is hoped that the viewer will strengthen the protection afforded to Ireland's underwater cultural heritage by informing divers, fishermen and other sea users of the potential for more wrecks to be discovered and to add to our existing knowledge of the wrecks in the database.