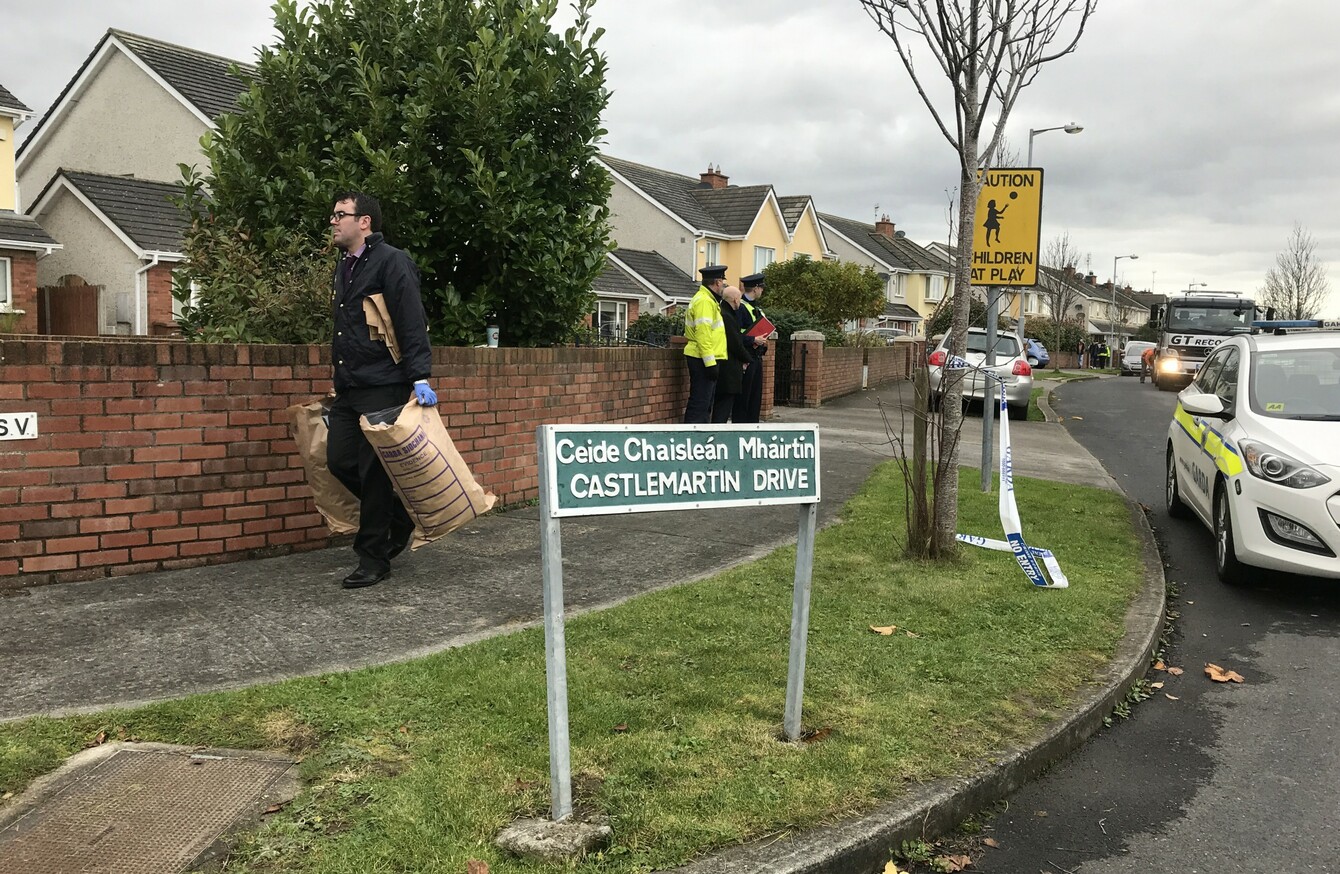 Gardaí remove evidence from the scene.
Image: Eamonn Farrell
Gardaí remove evidence from the scene.
Image: Eamonn Farrell
Updated Nov 5th 2019, 4:54 PM
GARDAÍ SAY THE man who was shot dead in Bettystown, Co. Meath last night had been targeted last March and had been warned of a threat to his life.
The 39-year-old was shot multiple times when he arrived back at his home on Castlemartin Drive at about 11.40 pm last night. 
Up to six shots were fired during the attack with what gardaí believe was an automatic pistol.
Three bullets struck other cars nearby and the victim's wife and children were in the house at the time.  
The victim was taken by ambulance to Our lady of Lourdes Hospital in Drogheda but he was pronounced dead shortly before 1am this morning.
The shooting is understood to be linked to the ongoing gangland feud in Drogheda.
In a briefing this afternoon, Garda Superintendent Fergus Dwyer said the victim was attacked as he moved from his car to his house. 
He just returned home to his house here and while he was getting out of his car and closing his gate we believe he was approached at that time by one or more individuals. In firing the shots at him, three cars were struck in the estate, one opposite, one next door and one in the driveway of the victim's home.
Dwyer added that gardaí believe that a small van found burnt out on nearby Eastham Road was involved in the attack and have asked anyone who may have seen it in the hours before the attack to contact them. 
Both the scene of the shooting and of the burnt out vehicle have been preserved pending the completion of examinations by garda crime scene examiners. 
Gardaí have also confirmed that the victim was targeted previously and had been warned of a threat to his life.
Dwyer said that the area is the subject of regular patrols and that gardaí were present at the scene 30 minutes before the shooting. 
"This man we believe was targeted before last March. We have active patrols in the area," Dwyer told reporters this afternoon LMFM reports. 
It's part of an operational plan that we have. And in fact members were just here at the scene about 30 minutes beforehand as part of our operational plan here watching the homes of certain individuals who are of interest to us.
The Drogheda feud, which kicked off a year ago, has involved a number of violent attacks. Gardaí have been carrying out armed patrols in the area in order to address the conflict between the two gangs. 
Sinn Féin TD Gerry Adams condemned the killing as "a disgraceful action".
"It is the latest violence in a drugs war between criminal gangs that has shocked and outraged citizens in Louth. I would ask anyone with information to bring that forward to An Garda Síochána."
Adams also urged the Justice Minister to review garda resourcing in the area to ensure they can tackle these gangs. 
The Red Door Project, which helps with drug-related problems in the area, said the "senseless killing" underlined the need for more funding to fight addiction. 
"As chair of the Red Door Project I would first of all like to express our sorrow that another young man's family is now in mourning as a result of drug violence in the Drogheda area," Alec McAllister said this afternoon. 
Since the Red Door Project first started offering help to those suffering from addiction and their families in 2009, we have seen demand quadruple, but our funding has remained static.
McAllister added that drug debts are being traded like currency in the area. 
"We are now regularly contacted by distraught families, who are being threatened as a result of drugs debts run up  by their children," he said. 
"These drug debts have now become currency in Drogheda and are traded between gangs, who are using increasingly violent means to extract payment, all adding to the climate of fear in our communities." 
Investigating gardaí are appealing to anyone who may have witnessed this incident or who may have information to contact the incident room at Ashbourne Garda Station on 01-801 0600, the Garda Confidential Line 1800 666 111 or any garda station.
Gardaí are particularly anxious to hear from road users with camera footage who were in the area at the time of shooting.
With reporting by Michelle Hennessy and Rónán Duffy