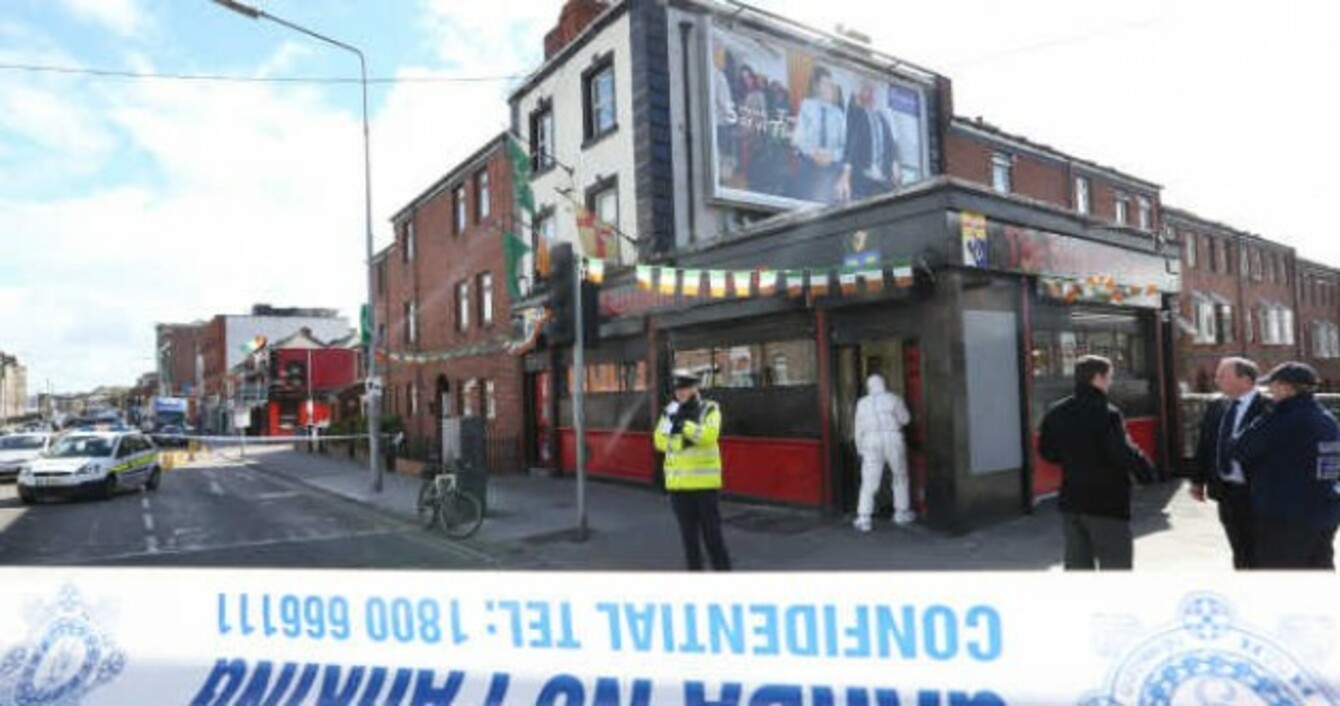 Updated at 1.30pm 
TWO GARDA INVESTIGATIONS are continuing this afternoon after two men were shot dead in separate attacks in Dublin last night.
The incidents in the north inner city and western suburbs of Dublin are not believed to be connected.
Gardaí released further information about the killings at a press conference this morning, issuing public appeals for information about the two attacks.
In the first shooting, Michael Barr, a 34-year-old originally from Tyrone, was shot in the head at the Sunset House pub in Summerhill shortly after 9.30pm last night.
Barr was suspected of being a senior figure in the dissident republican movement.
The state dropped an IRA membership charge against Barr after he pleaded guilty at the Special Criminal Court to handling stolen electrical equipment in 2014.
He was also suspected of being involved in planning the Regency Hotel shooting in February, which killed David Byrne, a member of the Kinahan crime gang.
The second shooting last night took place just over two hours after the killing at Sunset House, when a man was gunned down in Kilcronan Close in Clondalkin at 11.43pm.
The man, aged 37, was pronounced dead at scene. He has not yet been named publicly by the gardaí.
Sunset House 
Gardaí released the full registration plate of the car used in the Summerhill shooting at this morning's press conference.
According to investigators, the silver Audi A6, with a 04 C 17738 reg, was used in the attack. It's believed to have travelled from the scene along Ballybough Road, left onto Richmond Road and across onto Walsh Road.
It was later recovered on Walsh Road in nearby Drumcondra. Forensic tests are now being carried out on the vehicle.
Three men are believed to have left the scene in the direction of Home Farm Road in another silver coloured saloon car.
Gardaí also issued an updated description of the two gunmen who carried out the pub shooting:
Two men described as skinny and wearing masks entered the public house. A number of shots were discharged from the firearm fatally injuring a man, aged in his mid 30s. The man was pronounced dead at the scene.
Investigators say a number of witnesses have already come forward, and they're appealing for others who were in the pub to make contact with gardaí.
Clondalkin 
In relation to the second shooting, gardaí say that from initial investigations it appears that a man entered the hallway of the house and fired a number of shots at the victim.
Gardaí say they were at the scene of the shooting within two minutes and assistance was given to the injured man. However, the 37-year-old was pronounced dead at the scene.
It's believed the gunman ran along Kilcronan Close onto the Grand Canal and exited into a green area towards Lock View Road.
A large area of the canal has now been sectioned off as gardaí carry out an investigation.
Detectives described the gunman:
He is described as wearing all black clothing, black runners and a black tracksuit and may have been wearing a balaclava. He is also described as being short in height.
Gardaí said the man who was shot would have been known to gardaí earlier in his life. It's understood that it has been around 10 years since the man had any dealings with authorities.
Officers at the press conference this morning said they will leave no stone unturned in their investigation, adding that these incidents strengthen the resolve of An Garda Síochána and that the perpetrators will be brought to justice.
Gardaí also stressed that intelligence is very important for them and urged anyone with information to come forward, adding that people can trust that they'll be treated sensitively.
Reaction 
The Minister for Justice Frances Fitzgerald briefed the Cabinet on the gangland shootings this morning.
President of the GRA, Dermot O'Brien told Keelin Shanley on RTÉ Radio One that last night's shootings will intensify the debate about arming all gardaí.
Speaking on Today with Sean O'Rourke, O'Brien said, "Since 2008 there has been no tactical training for non specialists units, for detectives and members on the cold face.
If you take the Regency Hotel for example, the first responders to that were unarmed gardaí and it's a well known fact – and the FBI have stated – that a 500 metre perimeter should be set up around such incidents where unarmed people cannot enter … but the scene itself should be secured by armed members.
"The further difficulty we have there is we haven't got enough personnel who are armed for doing it."
Meanwhile Sinn Féin deputy leader Mary Lou McDonald said, "I accept you can't have an armed guard on every street corner … none of us want to live in a police state. However, there is a very, very immediate issue in respect of resourcing.
The inner city, northside and southside of the Liffey, is down more than 100 gardaí. That has an effect and there's no point in us pretending otherwise.
Addressing the connections Michael Barr had to the IRA, McDonald said:
"Let's just be absolutely clear here: the IRA is no longer active, the IRA is no more, the war is over, the IRA weapons have been decommissioned, that is a thing of the past."
Investigating gardaí can be contacted at the following numbers:
Mountjoy Station (for the Summerhill shooting): 01 666 8600 
Clondalkin Station (for the Kilcronan shooting): 01 666 7600