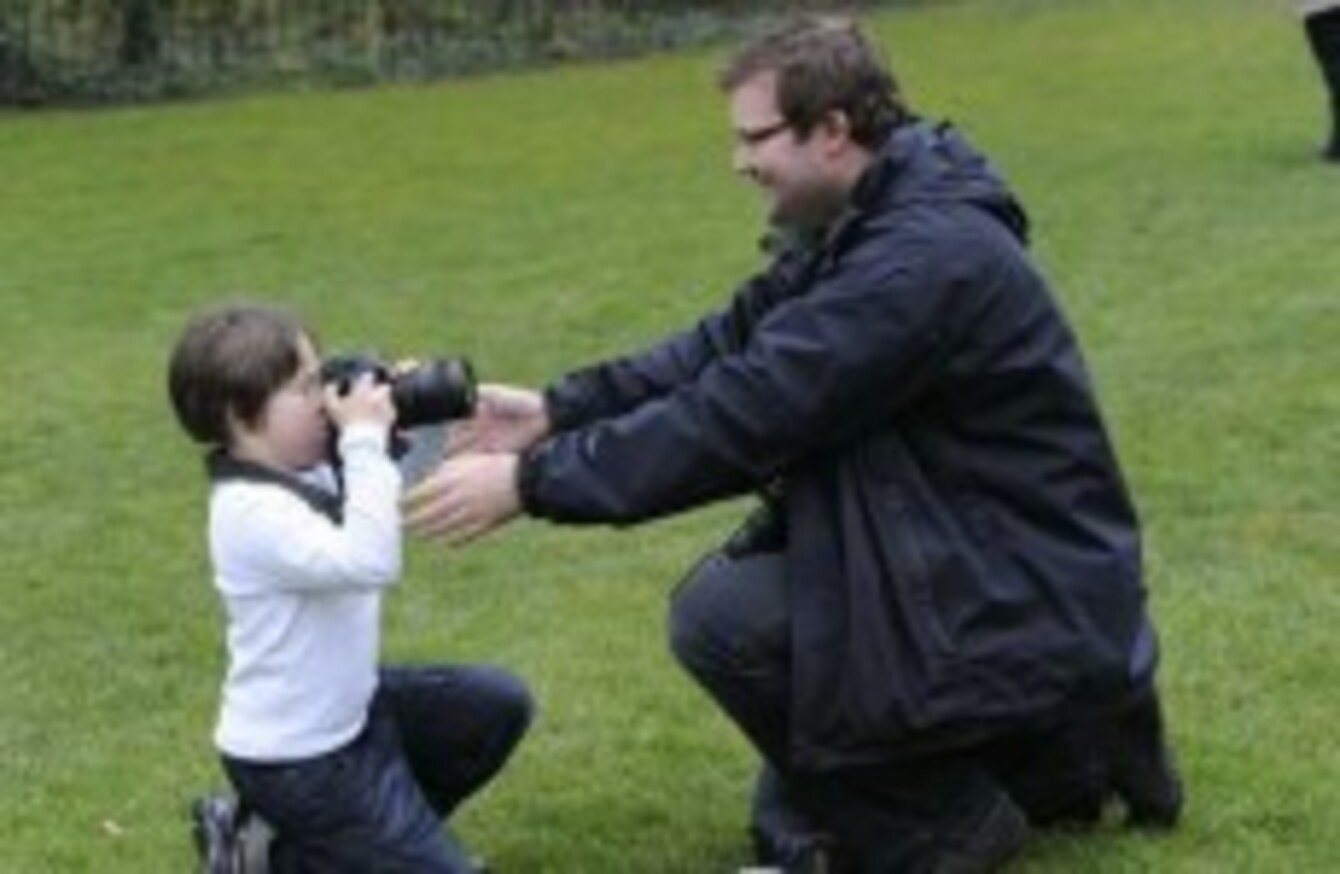 Press photographer Niall Carson pictured here on the other side of the camera recently
Image: Photocall Ireland
Press photographer Niall Carson pictured here on the other side of the camera recently
Image: Photocall Ireland
THE PRESS PHOTOGRAPHER who was shot during the riots in East Belfast last night has told TheJournal.ie: I hope to make a full recovery.
Niall Carson, who works for the Press Association news agency, was shot in the leg while photographing the violence in Belfast. He underwent minor surgery on his injury this morning at the Royal Victoria Hospital. He said:
I've been discharged and hope to make a full recovery.
The attack on the photographer has been condemned by the National Union of Journalists. In a statement, the NUJ's Irish secretary Seamus Dooley said the shooting in Belfast was an attack on the media in Northern Ireland and "an extremely worrying development". NUJ executive council member Bob Miller said journalists throughout Northern Ireland were "shocked" by the attack.
Carson, whose work regularly features on TheJournal.ie, was standing near PSNI landrovers when he was hit by a bullet. PSNI Assistant Chief Constable Alistair Finlay told the BBC that he thought the shooters may have been targeting police. Another press photographer told how one man with a gun shot several rounds into the area where they were standing. He said:
We were all just running. The next thing I know a colleague of mine (Niall), he yells, 'I've been shot, I've been shot'.
Our report on the second night of rioting, along with pictures Niall took shortly before being shot, is here.
TheJournal.ie wishes Niall a speedy recovery from his injuries. This is just a small selection of his award-winning and nominated photographs:
Lady in the lake

Russian dance troupe Derevo at the Dublin Fringe Festival in 2007.

The one that got away

A hare gives two greyhounds the slip at the Irish National Coursing Championships at Clonmel Racecourse in Co Tipperary in 2006.

Sign of the times

DUP leader Dr Ian Paisley is interviewed at Galgorm Manor Hotel, in his own constituency of Ballymena, during the run-up to March 2007 Northern Ireland Assembly elections.

Angel face

Four year-old Jane Hurlihy from Glasnevin and Amy Thake from Ballet Ireland launch Dublin City Council's Christmas 2007 season.

Eleventh night

A youth watchs a bonfire on the Shankill Road in Belfast the night before the Twelfth of July loyalist celebration in 2007.

Goodbye

Taoiseach Bertie Ahern leaves the podium after announcing his resignation from the post in April 2008 in Dublin.

You and whose army?

Shell to Sea activist Maura Harrington leans on gardai at the Shell plant at Glengad beach in Co Mayo in 2009.

Winds of change

Billy Collins from Wexford town rides his sulky past a field of wind turbines in Kilmore, Co Wexford last year.

Santaland

The record-breaking number of Santa Clauses at the Guildhall in Derry in 2007.

Out of line

Republic of Ireland manager Steve Staunton reacts during the UEFA European Championship Qualifying match at Croke Park, Dublin in 2007.

Point of rescue

An unknown man is rescued after falling into the river Liffey in Dublin city centre in 2008.

Spotlight

Jay-Z performs on the main stage at last year's Oxegen music festival at Punchestown, Co Kildare.

In the swim

A competitor takes part in the the annual Liffey Swim in Dublin.

Knowledge is king

Taoiseach Enda Kenny speaks to the media after he addresses the 42nd plenary of the British-Irish Parliamentary Assembly in Co Cork last month.

Rioting in Belfast

This photograph of police coming under fresh attacks in the Newtownards Road area of Belfast was taken by photographer Niall Carson shortly before he was shot in the leg.

Niall Carson

This is photographer Niall Carson, pictured during the launch of World Down Syndrome Day in March. (Picture: Sasko Lazarov/Photocall Ireland)