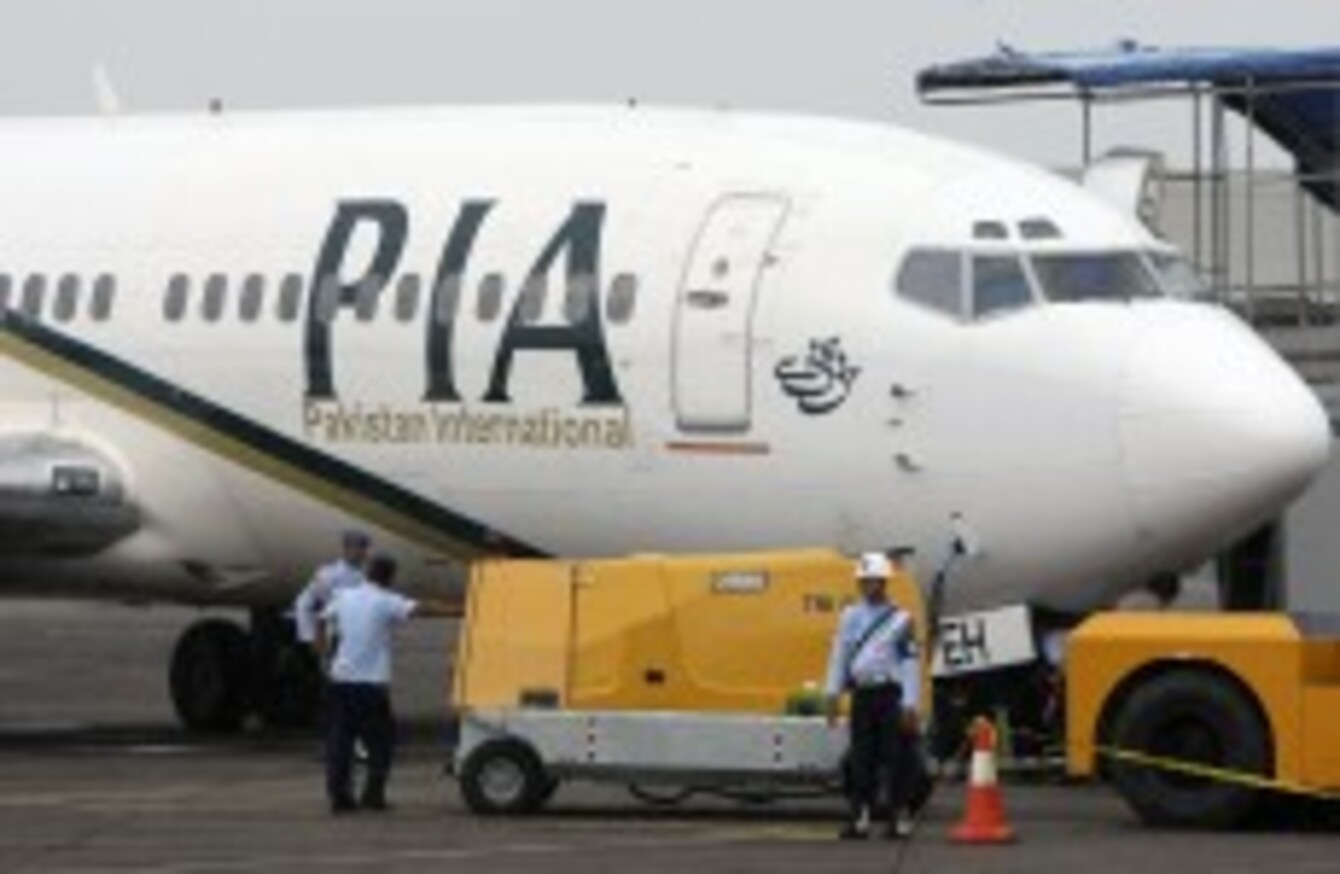 File photo (not of scene)
Image: AP/Press Association Images
File photo (not of scene)
Image: AP/Press Association Images
UNIDENTIFIED GUNMEN OPENED fire on a passenger plane landing at the main airport in Peshawar in Pakistan's troubled northwest, killing one passenger and wounding two crew members, police and airline representatives said today.
The incident took place late yesterday as the Pakistan International Airlines (PIA) flight arrived in Peshawar from Riyadh in Saudi Arabia with more than 170 passengers on board, airline spokesman Mashud Tajwar said.
"The shots were fired from outside the airport, one lady passenger and two stewards were wounded, the woman later died in the hospital," Tajwar told AFP, adding that the aeroplane landed safely.
Flights at the Bacha Khan International Airport in Peshawar have been temporarily halted following the gunfire, police said.
Muhammad Faisal, a senior police official, said that four to five bullets hit the aeroplane.
"Flight operations have been temporarily suspended," Faisal told AFP.
The attack followed the Pakistan military's launch on June 16 of a major military offensive in the most dangerous tribal district of North Waziristan along the Afghan border, where Taliban and Al-Qaeda-linked militants had taken refuge.
Yesterday, Ansar-ul-Mujahedin militant group, a faction of the Pakistani Taliban, threatened to carry more attacks after claiming responsibility for a car suicide attack in North Waziristan which killed two soldiers and a civilian.
"It is beginning of our offensive and we will launch attacks against government and local tribesmen if they form an anti-Taliban force," militant group spokesman Abu Baseer told AFP via telephone from an unknown location.
Though officials have not blamed any group for the incident at Peshawar airport, Taliban militants last week warned international firms and airlines to wind up their business in Pakistan or face attacks in the wake of the military offensive.
- © AFP 2014.