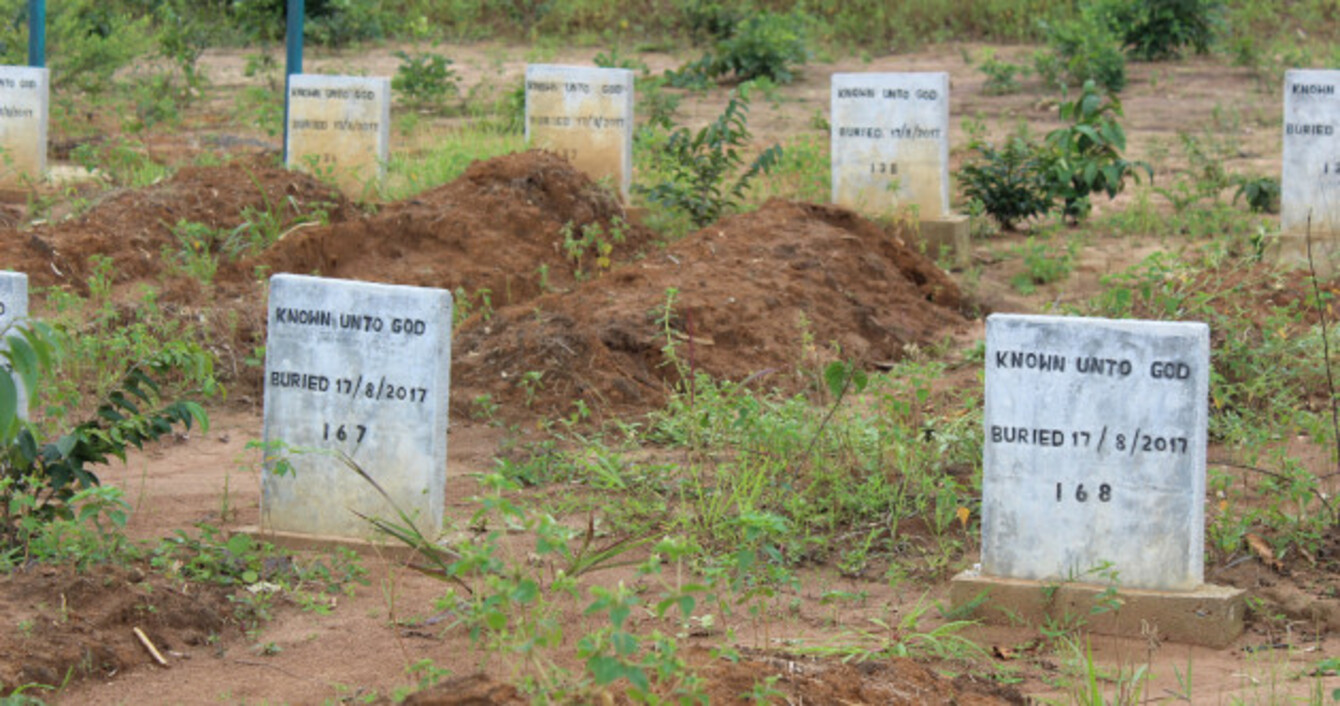 Part of a cemetery for people whose remains were never identified
Image: Shauna Bowers
Part of a cemetery for people whose remains were never identified
Image: Shauna Bowers
Shauna Bowers reports from Sierra Leone
MORTORMEH IN FREETOWN, Sierra Leone used to be a central community location. Now, all you can see are ruins, rocks, people trying to reclaim their lives and, sometimes, you still come across remains of people who died in the mudslide last year.
On 14 August 2017, over 300 homes were destroyed, 1,141 people were declared dead and over 6,000 other people were affected by mudslides and flash flooding. More than one year later, people are still struggling to deal with the aftermath of the event.
There is still a pungent stench of death in the area, even a year after the landslide took place. Locals say that the smell gets worse when it rains and they are still finding parts of bodies to this day.
"I can't sleep because when I do, all I see are all the dead bodies and I worry that it could happen again. We were lucky we survived," said Sorre Papa Bangura, a man who lived in the area and lost everything he had.
"There was no blood, the water washed it away. But there were bodies, so many bodies that were all in different bits, and I can never forget what I saw. I see it every time I close my eyes."
"I had to try and help and pull the bodies out of the river just in case some people were still alive. Of course I helped. I had to help. These were my people, my family."
Trying to find shelter
Bangura was lucky that he and his family were in a position where they could afford to buy a new house as that was not the reality for many of the people who were displaced by the extreme weather.
Hannah Kamara (12), Yeawa Kamara (13), Vandy Kamara (8) and Bashin Kamara (7) have not been resettled anywhere and still live with their father adjacent to the destruction the mudslide left behind. Their mother died last year.
They stayed in a camp immediately after the mudslide occurred but since the camps have now closed and their new shelter is not yet finished being built by their father, the children seek fresh materials each day, including tarp and corrugated aluminium, to provide cover for them to sleep under.
"It's kind of like an adventure or a game trying to find something to use to cover us from the rain," Hannah Kamara said.
A mental health nurse in Connaught Hospital, Jennifer Duncan, says that people are still grieving with the extreme weather of last summer and have not yet fully come to terms with all they have lost.
"The rainy season is causing so many people to relive through the trauma. They're not sleeping and are experiencing post-traumatic stress disorder," Duncan said.
"Addiction to drugs and alcohol is increasing since the mudslide. To so many people who have lost their family, friends, homes and everything they own – it all seems so hopeless. They don't know how else to cope."
The government is trying to aid those impacted by the events last year by providing phones and financial assistance. They also built 52 new houses in an area called Mile Six for the displaced families.
Just over two months ago, 27 families were moved by the Government to a resettlement estate called Kuwait. It is 30 minutes away from the nearest town Waterloo and they are still without many necessary amenities.
#Open journalism No news is bad news Support The Journal

Your contributions will help us continue to deliver the stories that are important to you

Support us now
'I don't think I'll ever recover' 
Abubakarr Kamara, is living in the resettlement area with his wife and can barely walk due to injuries he sustained when trying to rescue his wife from the rubble she was trapped under when the mudslide took place.
She was almost three months pregnant at the time and lost the baby. "I don't think I'll ever recover from that loss," Kamara said. "We lost part of our souls that day."
They are having difficulty coping with the lack of food because to get it they need to go to Waterloo but because of Kamara's injuries he isn't able to walk that far. However, the journey is too long to use public transport because all of those who have been resettled are now without jobs.
"We used to have three meals a day and now we only have one if we're lucky," Eric Mohamed Jusu, the elder of the resettlement estate, said.
"We are always really hungry – especially the children. We are used to a full life with food and money and electricity and now we are struggling to get by. Every day is a struggle. We are barely managing."
They are without clean water, have very little electricity and have no transport or health facilities. They have to pay the equivalent of €25 a month for rent – a costly amount for Sierra Leoneans.
"We are very vulnerable. If there are any outbreaks of diseases or anything bad happens then we will not survive. We are barely surviving now," Jusu added.
 This article was supported by the Simon Cumbers Media Fund. Read the first part of Shauna's reporting from Sierra Leone.