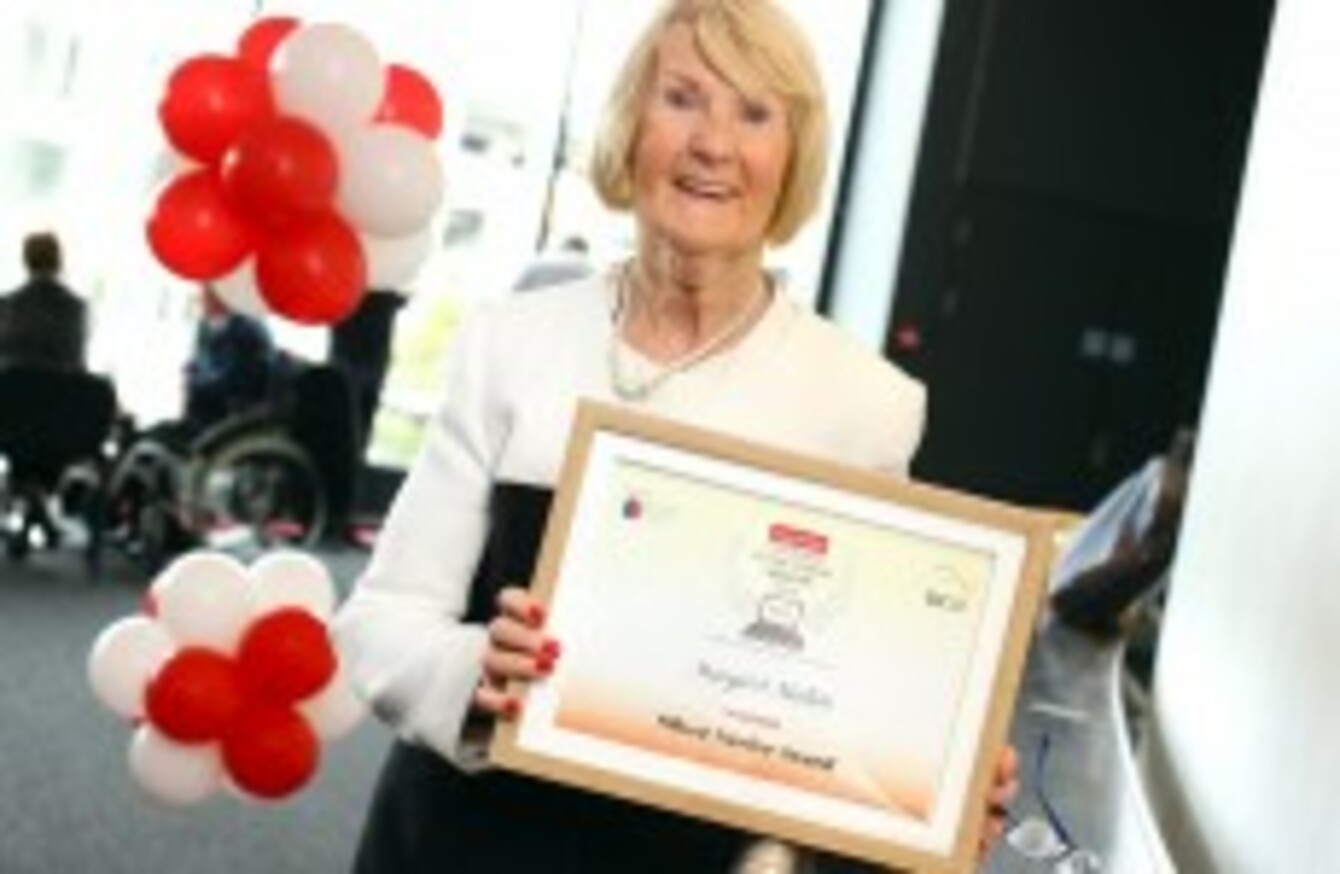 Image: Marc O'Sullivan
Image: Marc O'Sullivan
MARGARET MULLET WAS inspired to get online after she lost her husband George to a genetic disorder called haemochromatosis, just six weeks after he was diagnosed.
The retired science and chemistry teacher used digital media to build a national awareness campaign, as the disorder can be easily treated if identified early.
Since she began in 2005, her campaign has focused new attention on the illness and more than 20,000 people have been diagnosed.
Mullet from Rathgar, Dublin was today named this year's overall winner of the Silver Surfer Awards 2015.
She was presented with her award in the Helix Theatre in DCU this afternoon by Age Action CEO Eamon Timmins and broadcaster George Hook. Timmins said:
Margaret is a truly inspirational woman, someone who suffered a terrible loss and dedicated herself to helping others avoid similar tragedies.
"She became a campaigner and learned how to use the latest technology to spread awareness about a disorder not widely known or understood, successfully encouraging thousands of people to get themselves tested."
Meanwhile, Corkman Philip O'Donovan was the winner of the Golden IT Award, which recognises the achievements of people over the age of 80.
Every morning, at 7.30, more than a hundred people in Ireland, the United States, Australia, the Netherlands and Britain wake to a 'thought for the day' email message from Philip.
He has also used his computer to write a book about a local specialist school for children with complex disabilities, the Lavanagh Centre, and still does the taxes for family members and his local church.
The awards ceremony was hosted by Dublin City University, which became the first age-friendly university in 2012, leading a global initiative.
Christine O'Kelly, DCU's Age-Friendly Project co-ordinator, said: "Age Action is a member of our Expert Advisory Panel and we are delighted to support this event which encourages the use of technology amongst older learners."