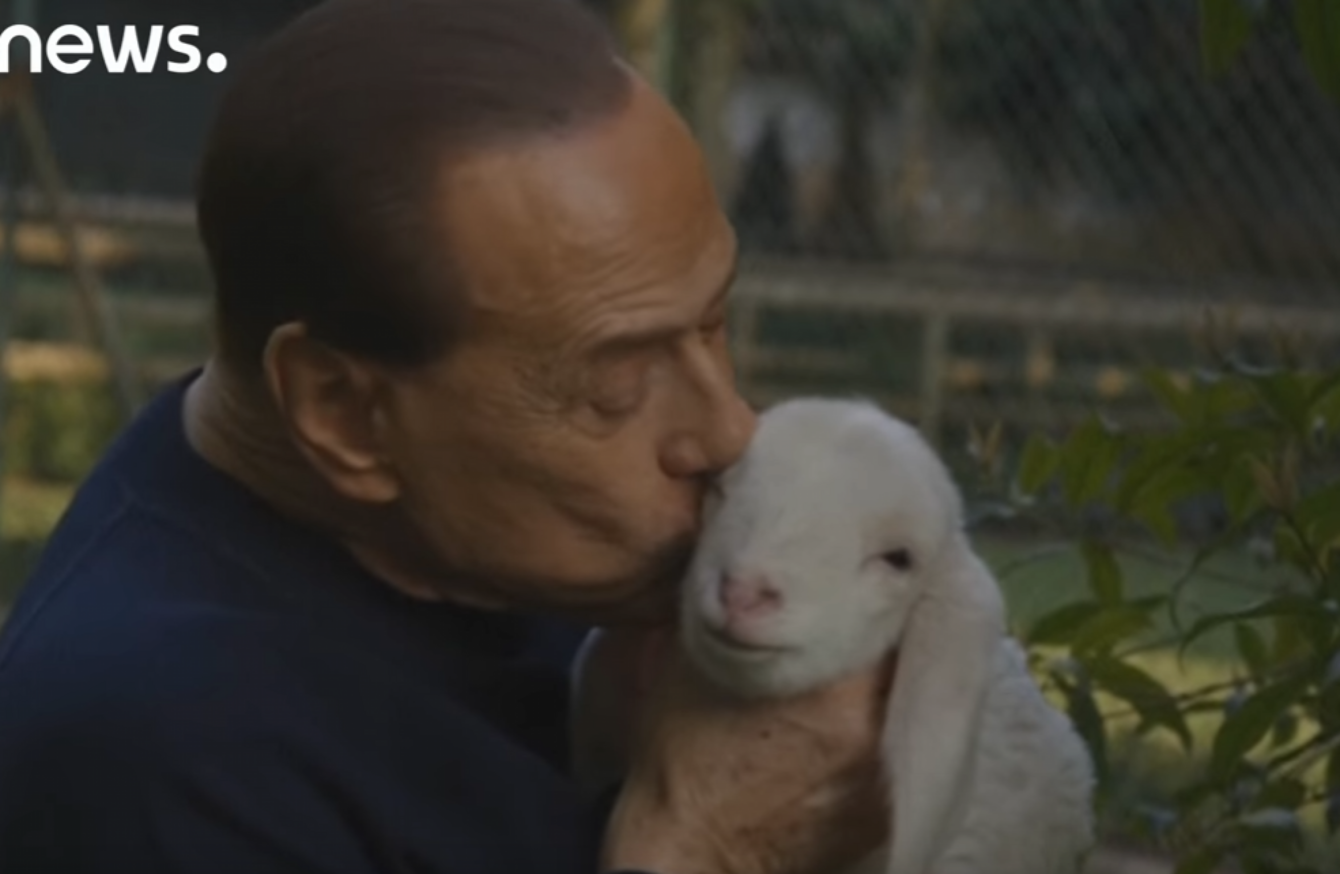 Image: EuroNews via Screengrab
Image: EuroNews via Screengrab
FORMER ITALIAN PRIME Minister has risked the wrath of Italy's meat industry by calling for Italians to have a "vegetarian Easter".
The 80-year-old was pictured and videoed cuddling lambs on his estate in front of an Italian League in Defence of Animals and the Environment sign that read: "Defend life, choose a vegetarian Easter".
A scrolling text on the ad informs viewers that Berlusconi had adopted five lambs.
Lamb is a traditional Easter food in Italy but years of vegetarian campaigns have impacted consumption. The adding of Berlusconi to those campaigns has incensed meat producers.
Assocarni, the Italian butchers' lobby group, called for suppliers to boycott the media tycoon's television channels and magazines.  They accused him in a statement of only being interested in gaining votes.
"It's incredible that even though he is a business person he is contributing to damaging the meat industry to try to get the votes of animal lovers."
Source: euronews (in English)/YouTube
Last week a court ruled that Berlusconi will go on trial in July accused of witness tampering and pay-offs over his alleged "bunga bunga" sex parties.
The ex-premier is accused of paying more than €10 million between 2011 and 2015, in cash, gifts, cars and housing to guests at his Arcore residence near Milan, to testify in his favour in the so-called "Ruby" affair.
The charges stem from Berlusconi's previous trial for allegedly paying for sex with young women, the best-known being an exotic dancer nicknamed Ruby the Heart Stealer, who was under 18 at the time.
Berlusconi was initially convicted and sentenced to seven years in jail for soliciting minors for prostitution and abusing his power.
But he was cleared in 2015 following an appeal.