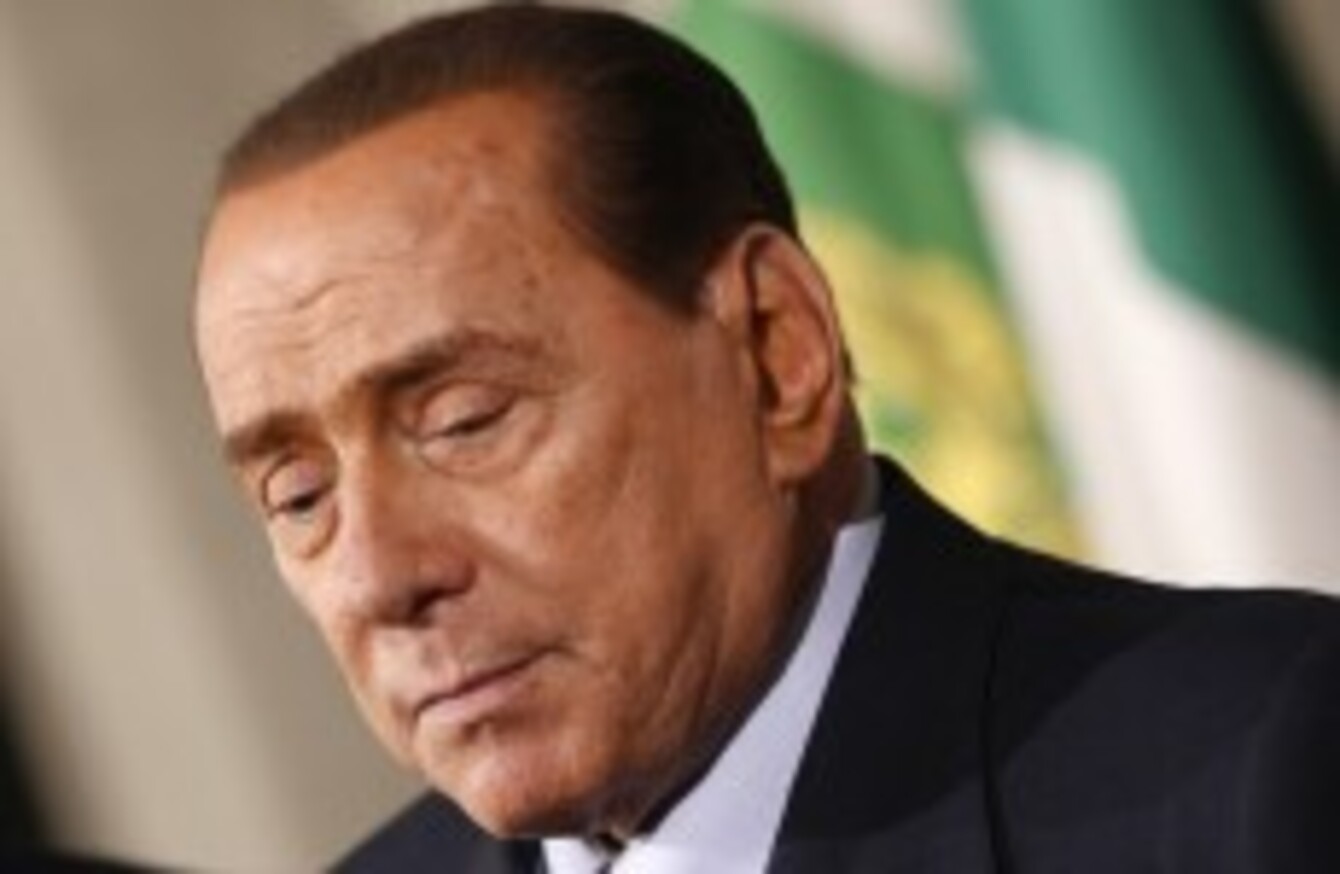 Silvio Berlusconi
Image: AP/Press Association Images
Silvio Berlusconi
Image: AP/Press Association Images
SILVIO BERLUSCONI IS braced for a humiliating court hearing today that will result in the three-time former prime minister temporarily losing freedom of movement although avoiding prison time.
The court in Milan has to issue its ruling by April 15, deciding whether the disgraced billionaire tycoon will do community service or be placed under house arrest following a conviction for tax fraud last year.
Centre
His lawyers have requested that Berlusconi work one day a week in a centre for physically and mentally disabled people near his villa at Arcore outside Milan, the Corriere della Sera and La Stampa dailies reported.
La Stampa quoted the lawyers as saying that Berlusconi would be able to "give hope" to the disabled and reported that the centre had not yet been created and that the media magnate "could in fact be its patron".
Italian media earlier reported that the office for non-prison sentences in Milan had requested that Berlusconi work in an old person's home once a week.
The court hearing is a further humiliation for Berlusconi, who has already been expelled from parliament over his conviction and is banned from standing as a candidate in elections for six years.
He remains the figurehead leader and main force behind Italy's top centre-right party, Forza Italia, which has fallen behind in the polls but could still be a major player in Italy with Berlusconi's formidable campaign skills.
The hearing in Milan is due to start at 3pm and Berlusconi's presence cannot be excluded, although he often skips his many court appointments as defendants in Italy are not compelled to attend.
The court may take its decision for or against community service, although the details of where and when would only be revealed in the coming days, Italian media reported.
Following court procedure for this type of post-sentencing hearing, it will be preceded on the same day by around 50 other cases for convicts whose surnames also begin with "B".
Curfew for Berlusconi
Berlusconi was sentenced to a year's prison for the fraud, which involves the sale and purchase of film distribution rights by his business empire Mediaset.
But the 77-year-old politician will not have to go to prison because of the leniency shown in Italian courts to over-70s who are convicted of non-violent crimes.
The sentence is also likely to be further reduced for good behaviour to nine months, taking account of a 45-day "discount" for every six months of sentence.
Experts say it is most probable the court will decide for community service since this is Berlusconi's first definitive conviction despite more than 20 years of legal tussles that he says show judicial prejudice.
The conditions are easier than house arrest but Berlusconi will still have to respect a curfew and will be banned from meeting other people with criminal convictions, which includes at least one close friend.
There will also be some limits on his movements.
Under normal rules he would not be allowed to leave the borders of the Lombardy region where Milan is and will have to seek a special exemption if he wants to travel to Rome for political engagements.
Berlusconi claims total innocence of any crime that he has ever been charged with.