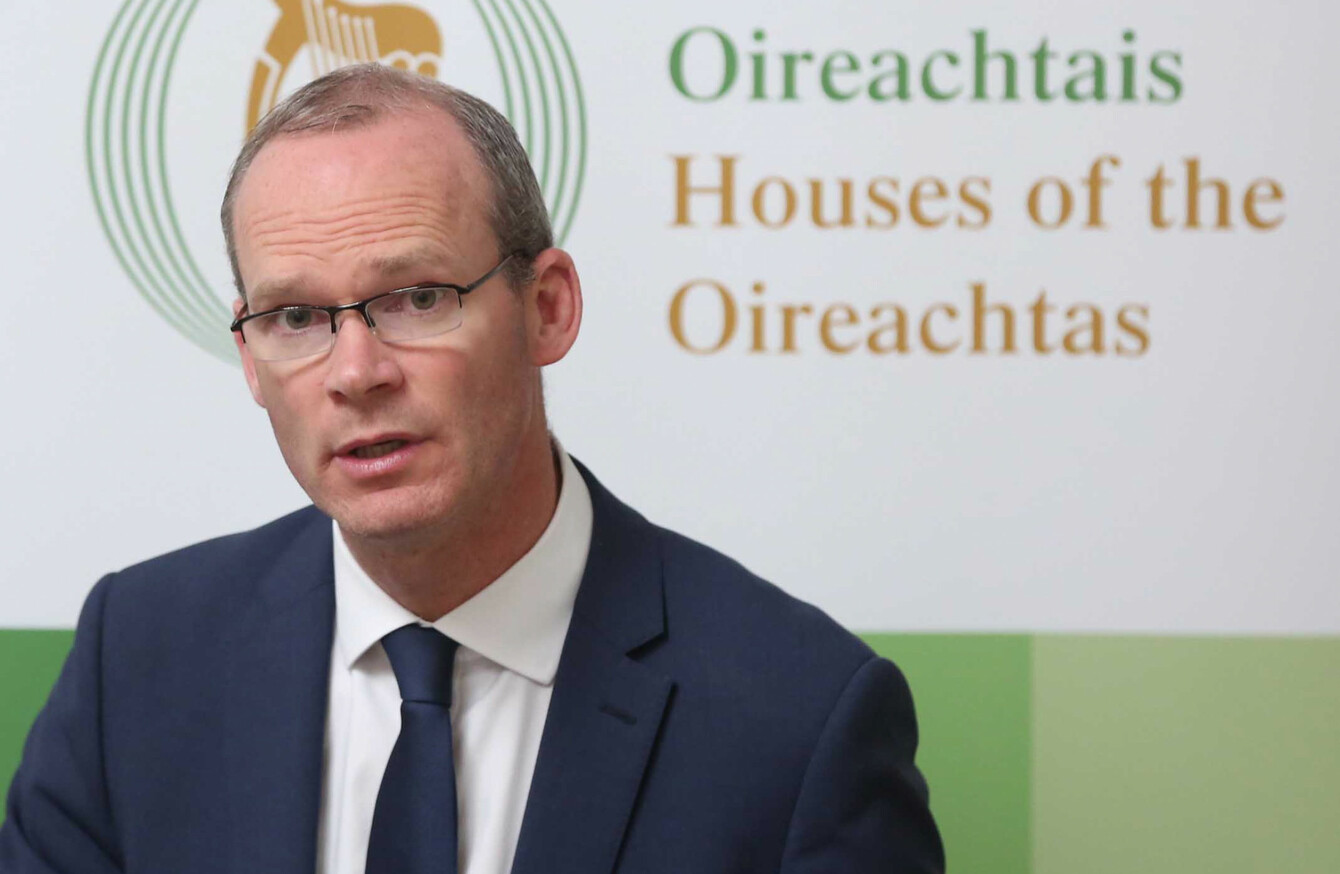 Tánaiste Simon Coveney
Image: Sam Boal
Tánaiste Simon Coveney
Image: Sam Boal
TÁNAISTE SIMON COVENEY has said he does not believe there should be "unrestricted access to abortion at any point in time".
Speaking to RTE's Sean O'Rourke this morning, Coveney attempted to clarify his position ahead of the upcoming referendum on the Eighth Amendment.
"I don't believe that there should effectively be unrestricted access to abortion at any point in time," he said, adding that it is not consistent with the State's obligation to protect the unborn child.
The Cork TD said he believe he speaks for the "majority of people in Ireland" who want constitutional change but also want the State to provide protection to the unborn.
"I reflect that middle ground position where many people are today," he said.
The Taoiseach Leo Varadkar announced earlier this week that the Cabinet is unanimous in its belief that a referendum should be held in May.
Varadkar said Health Minister Simon Harris would draft legislation in line with the Oireachtas Committee's recommendations that there should be unrestricted access to abortion up to 12 weeks (this legislation would only apply if the referendum passed).
Unrestricted access to abortion up to 12 weeks
However, Coveney, and a number of other ministers, voiced their concerns over the time period, which has resulted in calls for the Tánaiste to set out his alternative, and to explain his reasoning.
Outlining his personal view, the Tánaiste said that he favours terminations in the cases of rape, incest, fatal foetal abnormalities when a mother's life or health is at risk.
I don't believe we should have no protection in law for an unborn child…
Circumstances of an abortion of pregnancy needs to be justified if it is going to happen in order to protect a woman as opposed to having unrestricted access or no protection in law for an unborn child.
Chair of the committee, Fine Gael's Catherine Noone has said that all expert evidence shows that rape is impossible to legislate for and pointed out that abortion pills are readily available in Ireland.
Coveney said today that he did not accept that it is too difficult to legislate for abortion in specific cases such as rape and sexual abuse.
"I don't accept that actually. Some of the experts said it would be difficult but not impossible."
Committee's proposals
He said the situation proposed to apply after 12 weeks where abortions will be permitted only in cases of risk to the mother's health and fatal foetal abnormalities should apply in the first 12 weeks of pregnancy also.
Coveney said the conditions proposed by the Oireachtas Committee post 12 weeks should apply for all stages of the pregnancy except in cases sexual abuse and rape.
In those cases, Coveney said there should be a specialised national register of GPs who have expertise in dealing with such matters.
"I believe that one doctor should in conversation with a victim be able to sanction an abortion in those circumstances," he explained.
Women that present to a rape crisis centre should be quickly referred to one of these doctors, "where a private conversation can take place" said Coveney.
While he said it is his view the Eighth Amendment should be repealed from the Constitution, he said the law legislating for abortion should be "balanced".
Health of the mother 
However, he clarified the health of the mother should be prioritised in his view.
"I am not a doctor here and I don't pretend to be, I think we have to trust women and doctors to do what's right in these tragic situations," he told the programme.
The legislation needs to give "clear directions" and "parameters" for doctors.
"We are in a space here whereby politicians aren't doctors and they shouldn't try to be," said Coveney, adding that women and doctors should be trusted.
The Tánasite said he understands that women are taking abortion pills in the privacy of their home, something he states can be "dangerous".
He failed to explain how his alternative proposals would prevent women from taking abortion pills bought online, but said it is his believe that unrestricted access to abortion up to 12 weeks is not the best response to the matter.
The Cork TD said women should be offered confidential "alternatives".
Differing views at Cabinet 
Coveney said it is a "good thing" that there are alternative views within Cabinet, adding that while he would be voting for the Eighth Amendment to be removed from the Constitution, he will not support the legislation in its current form.
I don't support unrestricted access to abortion. I won't support that, I don't support that…
I need to wait until I see what the legislation looks like before I vote for or against it.
Coveney explained that there is a free vote on the issue, adding that there will be a robust debate on the legislation to "tease through the issue" and amendments will be put down.
He did not rule out campaigning in the referendum, stating that he will try to "do the right thing" and persuade people towards his viewpoint.
"I don't want to be leading campaigns here, but I don't want to avoid one either."
When asked if he believes abortion in Ireland in the future will be "safe, legal and rare" as the Taoiseach outlined earlier this week, Coveney replied:
I hope so. I certainly hope it will be rare.
Another minister also outlined their view on abortion this morning, echoing Coveney's concerns.
Speaking to Northern Sound radio, Business, Enterprise, and Innovation Minister Heather Humphreys said she supports repeal of the Eighth Amendment but she is still to be convinced about unrestricted access to abortion up to 12 weeks.
"The Eighth Amendment as it stands does not function for either side of the argument," she said.