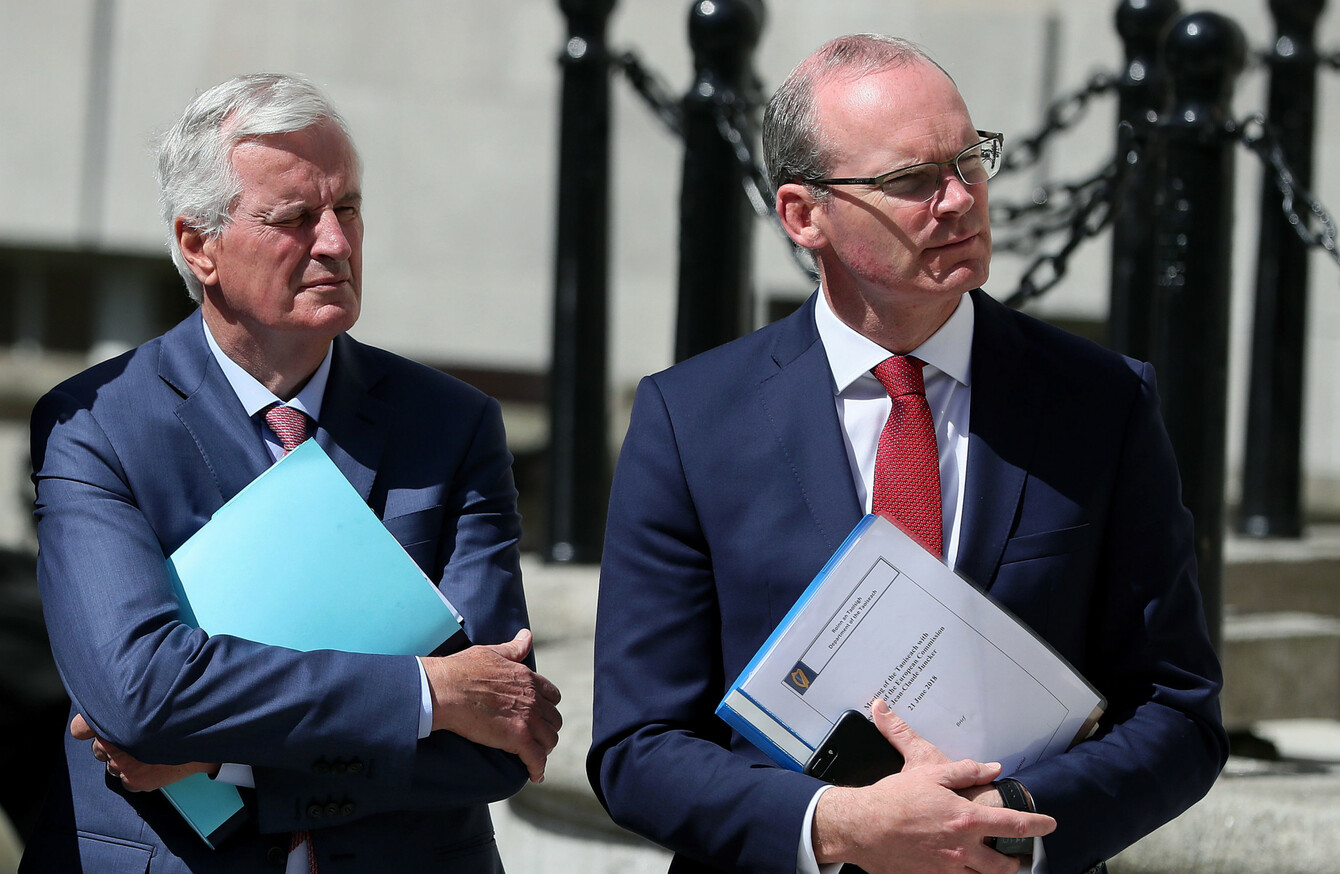 Michel Barnier, EU Chief Negotiator for Brexit with Simon Coveney at Leinster House.
Image: PA Wire/PA Images
Michel Barnier, EU Chief Negotiator for Brexit with Simon Coveney at Leinster House.
Image: PA Wire/PA Images
TÁNAISTE AND MINISTER for Foreign Affairs Simon Coveney has said that the amendments passed by the British government "have not been helpful" for Brexit negotiations with the EU.
He was responding to a number of defeats for British Prime Minister Theresa May in the House of Commons this week, including the rejection of a suggestion that the UK could remain in the custom union if another free trade deal couldn't be agreed.
The government is to announce its plans for a no-deal Brexit today after a special Cabinet meeting at Derrynane House in Co Kerry.
In that eventuality, it's probable that a hard border will automatically go up on the island of Ireland in order to enforce customs and trade rules and regulations – but Varadkar has said that a hard border wouldn't be part of their plans.
Coveney said that there were a variety of plans depending on the type of Brexit that was agreed, but that he was "confident" that it wouldn't get to a no-deal scenario.
Speaking during two interviews on Newstalk and RTÉ's Morning Ireland, he said that Westminster dramatics had been a distraction for everyone and that time was tight to negotiate a final deal.
Although he said that it wasn't up to the Irish government to solve an internal disagreement, he said that the amendments voted for on Monday night would cause problems for negotiations with the EU.
Some of the amendments have not been helpful to negotiations, and it's not a sensible way to negotiate, to retrospectively fit deals into the laws that you've already passed, which seems to be the approach at the moment.
"What happened on Monday night was unhelpful unpredictable in terms of how the House of Commons will vote… uncertainty is unhelpful, as we can only negotiate on what has been published and on the clear commitments made by UK Prime Minister."
He also said that as long as Britain continues to "negotiate with itself", the real negotiations with the EU cannot begin.
He said that last week's White Paper which outlined Theresa May's position was a step in the right direction, but "unfortunately people are trying to undermine that paper".
Speaking about the fear that there would be no agreement on the 'backstop' – or the 'Plan B' arrangement for the relationship between Northern Ireland and the republic in the event of no other agreement being made – Coveney said that he was confident that commitment was water-tight.
"I don't accept that for one minute [that there is no backstop deal]," he told Newstalk. "The British government continually confirmed that they are committed to a backstop that deals with the Irish border question, and confirmed last March and in the White Paper as much."
What was voted through this week in the case of a backstop was that Northern Ireland can't be treated differently in a customs check requirement to the rest of the UK.
#Open journalism No news is bad news Support The Journal

Your contributions will help us continue to deliver the stories that are important to you

Support us now
He also added that the amendments which were voted in have the capacity to be changed, and shouldn't dictate future negotiations with the EU.
When asked whether Sinn Féin, which has seven Westminster MPs but has a policy of abstentionism, should have taken its seats to influence the vote and prevent the amendments, Coveney said Sinn Féin had explaining to do.
"It's not for me to tell Sinn Féin what to do, but I think it's extraordinary that a party that's present in Northern Ireland and Ireland – and when you have an important piece of legislation and seven MPs in that parliament – to refusing to take part in debates or votes. And as a result things are being passed that might not be passed.
It's certainly something that Sinn Féin has to explain, I've spent most of my working life trying to make things happen through legislation while Sinn Féin are choosing to sit on their hands.