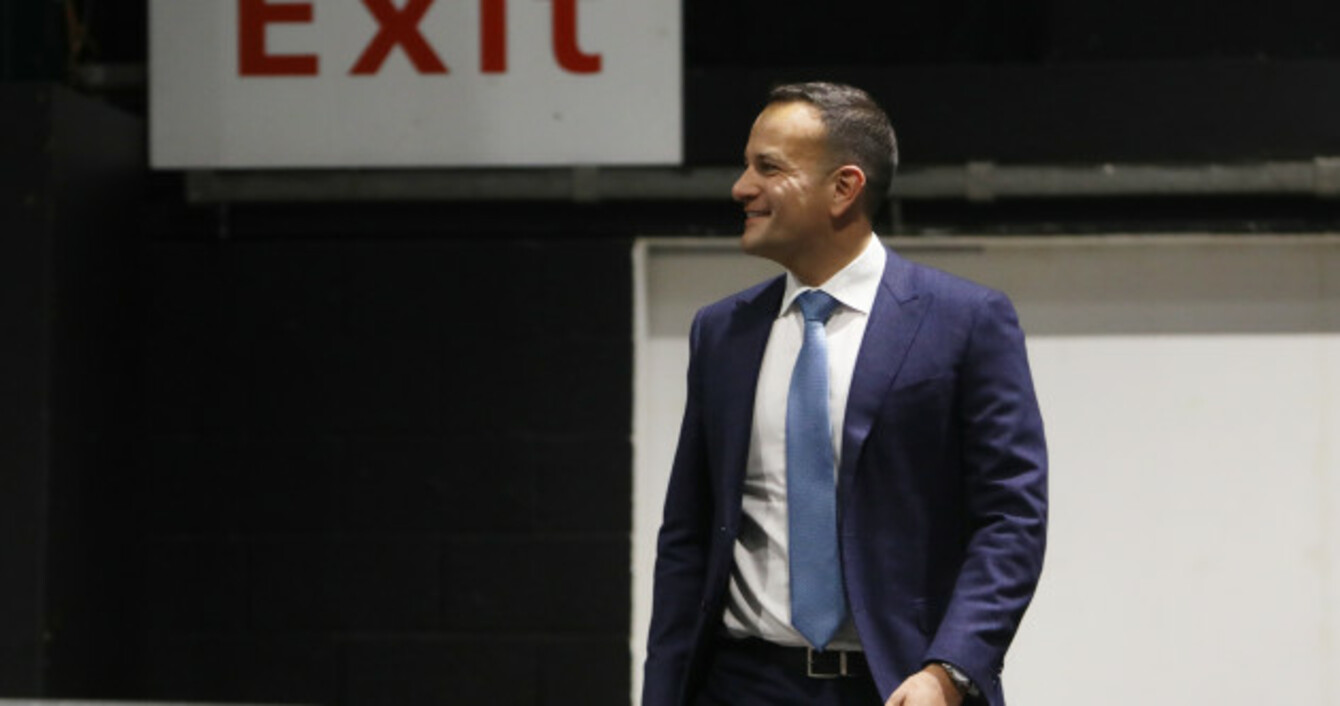 Image: LEAH FARRELL
Image: LEAH FARRELL
Updated May 26th 2019, 7:15 PM
TAOISEACH LEO VARADKAR has said he is not ruling out a general election, but said it is "not a prospect in the next couple of days or weeks".
"I can't rule it out," he told RTÉ's Six One News, adding that if it was about maximising the prospect for Fine Gael "we would have gone to the country a year ago in the aftermath of the referendum when were on 35 per cent in the polls".
Varadkar added: "I don't intend to be calling into Aras an Uachtarain in the next couple of days… I can't rule it out. First of all it is not necessarily my decision. Others could pull the plug on the government."
After the interview, the Taoiseach told reporters at the RDS that the results today don't change the fact that his decision on a general election will be based on what's best for the country, rather than what is best for his own party.
His comments follow on from he previous comments today where he said the prospect of a general election "has to be considered in the next couple of weeks". 
When asked by RTÉ Radios 1′s This Week programme, whether he would rather hold a number of Dáil by-elections this November or go to the country, Varadkar said it was "a judgment to be made at a later date".
"The instability across the water in relation to Brexit, we have to bear that in mind as well and also whether we can get the votes to get the budget through.
"That's something that has to be considered in the next couple of weeks but obviously, those by-elections have to be held by the end of November."
Táiniste Simon Coveney too did not rule out a general election in the coming months. 
Speaking to RTÉ this morning, Coveney said: "I don't think people are thinking general election today. I think at the moment let's wait and see how these local and European elections work out in the next few days."
"We're going to have a very challenging summer and early autumn in the context of Brexit as well and in many ways those Brexit challenges may well shape the Budget in October. So those are big things for the government to manage in the coming months," he said. 
However, he said that the prospect of a general election was down to Taoiseach Leo Varadkar and Fianna Fáil leader Micheál Martin and whether the confidence and supply arrangement that's been in place since the 2016 general election continued. In December, Martin committed to maintaining the agreement until 2020 due to the uncertainty caused by Brexit. 
Green wave 
The results of the local and European elections, he said, had been somewhat disappointing but he promised a shift in the government's approach to climate change and the environment. "I think you will see in the next few weeks… a very significant climate policy coming from the government," he said. 
"A number of weeks ago, certainly a number of months ago, we would have been hoping to have made bigger gains than we have made. But I don't think anyone anticipated just the scale of the increase in the vote for the Green Party, particularly in Dublin."
Climate issues proved a dominant issue in the election campaign, with Fine Gael European election candidates forced to defend claims that there was a tension between the government's policies on climate and farming. 
"I think we can reduce our carbon footprint while also producing food more sustainably and every dairy farmer in the country has signed up to a sustainability programme on a voluntary basis", he said. 
"We don't need to wipe out farming to be pro the green agenda."
Varadkar told RTÉ that he doesn't see the green wave in the local election results as a protest vote, but rather "a message from the public to us in government that they want us to do more, more quickly".
"I see it as a signal of a very big change in opinion on environmental issues and climate issues," Varadkar said. 
We all understand that you can't really do what needs to be done in terms of climate action without a carbon tax. But also a carbon tax on its own what do what needs to be done, so it can only be part of a picture.
Labour leader, Brendan Howlin, speaking to RTÉ this morning, admitted that his party had been "eclipsed by the green wave" in the local and European elections. 
Howlin said that the elections are for people to give a signal, and that the signal this time is "take the climate change agenda seriously, enough of the talk about action, we need to see action – and I think all the political parties will take that call and will act."
With reporting from Adam Daly and Christina Finn