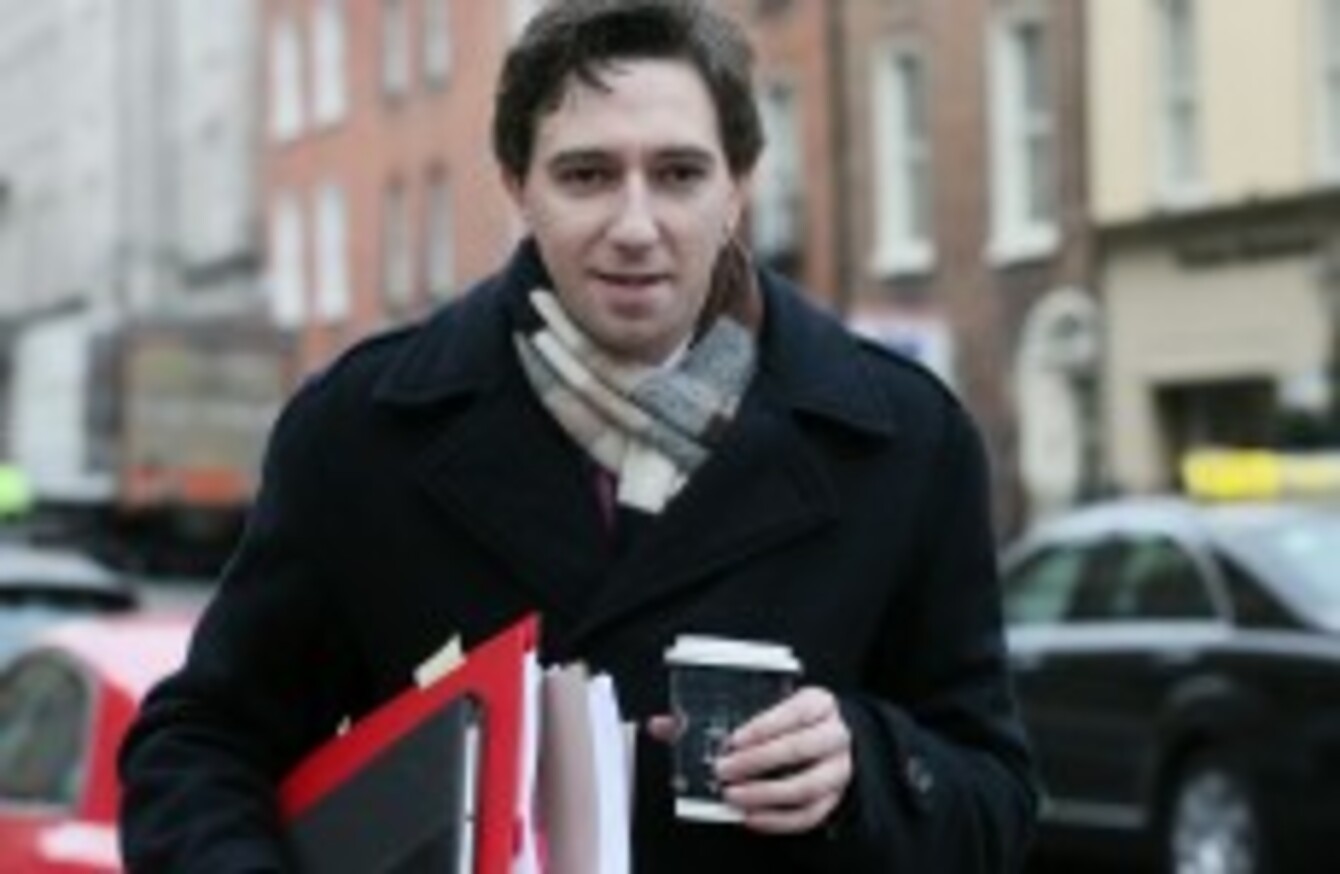 Europe is the goal for Simon Harris
Image: Laura Hutton/Photocall Ireland
Europe is the goal for Simon Harris
Image: Laura Hutton/Photocall Ireland
THE DÁIL'S YOUNGEST TD surprised may political watchers when he was announced as Fine Gael's third candidate in the vast Ireland South constituency.
But Wicklow-Carlow East's Simon Harris  says he wants to show that being elected to Europe isn't something you do as a bookend to your political career.
Harris is just over three years into his first stint as a TD and has managed to gain a impressive amount of exposure for a rookie, primarily because if his presence on the box office Oireachtas Public Accounts Committee.
He says he wants to change the Irish perception that the European Parliament is something of a "retirement home for politicians, somewhere you go to end your career":
"Ireland gets to send 11 people to the European Parliament, four from Ireland south. I'm not proposing that we fill the European Parliament with people in their 20s and 30s but I am proposing that, out of the 11 people that we send, that there has to be room for new, young and, if I may say myself, energetic TDs.
Someone who wants to make a difference, who wants to, not end their career in Europe but actually leave a Dáil career that they're really enjoying and working hard at because, like that awful phrase 'donning the green jersey' , we do need people who are willing to leave the political institution I'm in here now and represent Ireland in Europe.
Harris is nothing if not enthusiastic about the prospect of leaving Leinster House, saying that he feels the bureaucracy would suit a self-confessed "policy wonk" like himself.
Wonkiness aside, the 27-year-old says that his motivation for entering politics has always been his brother, who was born with a form of autism. He says his work within this area in Ireland has led him to believing that as much can be achieved by working at the heart of where legislation originates.
"Autism isn't an issue that stops in Ireland,"he explains. "This is an issue that we need broader European solutions to. There's a massive amount of work going on in the European Parliament that you or I may not be aware of as we go about our daily lives."
FG in Ireland South 
To get a seat on the plane from the Ireland South four-seater, Harris will be facing two formidable party colleagues as well as popular Fianna Fáil poll topper Brian Crowley, Labour's Phil Prendergast, Sinn Féin's Liadh Ní Riada, the Green's Grace O'Sullivan and some relatively topical issue independents.
But Harris hasn't been shy in promoting his Leinster base in the expanded southern area, which now counts four Leinster counties within it's borders.
I do think it's interesting, we have a constituency that runs from Dingle to Bray and, to the best I've my knowledge, so far I'm the only candidate from the four Leinster counties. I do think the south-east as a region needs representation because the needs can vary.
Some commentators have speculated that Harris's inclusion in the race has been about just this issue, specifically, shoring up the Leinster branch of the Fine Gael ticket in the constituency to ensure two seats for the party.
"My absolute priority is to play my part in achieving two seats and I want to win one of them, I'm not running for any other reason other than to win a seat in the European parliament," he responds when asked about this directly.
Harris courting the Leinster vote on KCLR.
But the Greystones man's campaigning will likely take a back seat in the upcoming week as Rehab return to the PAC on Thursday, with the participation of the group's former chief executive, Angela Kerins and former board member, Frank Flannery still unclear.
The resignation of the two board members, along with that of Brian Conlan of the CRC and of Nicholas Jermyn of St.Vincent's Hospital, have been the outcome of what has been months of headline grabbing news about the semi-publically funded healthcare facilities.
Harris says that he "worries sometimes that people focus on the headline part of the stories", insisting that reports now need to be put to Government to create rules around term-limits and the advertising of roles. Despite this, he points out that the PAC had a job to do:
We were tasked to look at section 38s and 39s for the first time in the history of the state. There's actually been a light shone on services that the taxpayer has been funding for years but hasn't been asking questions of.

We've shown how as a society we've allowed fiefdoms to develop. That's not taking away from the good work that they're doing, but they do need to be accountable. The arrogance that we've seen from some of these organisations, not just Rehab or the CRC, some of our major hospitals asking 'how dare you ask us that?'
Harris says he's enjoyed 'sinking his teeth' into these issues and looks forward to more of this 'nitty gritty' in Europe.
Added to that though, he feels that there is a disconnect between Irish people and Europe and he wants to be the "face of these instutions in Ireland South":
Bono came to the EPP conference in Dublin and he said a lot of things, some of them I agreed with, some of them I didn't. But one thing he said which I thought was interesting was 'Europe is a thought which must become a feeling'. Now he's a rock star, he gets a away with saying those kinds of things, but they way I interpreted that point is that Europe is still seen as faceless in this country.
Harris was given TheJournal.ie's EU politics quiz before we finished up — questions of varying difficulty on the history and workings of the European institutions. Here's how it went… 
Which European agreement formed the basis for the Euro? The Maastricht treaty. [Correct]
In 2005 there were two referendums in Europe which rejected the Constitution of Europe, what were they? Oh France and….the Netherlands. [Yep...yep]
The EPP's candidate for the Presidency of the European Commission Jean-Claude Juncker is from what country? Luxembourg. [Oui]
As a bonus, what about European Council President Hermann Van Rumpouy? Belgium. [Correct]
Final question, a tricky one, who is the President of the European Investment Bank?  ……….I don't know [We've got a mistake, it's Mr Werner Hoyer]