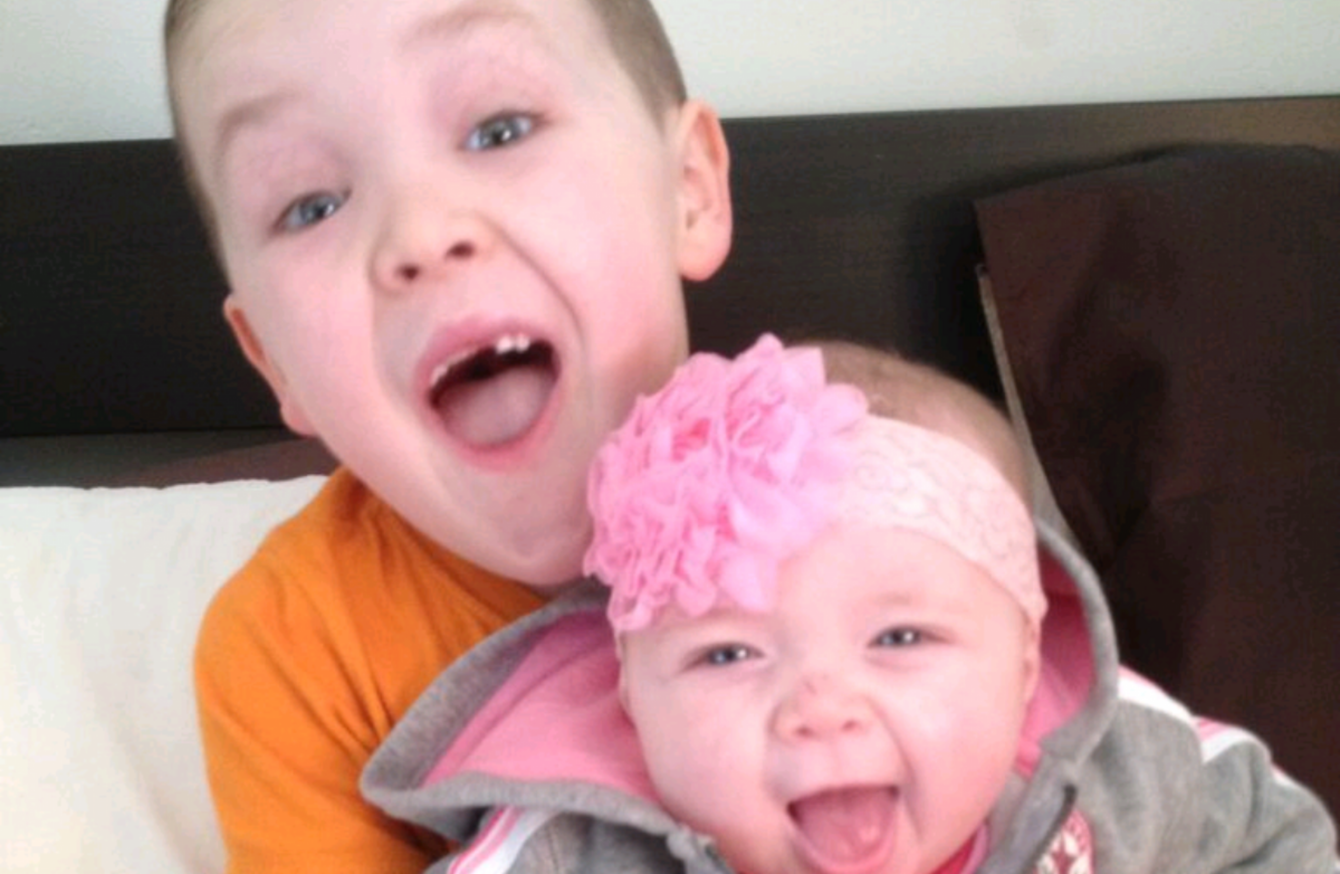 Lee and Ella O'Keeffe
Image: Louise O'Keeffe
Lee and Ella O'Keeffe
Image: Louise O'Keeffe
"PEOPLE TELL ME all the time that they don't know how I do it, but really, I have no choice. No carer has a choice."
Dubliner Louise O'Keeffe is the sole full-time carer to her four-year-old daughter Ella.
Ella O'Keeffe lives with a rare condition called Neurofibromatosis Microdeletion Syndrome. The condition causes tumours to grow throughout her nervous system, along with autism, joint issues and intellectual difficulties.
Speaking to TheJournal.ie, Louise O'Keeffe said that she wasn't aware of Ella's condition until she was born, and even then it took three years before her diagnosis was made official.
"It wasn't until Ella was born that we realised that something was wrong because from the minute she was born she cried a lot, she was always sick," O'Keefe said.
"Really, I was thrown in at the deep end, I didn't know this was going to happen."
Already the mother of her son Lee, who is now 10 years old, O'Keefe was left with no choice but to leave her job and become Ella's full-time carer when she was born. She has been unable to return to work since.
"I couldn't go back to work when I had her because she took up all my time. It was 24/7, all throughout the night. It was really, really hard," she said.
'I don't know what my night is going to be like' 
Speaking of her daily routine at home with Ella, O'Keefe said that the day doesn't end once she puts Ella to bed, as she could wake up numerous times throughout the night.
"It's not like you can go to bed and switch off and know you're going to get a full night's sleep. Ella could wake up at 3am and be awake for the day. I don't know what my night is going to be like," O'Keefe said.
During the day, Ella requires round the clock attention as she has no sense or understanding of danger.
"She's a flight risk, she has autism and an intellectual disability, so you can't take your eye off her. She has no sense of danger, so doors and windows have to be locked at all times," she said.
Ella attends a specialist preschool for four hours every morning. Aside from that, O'Keefe receives home help for five hours a week, provided by the Jack and Jill Foundation.
However, as Ella turns five years old next month, the home help from the Jack and Jill Foundation will come to an end.
"I use those hours to spend time with Lee, we would go off together and do something nice. That's all we have. It's only five hours a week but those five hours are invaluable," O'Keefe said.
"That care will stop next month and I won't have that time to spend with Lee, we really enjoy that time together," she said.
With regards to the possibility of receiving help from the HSE, she said that she still may not get to bring Lee out to spend time alone with him, as the HSE requires that the parent or designated individual is still present in the house when nurses and healthcare assistants are present.
In a statement to TheJournal.ie, the HSE said: "Children with complex healthcare medical conditions have substantial medical healthcare needs and a homecare package is required when a child has a medical and/or nursing needs that cannot be met by existing primary care services and children's disability services.
"The HSE responsibility is to facilitate the child to lead as normal a life as possible in order to maximise child quality of life and developmental opportunities and to keep the child out of hospital as much as possible.
"Overall responsibility for the welfare of the child is that of the child's parent/s and service provision should work in tandem to support their role. Staff will not assume sole responsibility for a child where parents may not be available and a designated and competent individual (appointed by the parents) must be present to act in loco parentis."
So, for now, O'Keefe believes that she will continue to be the sole full-time carer for Ella heading into the future.
"Being a carer is exhausting at times, emotionally and physically exhausting, especially if we have a bad night or if she gets sick.
I can't be off guard, I'm on my guard 24/7. I have to watch her very carefully.
"Ella will need my care for the rest of her life. Hopefully, she will progress as she gets older but she will always be delayed, she will always have an intellectual disability, she will always need my care," O'Keefe added.
I'm a carer now, that's my job for the rest of my life.
Lack of support
As of Census 2016, 41,185 people provide 43 or more hours of unpaid care to someone with a disability in Ireland. Many of them, like O'Keefe, receive just a few hours a week of support from an external source.
"There's not enough support in Ireland, there's not enough understanding," O'Keefe said.
People tell me all the time that they don't know how I do it, but really, I have no choice. No carer has a choice. They're our children, of course, I'm honoured to do it for my child. I would do anything for my kids, but you don't have a choice.
"So, when someone says we're great for doing it, we're not great, we're just normal people. If it happened to your child you would do it too."
Next week is National Carers Week, which highlights the experiences of thousands of family carers across Ireland that look their loved ones.