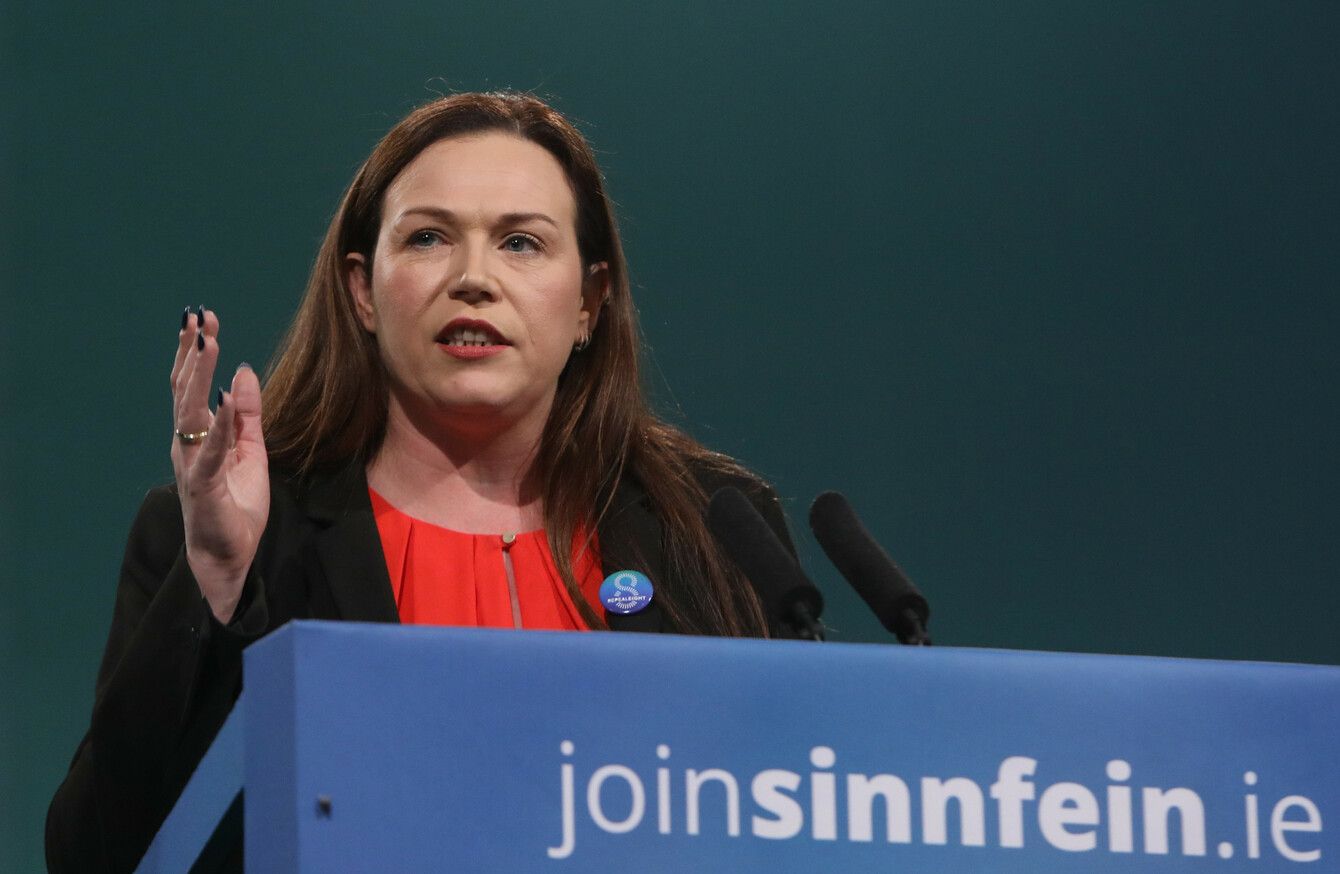 Sinn Féin's Louise O'Reilly
Image: Leah Farrell
Sinn Féin's Louise O'Reilly
Image: Leah Farrell
SINN FÉIN HAS voted down the option for elected representatives to be allowed to vote on the issue of abortion according to their conscience or personal opinion.
The party voted to reaffirm their position to repeal the Eighth Amendment, as well as agreeing to the availability of abortion in cases where a woman's life, health, mental health is at serious risk or in grave danger, and also in cases of fatal foetal abnormalities and cases of sexual abuse and rape.
Deputy Leader Mary Lou McDonald received a rapturous applause this afternoon following her address to party delegates in which she said the Eighth Amendment protected no one.
She said "political cowardness" and "a monumental failure of leadership" lead to legislation for the X case taking over 20 years.
She called on the party to reaffirm their position to repeal the Eighth Amendment. McDonald said there are many views on the issue of abortion in society and within their own party.
Carlow Kilkenny TD Kathleen Funchion said a referendum on repealing the Eighth Amendment is "urgently needed".
"We are failing our women," she said, adding that our mothers, wives, and daughters are being forced to travel for basic reproductive healthcare.
She said she never thought she would agree with the Citizen's Assembly, but urged delegates to take their findings on board.
Louise O'Reilly TD said that it was not 1983 and called on party members to give women the right to choose. O'Reilly said she would listen to what the members tell her.
"We are a progressive party, let us move," she said.
Two years ago, Sinn Fein passed a number of motions allowing for abortion in the case of fatal foetal abnormalities. Delegates also vote for the Eighth Amendment of the Constitution to be repealed in 2015.
A handful of delegates spoke against repealing the Eighth with one delegate stating that it will lead to "abortion on demand".
Another said if you begin to open the door "someone will put their foot in".
There have been divisions in the party about abortion. Just last week, Eoin O'Broin said his party colleague Peadar Toíbín's view on abortion was not reflective of the party's position.
#Open journalism No news is bad news Support The Journal

Your contributions will help us continue to deliver the stories that are important to you

Support us now
Tóibín criticised the Oireachtas on the Eighth Amendment dubbing it bias due to the number of pro-choice witnesses appearing.
Toíbín told the Ard Fheis that changing the party's policy on abortion will bring it more in line with abortion laws in the UK.
Addressing the issue yesterday, McDonald said;
"Peadar is a colleague of ours a friend of ours, everybody in society has views on the issue of abortion and I suppose Sinn Fein is no different on to Irish society more generally.
"We take the view that politics has to deal with all of the issues including the ones that are difficult the ones that have a strong moral component to them and those are many issues," she said.
"I think the distinction to be drawn between Sinn Féin and the other political parties that you have cited, is that we understand that it is not credible for a political party not to have a position on an issue such as this which is an issue of public policy, it's a matter of public health, women's health and the objective of the Ard Fheis is to debate the motions in front of us and to arrive at a considered collective position.
In many ways it might set the scene for a wider debate across society when there is a referendum on the repeal of the Eighth Amendment.
"Political patties have to deal with all of the  issues including the difficult ones and unlike the other political parties we don't run away from our responsibility in that regard."