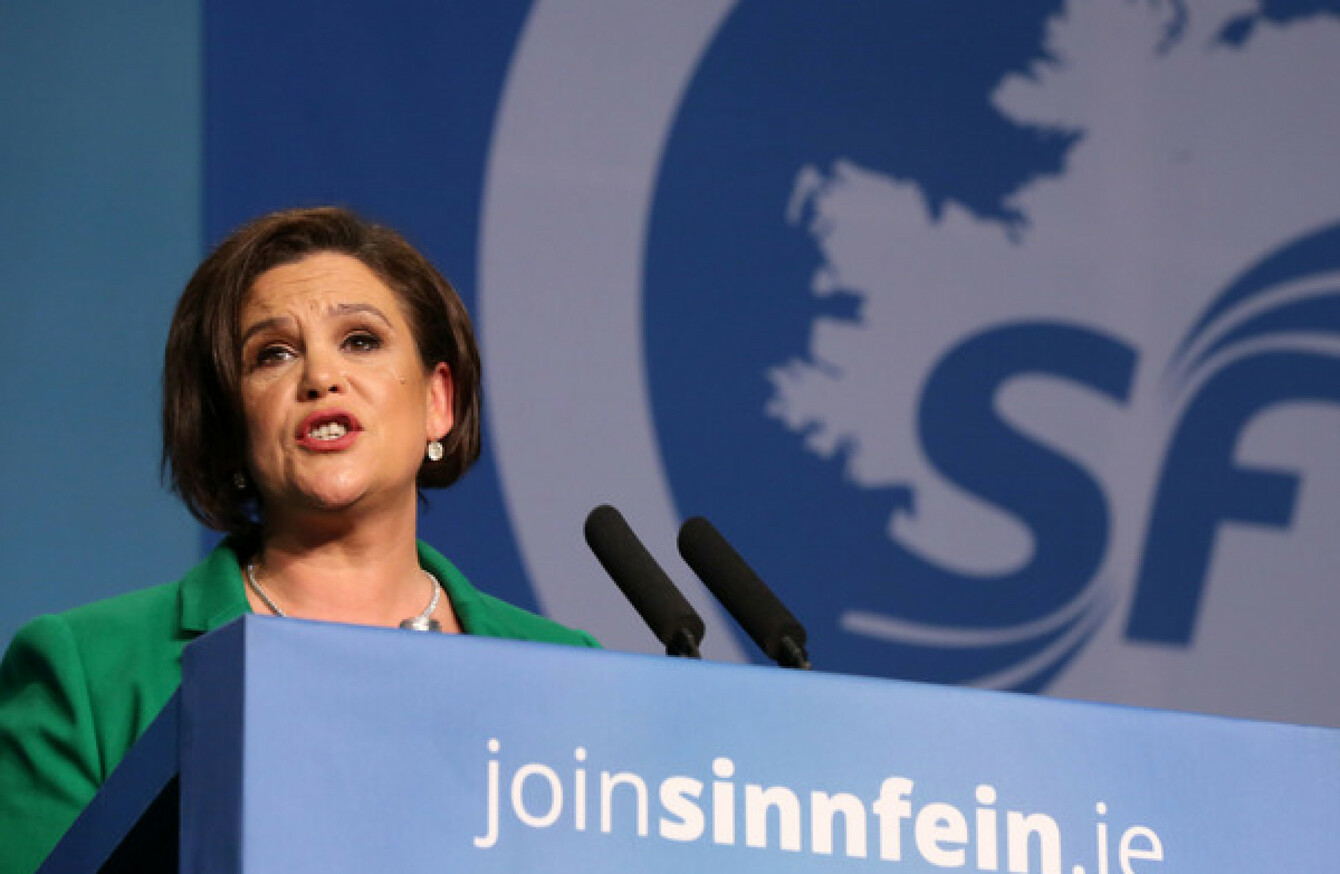 SINN FÉIN'S NEW leader Mary Lou McDonald has said that her party will be "knocking on doors" campaigning to repeal the Eighth Amendment.
However, no further detail was given on how the party plans to deal with the possible legislation, predicted to allow for unrestricted abortion up to 12 weeks, that will follow the referendum (if it is passed). It's expected another special Ard Fheis may need to be held to determine party policy on the issue.
Speaking at the special Ard Fheis at the RDS today, where Gerry Adams formally stepped aside for McDonald, she said:
The referendum debate is about public health, women's health and our right to decide on these matters for ourselves. I trust women. The referendum provides us with a historic opportunity to finally ensure that compassion and trust in women prevails.
Sinn Féin will campaign enthusiastically for repeal. We will be on the streets. We will be knocking on doors. We will be on the airwaves vigorously arguing our case for repeal. Some people will not share our analysis. I respect their right to hold that view.
Some of those will be republicans, friends and family. However despite differing views, I believe that the referendum debate can be handled with respect and sincerity. For too long women have been let down. This cannot continue. We cannot tolerate it.
At the party's Ard Fheis in November, the party members voted down the option for elected representatives to be allowed to vote on the issue of abortion according to their conscience or personal opinion.
The party voted to reaffirm their position to repeal the Eighth Amendment, last year, as well as agreeing to the availability of abortion in cases where a woman's life, health, mental health is at serious risk or in grave danger, and also in cases of fatal foetal abnormalities and cases of sexual abuse and rape.
However, Sinn Féin party members on the Eighth Amendment Committee chose to abstain on a motion supporting unrestricted access to abortion up to 12 weeks to cover cases of rape and incest.
Speaking to TheJournal.ie at the time, the TD said her party is "strongly committed" to making terminations available to women who have become pregnant as a result of sexual violence. However, she said the party had discussed the issue at length at its Ard Fheis and this motions had gone "slightly beyond party policy".
She said she and her colleagues could not fully support it and this is why they abstained.
#Open journalism No news is bad news Support The Journal

Your contributions will help us continue to deliver the stories that are important to you

Support us now
Although it is understood that many in the party are in favour of the 12-weeks proposal personally, they have said they would be bound by party policy.
Choosing a position on the issue, as well as dealing with Sinn Féin TDs who might choose to go against party policy and vote with their conscience on the issue is just one of the challenges that face the new Sinn Féin leader