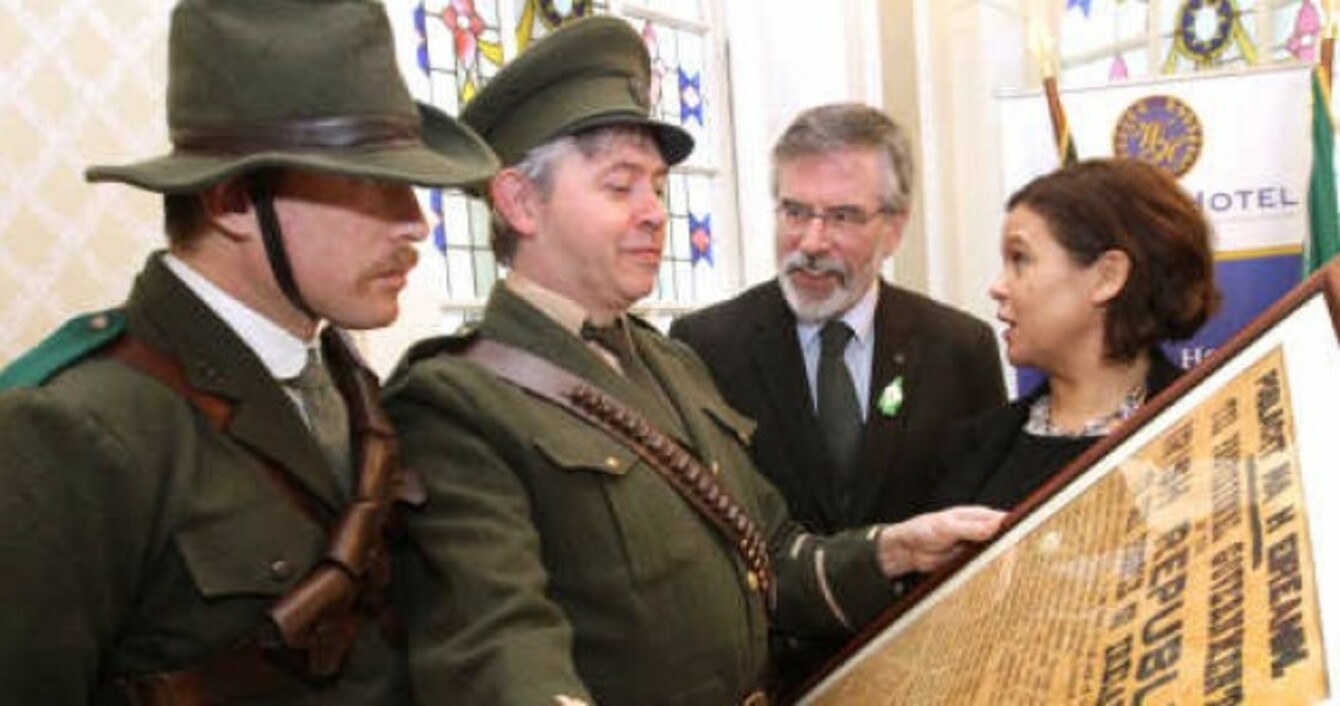 Gerry Adams and Mary Lou McDonald at the launch of Sinn Féin's programme of events for the 1916 commemorations.
Image: Mark Stedman/Photocall Ireland
Gerry Adams and Mary Lou McDonald at the launch of Sinn Féin's programme of events for the 1916 commemorations.
Image: Mark Stedman/Photocall Ireland
THE PACT THAT will see Sinn Féin take over the Dublin mayoralty next week – and hold it during the 1916 commemorations – has been criticised by councillors.
Under an agreement reached last year, a Sinn Fein councillor will take over the position of Lord Mayor of Dublin from independent Christy Burke at next Monday night's council meeting.
The role is likely to go to the party's south inner city councillor Críona Ní Dhálaigh with the support of Labour, the Greens and some independents. She will hold it for the rest of this year and the first six months of 2016. This follows a deal brokered between the parties last year where the position would rotate.
As the largest party on the council, with 16 seats, Sinn Féin pushed to hold the mayoralty in 2016, with Fianna Fáil, Fine Gael and Labour likely to hold it in the following years. The party has big plans for its own 1916 commemorations next year, having booked out the Ambassador Theatre.
While several councillors praised Ní Dhálaigh personally, they expressed concerns that Sinn Féin will "hijack" the 1916 commemorations next year and use them for its own political purposes.
Fianna Fáil councillor Jim O'Callaghan said:
I've a concern that Sinn Féin will hijack the 2016 commemorations for their own political purposes and my big concern is that they're going to use 2016 to justify the Provo campaign.
His constituency rival, Fine Gael councillor Kate O'Connell, said the party was "hijacking a historic moment in our nation's history for their own political gain".
Independent councillor Mannix Flynn said he will be putting his name forward for the mayor position as he has "grave concerns" about Sinn Féin holding the role next year.
"I may not receive any support, but I think it's important that a true independent voice is heard," he said.
Sinn Fein's leader on the council, Seamas McGrattan, said it was "nonsense" that an independent councillor could be non-political.
"There was talk of it being an independent, but everyone that is an independent has a political view, they're all elected politicians. It's a nonsense argument."
He admitted his party had pushed to hold the position in 2016, saying it "is an important year for us", but he added:
We're not seeking to hijack anything. It's not that we chose that ahead of every other year. There was an agreement that the independents went first last year and we supported the individual because he's been on the council so long. We took a preference for the second year. We won't be hijacking anything.
Flynn also said that the Maíria Cahill case raised concerns about how Sinn Féin has handled allegations of sex abuse in the republican movement. He accused Labour of being "unprincipled" in its support of Ní Dhálaigh's candidacy given the Cahill was invited to speak and given an award at the party's conference in February.
"Labour will bring in anybody and exploit them for their own ends and there's a major conflict of interest and there's a major contradiction there," he said.
O'Callaghan also criticised Labour, saying he could not understand the party's motivation for backing Sinn Féin on this occasion:
Sinn Féin want to destroy the Labour party and it is inexplicable and incomprehensible to me, in the run up to a general election, why the Labour party would vote for Sinn Féin.
Labour's leader on Dublin city council, Dermot Lacey, defended the decision, saying:
I am interested in Dublin in 2017 and beyond that. This fixation with 2016 isn't a factor with me. Sinn Féin were elected the largest group on the council. I don't like their policies, but Labour is a democratic party.
He said that as part of the agreement struck last year, Sinn Fein agreed to vote for the city council budget.
"I am not going to break an agreement that has been honoured," he said, while adding that "all bets are off" if Sinn Féin reneged on the deal.
McGrattan said he was happy to meet Flynn to discuss any concerns he had about Sinn Féin's handling of sex abuse allegations in the republican movement.