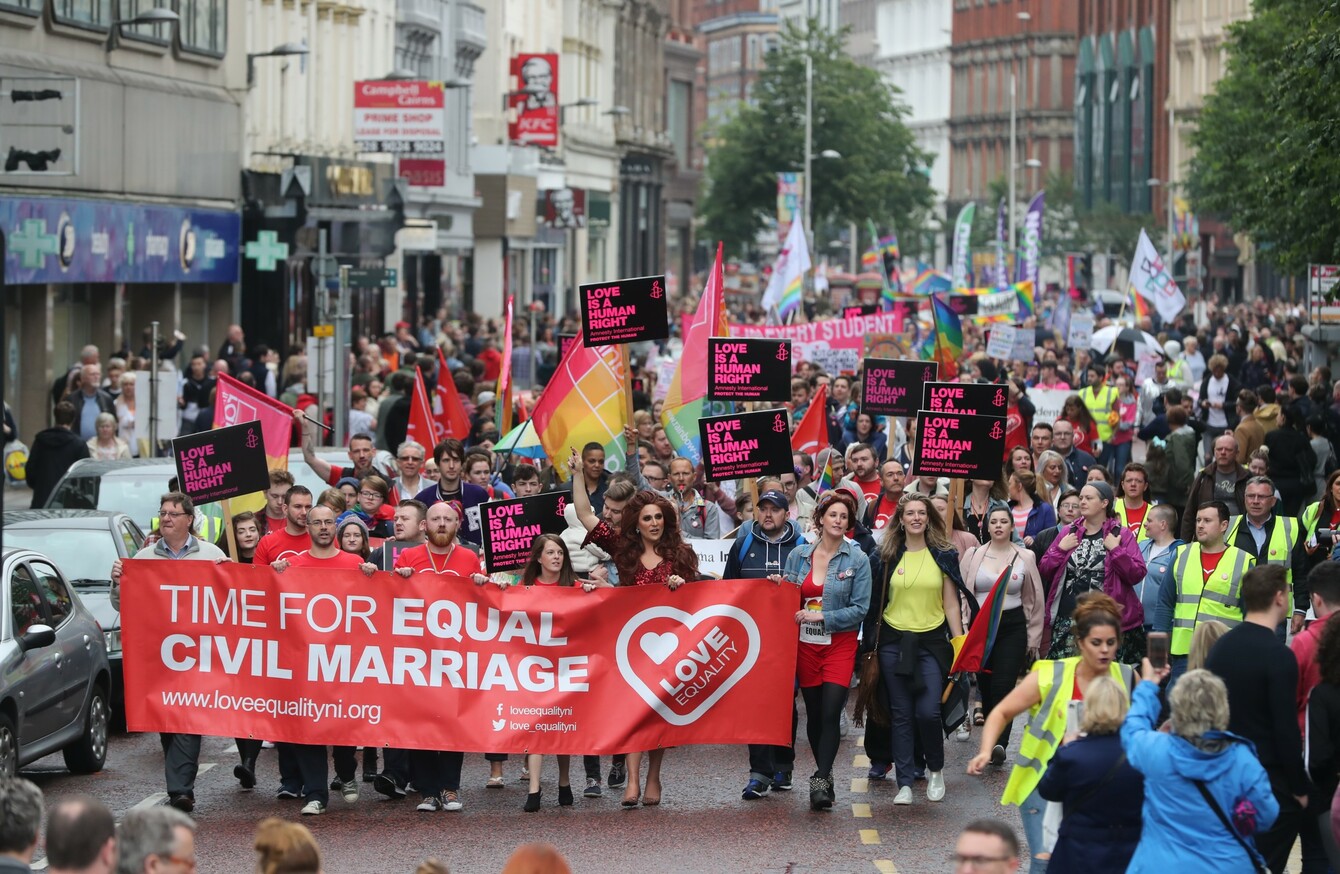 Campaigners calling for the introduction of same sex marriage in Northern Ireland during a parade and rally in Belfast City centre.
Campaigners calling for the introduction of same sex marriage in Northern Ireland during a parade and rally in Belfast City centre.
THE DUP HAVE accused the Irish government of getting involved in the Stormont Assembly talks by urging the North to legalise same-sex marriage, which is a Sinn Féin policy demand.
Both powersharing parties have already missed three different deadlines this year to form a Stormont Assembly, and leaves an uncomfortable precedent to the British and Irish governments on how to react.
As talks aimed at form a Stormont Assembly slowly grind to a halt, Sinn Féin responded to criticism from the DUP that they're demands are "unreasonable" and "amount to blackmail".
Sinn Féin MLA Conor Murphy told Morning Ireland that this was "simply not true".
He said that most of what Sinn Féin are asking for – which include an Irish Language Act, the legalisation of same-sex marriage and the resignation of Arlene Foster – have been already agreed in previous agreements, and haven't been implemented.
These are rights and entitlements that people agree to in the [Republic of Ireland] and in Britain… so they're not unreasonable demands at all.
I can't understand why the DUP would not allow someone who wishes to live their life through the medium of Irish the right to do so.
Meanwhile, the DUP's Arlene Foster has said that Sinn Féin "has a shopping list that keeps getting longer" and dismissed the chances of an agreement if this didn't change.
The DUP's Sammy Wilson told Morning Ireland today that it wouldn't come to an agreement on Sinn Féin's terms.
"The Irish government is sticking its nose in business it has no responsibility for," he said, before criticising the Taoiseach for urging the North to change its laws to allow same-sex marriage.
He said he hadn't heard the Taoiseach urging any other member of the EU who haven't legalised same-sex marriage to change their laws.
More disagreement
Yesterday, Sinn Féin accused British Prime Minister Theresa May of setting the Northern Ireland peace process back decades after a further delay in talks.
Michelle O'Neill, Sinn Féin's leader in Northern Ireland, said an agreement between May and the Democratic Unionist Party's 10 MPs in the London parliament to prop up her minority government was at fault.
"She is in hock to the DUP," O'Neill told reporters in Belfast in comments aired on national television.
Sinn Fein are disappointed but not surprised that a deal has not yet been done. What this constitutes is a monumental failure on behalf of Theresa May.
"She has set back decades of work," O'Neill said.
The British government continues to insist that the deal has no bearing on the Northern Ireland peace process.
The DUP, in turn, has been critical of Minister for Foreign Affairs Simon Coveney's support for an Irish Language Act, and Coveney was quick to then distance himself again:
The governments can support and encourage but, in the final analysis, it is only the parties themselves that can make an agreement with each other.
Britain's Northern Ireland Secretary James Brokenshire warned that if no agreement was reached, he would be forced to draft a budget for the province and have it enacted by civil servants, but a day later said only that he would "reflect carefully" on how to manage public services.
- With reporting from AFP