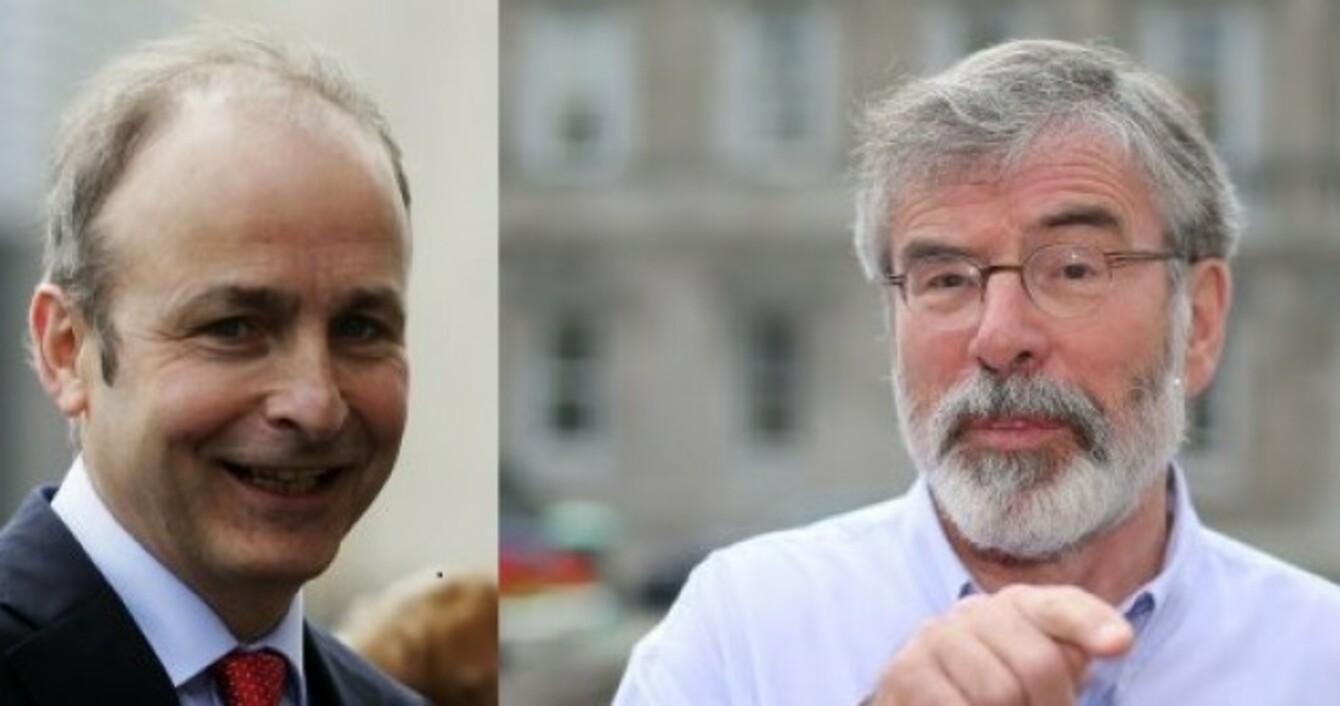 Image: PA Archive/Press Association Images
Image: PA Archive/Press Association Images
Updated 9.30am 
REPORTS SUGGESTING THAT Sinn Féin could enter a coalition with Fianna Fáil after the next general election have been called "nonsense" by a Sinn Féin TD.
While Fianna Fáil has also moved to dismiss such speculation with the parliamentary party's chairman Brendan Smith insisting it is "settled on the issue of Sinn Féin".
Yesterday's Irish Mail on Sunday quoted sources from Sinn Féin as saying that Fianna Fáil is the only party that they could form a government with.
The paper quotes Fianna Fáil TD Colm Keaveney as saying he has "an open mind" on who forms a coalition, as long as either Enda Kenny or Gerry Adams is willing to be Tánaiste.
His party colleague and chairman of the Public Accounts Committee, John McGuinness, is quoted as saying "policy won't be a concern – we can compromise on that" if the public votes in such a way that a coalition is feasible.
However, Sinn Féin's Peadar Tóibín, a TD for Meath West, poured cold water on the idea, calling Fianna Fáil "toxic".
"The report today is two parts fiction from the media and one part wishful thinking by Fíanna Fáil. Needless to say the story is nonsense.
Fianna Fáil are a toxic brand, with toxic policies. Citizens recognise their record of failure on water charges , housing, public services and the economy and view them as increasingly irrelevant.
"It is clear that the people want real change; they want a break from the failed politics of the past and want to end the unfair Household Tax and Water Charges.
"Sinn Féin will put our vision of a united, fair, prosperous and progressive Ireland to the people north and south. It is on that basis that we hope to win support and lead a government of real change."
Responding later in the day, Smith said that while individual TDs are free to express their views the parliamentary party's view, agreed last July,  is that "the economic platform and the behaviour of that organisation ruled them out as potential partners for the Fianna Fáil party".
"Fianna Fáil is a proudly pro-jobs, pro-enterprise, pro-opportunity party that has always worked to develop social cohesion and progress.  Sinn Féin's track record and stated policy objectives flatly contradict all those basic tenets," Smith said.
"In addition, the behaviour of the party as it sought to cover-up the sexual abuse crisis within its own ranks and its increasingly anti-democratic agenda within Dáil Éireann all confirm the judgement of the Parliamentary Party when it ruled out Sinn Féin as a potential partner."
- additional reporting from Hugh O'Connell 
First published Sunday, 07 December 2014