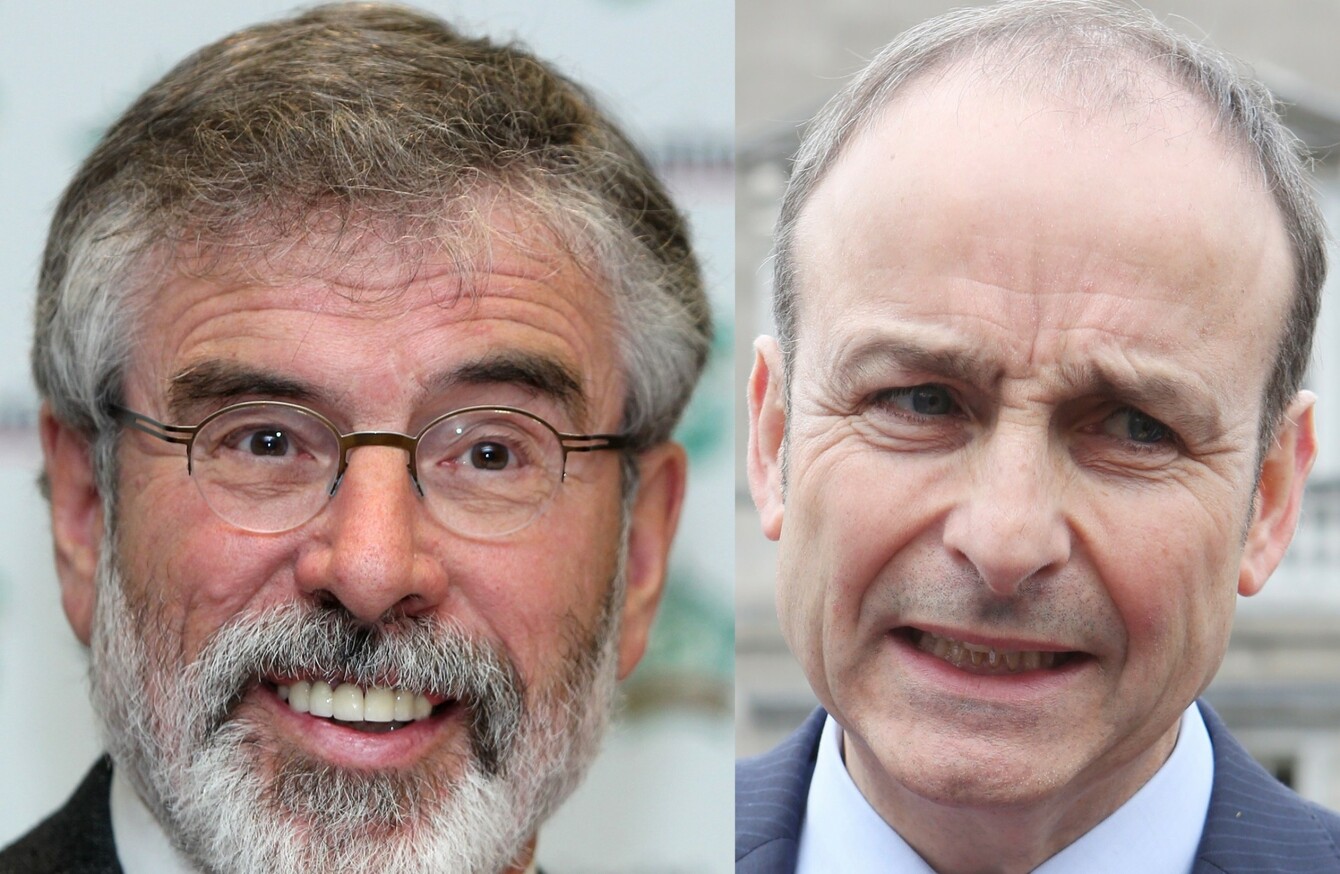 Gerry Adams and Micheál Martin
Image: RollingNews.ie
Gerry Adams and Micheál Martin
Image: RollingNews.ie
Updated at 5pm
SINN FÉIN HAS again opened up the possibility of going into government with Fianna Fáil, just over a month after Gerry Adams failed to explicitly rule it out.
Both Adams and Sinn Féin's director of elections Matt Carthy yesterday indicated they would be willing to discuss a possible coalition government with Fianna Fáil if the party signed up the principles espoused by the Right2Change movement.
Sinn Féin also maintains it will only go into government if it is the largest party.
Fianna Fáil leader Micheál Martin has consistently said he will not enter government with Adams's party, but a number of Fianna Fáil backbenchers have refused to entirely rule it out.
On Wednesday, Martin said his party is "a bit to the left" of centre and believes in "strong, publicly-funded social services with a fair taxation system that would enable us to pay for that".
These comments prompted Adams to be asked yesterday if he would consider a post-election deal with Fianna Fáil.
He responded: "We have signed up to the Right2Change [manifesto] and they are broad principles that have been put forward which could shape a progressive government.
"There is now the possibility of a government which is not dominated by either Fianna Fáil or Fine Gael.
So I would invite Micheál Martin to sign up to those principles, that will be the proof of his commitment in the time ahead.
Speaking this afternoon to RTÉ Radio 1′s Saturday with Claire Byrne, Sinn Féin deputy leader Mary Lou McDonald said her party "will not be in the business of propping up either Fianna Fáil or Fine Gael".
She said the only circumstances where Sinn Féin would go into coalition with Fianna Fáíl would be in circumstances where Sinn Féin was the larger party, and that Fianna Fáil signed up to a programme of reform and investment.
We are not courting them, we have no desire to court them, but we are saying in circumstances where people will sign up to the kind of change and the kind of  investment that's good for the people we represent, that's good for society as a whole, well then of course, that is something that should and must happen.
Labour party TD Arthur Spring described the willingness of Sinn Féin to potentially enter coalition with Fianna Fáil as "alarming".
"In other words, as far as Sinn Féin is concerned, the very party that brought this country to the brink, is once again, fit to govern," he said in a statement issued after the programme.
"The last thing we need is to put the recovery at risk by putting into government building, some combination of Fianna Fáil, the party who created the economic problems in the first place, and Sinn Fein who couldn't balance a budget to save their lives."
Meanwhile, Carthy told Newstalk's Lunchtime programme yesterday that Sinn Féin would be open to discussions with Fianna Fáil.
If they were willing to sign-up to those [Right2Change principles] and become members of a Sinn Féin-led government then we would be open to discussions.
However, he added that nothing Fianna Fáil had done in government or opposition indicates they would be willing to do so.
Speculation about a Fianna Fáil/Sinn Féin coalition reached fever pitch in early December after Adams failed to explicitly rule it out, even though Martin did.
Fine Gael has consistently sought to suggest that a vote for Fianna Fáil would put Gerry Adams and Sinn Féin in government.
In response to Carthy's comments yesterday, junior minister Paudie Coffey claimed the two parties are reliant on each other to get into government.
"It is worrying to see Sinn Féin and Fianna Fáil making eyes at each other as we approach the general election. It is a reminder to all of us that a vote for Fianna Fáil could effectively put Sinn Féin and Gerry Adams into government," he claimed.
Originally published 7.15am. Additional reporting by Nicky Ryan.