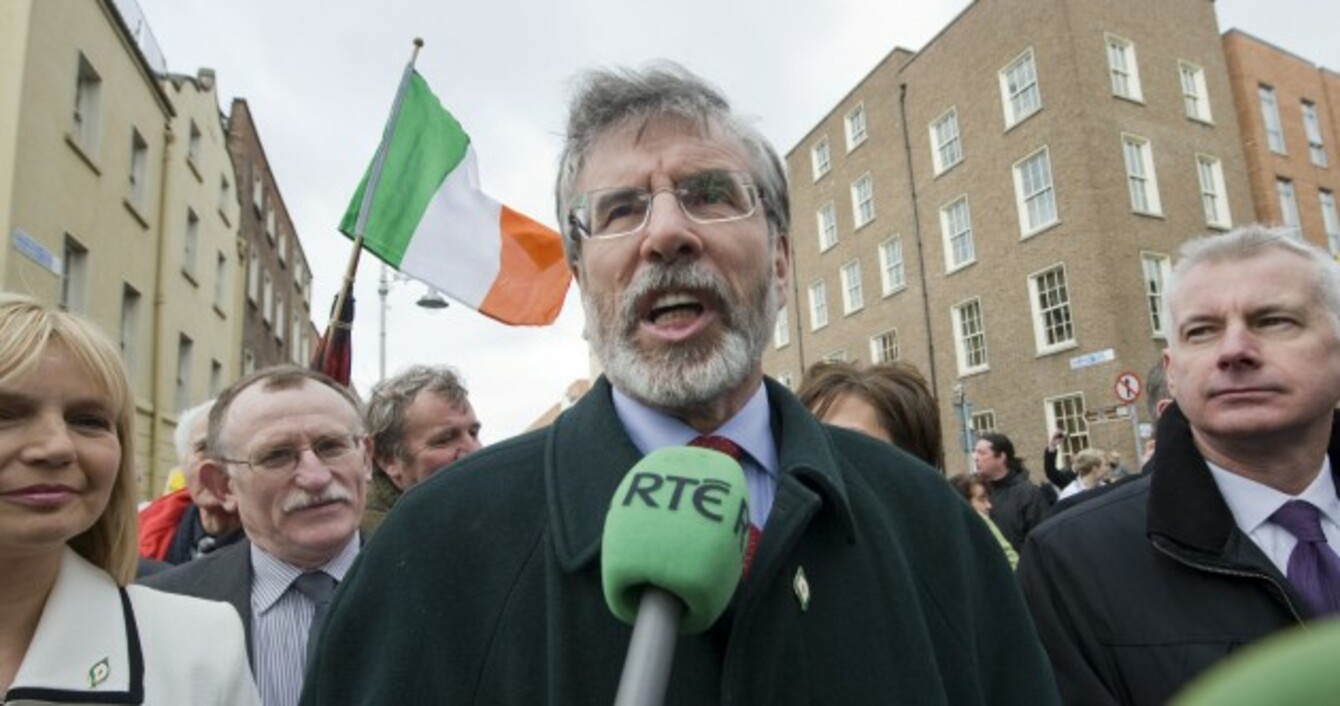 Gerry Adams and Sinn Féin colleagues at Leinster House
Image: Leon Farrell/Photocall Ireland
Gerry Adams and Sinn Féin colleagues at Leinster House
Image: Leon Farrell/Photocall Ireland
SINN FÉIN IS proposing to link rents to inflation and abolish the local property tax as part of a radical housing strategy being published today.
The party has a long-standing commitment to scrap the property tax if it gets into government but it now says it will also provide 'rent certainty' by linking rents to inflation.
Index-linking rents means they would only increase – or decrease – in line with the annual increases in household items – known as the consumer price index. The measure would be part of efforts to tackle spiralling rents in Dublin and other parts of the country.
This proposal was first mooted by Environment Minister Alan Kelly in February but he was blocked from introducing it by Fine Gael. The government has since announced a temporary rent freeze.
The policy document, 'Better4Housing', proposes that under a Sinn Féin government 100,000 new social and affordable homes would be delivered by local authorities and housing bodies over the next 15 years.
This includes 36,000 between 2016 and 2021 with a Sinn Féin government committing to a €2.2 billion additional capital spend over and above the government's current pledge.
While Sinn Féin is committing to building the same number of homes as the government – 2,468 – next year, the party says that it will have built 28,752 houses by 2021, as opposed to the 16,180 the current administration has proposed building by that year.
Sinn Féin also says it would make an additional €30 million available to local authorities in its first year in government in order to house homeless people.
The party would introduce legislation to empower the Central Bank to limit the interest rates that banks charge on home loans.
It would also review tax reliefs for landlords and amend the Residential Tenancies Act to restrict the grounds on which landlords can serve notices on tenants.
Sinn Féin also wants to scrap Direct Provision and frontload funding to local authorities that have a good track record of delivering Traveller accommodation.
The party is also proposing to examine setting up a Strategic Planning Housing Agency and establish a planning regulator.