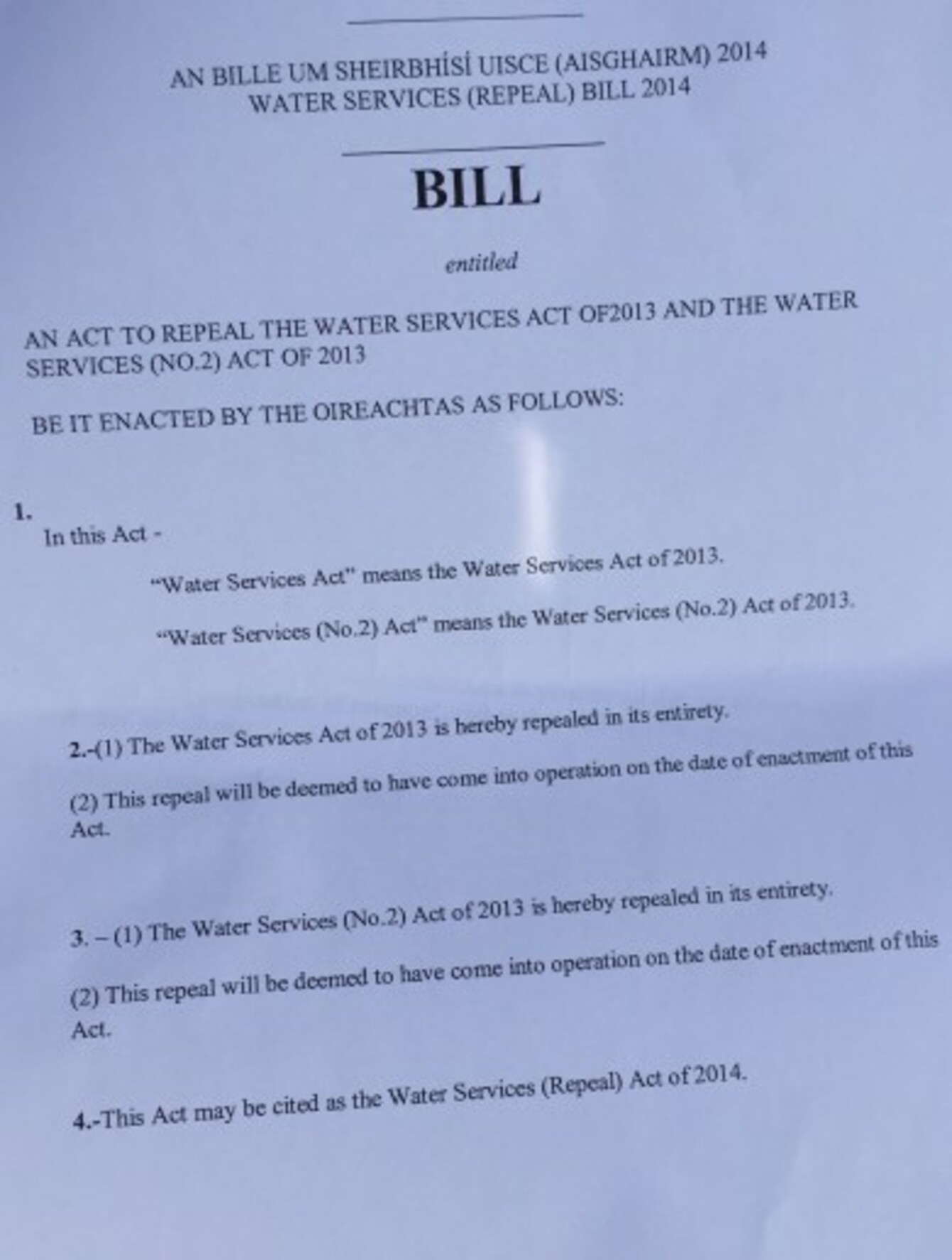 The Water Services Repeal Bill 2014, which Sinn Féin has published today
The Water Services Repeal Bill 2014, which Sinn Féin has published today
SINN FÉIN SAYS the abolition of Irish Water and water charges would be the first thing it would do if in government after the next election.
The party has today published a short one-page bill – the Water Services Repeal Bill 2014 – that would repeal the two pieces of existing legislation related to the controversial water utility and water charges.
However, the legislation will not make it onto the Dáil agenda in this term as it involves the appropriation of money.
Opposition parties are prevented from tabling laws that involve the spending of exchequer funds under Dáil rules.
It comes on the day that some households can expect to receive their first Irish Water bills. Irish Water has already confirmed that hundreds of incorrect bills are likely to come through letter boxes in the coming weeks because of 'teething problems'.
Sinn Féin's finance spokesperson Pearse Doherty said that "without a doubt" the bill published today would be the first act of a Sinn Féin government.
"What we're now asking the Irish people is to give us a mandate in this election to scrap domestic water charges and dismantle Irish Water," Doherty said.
"Instead of rolling out a metering programme what this government should have been doing is investing those millions of euros into fixing the leaky pipes, which is causing 50 per cent of water to leak away through the system."
Sinn Féin's environment spokesperson Brian Stanley said that there have been "numerous cock-ups" with Irish Water.
"We believe Irish Water is stumbling from one crisis to another,"  he told reporters today.
#Open journalism No news is bad news Support The Journal

Your contributions will help us continue to deliver the stories that are important to you

Support us now
Stanley said that if 750 staff are being hired by Irish Water to deal with customer queries in the coming months then 750 extra staff should be hired to fix leaks.
"What we're saying is if you're going to employ 750 extra people – such as what's happened this week, to take calls – surely it makes more sense if half the water is leaking out of the system that you employ 750 extra people to repair leaking pipes."
There'll be more on Sinn Féin's alternative to Irish Water on TheJournal.ie later today
Note: This article previously stated that Brian Stanley had said that Irish Water workers hired to deal with calls should be redeployed to fix leaks. This is not the case and the article has been amended accordingly.