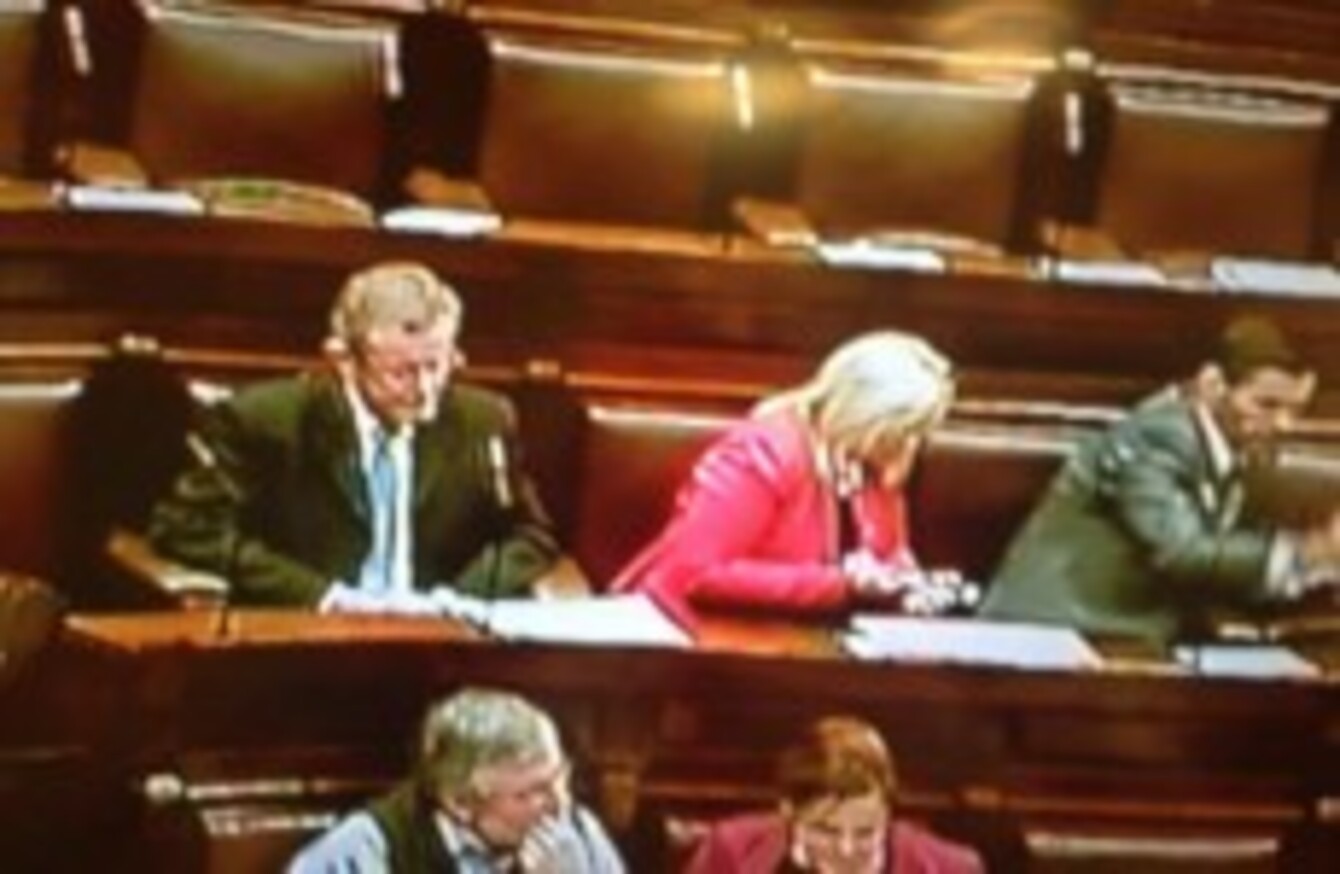 Mary Lou McDonald (bottom right ) with Sinn Féin colleagues, including Gerry Adams, in the Dáil chamber yesterday afternoon.
Image: Oireachtas TV
Mary Lou McDonald (bottom right ) with Sinn Féin colleagues, including Gerry Adams, in the Dáil chamber yesterday afternoon.
Image: Oireachtas TV
IF WEDNESDAY'S DÁIL debate on abuse in the republican movement was about politics – and to a large extent it was – then it's hard to escape the conclusion that Mary Lou McDonald's sit-in yesterday afternoon was also about politics.
Sinn Féin's deputy leader took such offence to Joan Burton refusing to answer her questions about Irish Water that she kicked up an almighty fuss. 
First, she was ordered to leave the Dáil chamber but declined, so a vote was called to suspend her. But even after that vote passed she simply refused to budge and sat on the Sinn Féin benches with colleagues for four hours.
This forced the suspension of the Dáil for the rest of the afternoon with debate on the Social Welfare Bill and a new law to enhance the powers of the Garda Ombudsman among other pieces of legislation all sacrificed as a result.
Government TDs were typically scathing and in no doubt as to the motives behind the Sinn Féin sit-in:
Sinn Féin's protest came a day after the party was subjected to intense scrutiny and criticism in the Dáil for its handling of abuse allegations and specifically the case of Maíria Cahill.
Yesterday's newspapers were full of the fallout from the five-hour debate on Wednesday where we heard claims that new allegations about abuse are about to emerge.
So was the sit-in an attempt to move the agenda away from Cahill and abuse allegations? McDonald insisted yesterday it was "nothing of the sort" but consider these two points…
First, it's not unusual for the Tánaiste, in the eyes of the opposition, to refuse or decline to answer questions about specific policies – in this case water charges – during Leaders' Questions.
Opposition parties frequently give out about it as well. In fact, here's McDonald doing just that back in October:
On that occasion there was no attempt to obstruct Dáil proceedings.
Second, this is not the first time McDonald has been suspended from the current Dáil.
Just a month ago she was ejected after accusing the Ceann Comhairle of bias during a debate on the Budget. On that occasion she left and there was no sit-in.
But yesterday was different. There was no relenting from McDonald or her Sinn Féin colleagues who sat with her in the chamber for much of the afternoon.
With the Ceann Comhairle refusing to return to the Dáil until she left the chamber, a stand-off lasting around just under four hours developed until the house was adjourned for the week.
Sinn Féin denied the move was a stunt, pointing out that Burton had failed to answer questions on water charges and specifically whether people would have unpaid bills deducted from their wages or social welfare. On Facebook, McDonald said she was looking for reassurance as "people are literally terrified".
The government's line was, as it has been all week, that clarity and certainty on water charges will come next week. Burton later said (off mic) that she did not have the answers to Sinn Féin questions, because the water charges decisions had not yet been made.
Sinn Féin supporters on Twitter were typically full of praise for McDonald taking a stand, but many political observers believe this was nothing more than a tactic designed to move the agenda away from Cahill and abuse.
If it wasn't a pre-planned stunt, as McDonald insists, then it was at least convenient timing for Sinn Féin as yesterday's political coverage was dominated by the extraordinary events in Leinster House, relegating the Cahill abuse controversy to the sidelines for one day at least.