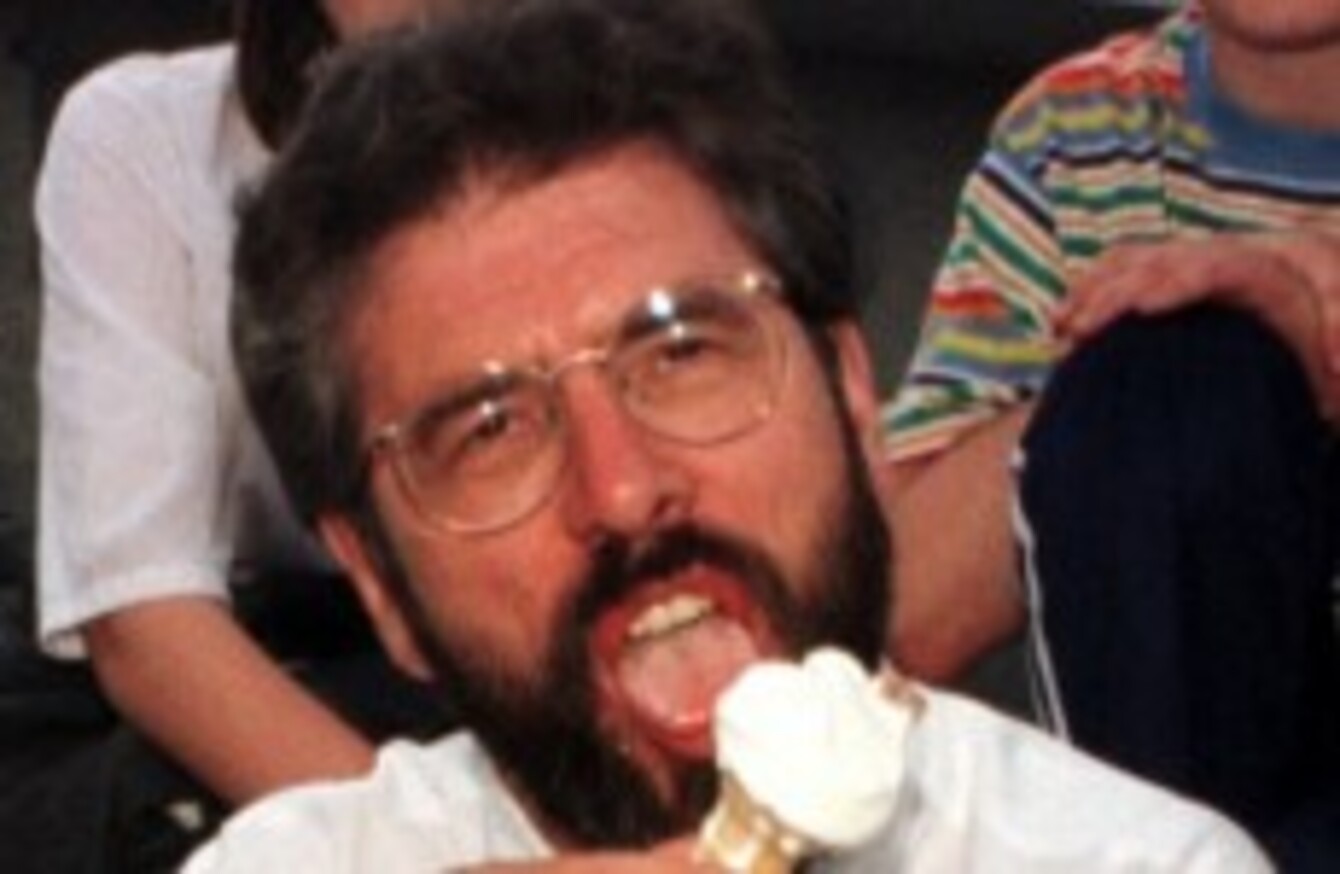 Gerry Adams enjoying an ice cream. Unfortunately, there's none on the menu for tonight
Image: RollingNews.ie
Gerry Adams enjoying an ice cream. Unfortunately, there's none on the menu for tonight
Image: RollingNews.ie
THE ANNUAL FRIENDS of Sinn Féin (FOSF) fundraising dinner is taking place in New York later with guests to be treated to free cocktails, steak and a keynote speech from Gerry Adams.
The event is expected to attract a crowd of over 600 people who will pay $500 (or around €460) each for the pleasure of an evening in the company of the Sinn Féin leader and his deputy Mary Lou McDonald, who will also address attendees at the Sheraton Hotel in New York's Times Square.
The event begins at 6pm with free cocktails and hors d'oeuvres served to guests who will also be able to avail of an open bar as they arrive at the four-star hotel situated in midtown Manhattan.
The main meal will be served at around 7pm where guests will dine on a Mediterranean salad to start.
The main course is a grilled filet mignon, which will be served with manchego cheese (it's a cheese made in Spain from the milk of the manchega breed of sheep) and asparagus.
Dessert is a selection of miniature pastries and cookies with Adams due to deliver his keynote address after the meal.
One of the organisers from Friends of Sinn Féin told TheJournal.ie this afternoon that there are still tickets available and that they can "always squeeze a few people in at the end".
As it did last year, Labour has criticised the event with Dublin South Central TD Eric Byrne saying it's "extraordinary" that Adams and McDonald are in New York when the Dáil is debating legislation which gives effect to the Budget measures announced last month.
I read with interest that the duo are thousands of miles away in Manhattan, raising money for Sinn Fein at a gold-plated, $500-a-head dinner for American high-rollers.
It seems that this week, rubbing shoulders with super-wealthy Americans takes priority over representing the ordinary people of Louth and Dublin Central in our national parliament during the budget debate.
Byrne added that the food being served this evening is "a fine meal for a man [Adams] who says he lives on the average industrial wage".
Organisers are expected to raise around $350,000 from the event although a party spokesperson said they could not say in advance how much money will be raised.
#Open journalism No news is bad news Support The Journal

Your contributions will help us continue to deliver the stories that are important to you

Support us now
A well-placed Sinn Féin source has previously said the "vast majority" of the money raised stays in the US, telling TheJournal.ie:
It pays for the lobbying operation and pays for people to go and lobby. It's not money coming back into the party.
The party also maintains that FOSF is "fully transparent and compliant with US law". Earlier this week, a spokesperson confirmed that Adams' and McDonald's flights are being paid for by FOSF – and they're travelling economy class.
Byrne said it would be helpful if the party outlined what mechanisms are in place to ensure the money is not being channelled into Sinn Féín political activity in Ireland.
Fine Gael and Fianna Fáil both recently held their own fundraising dinners in Dublin. Both parties put on annual presidential dinners with the proceeds – unlike in Sinn Féin's case – going directly towards funding political activity in this country.