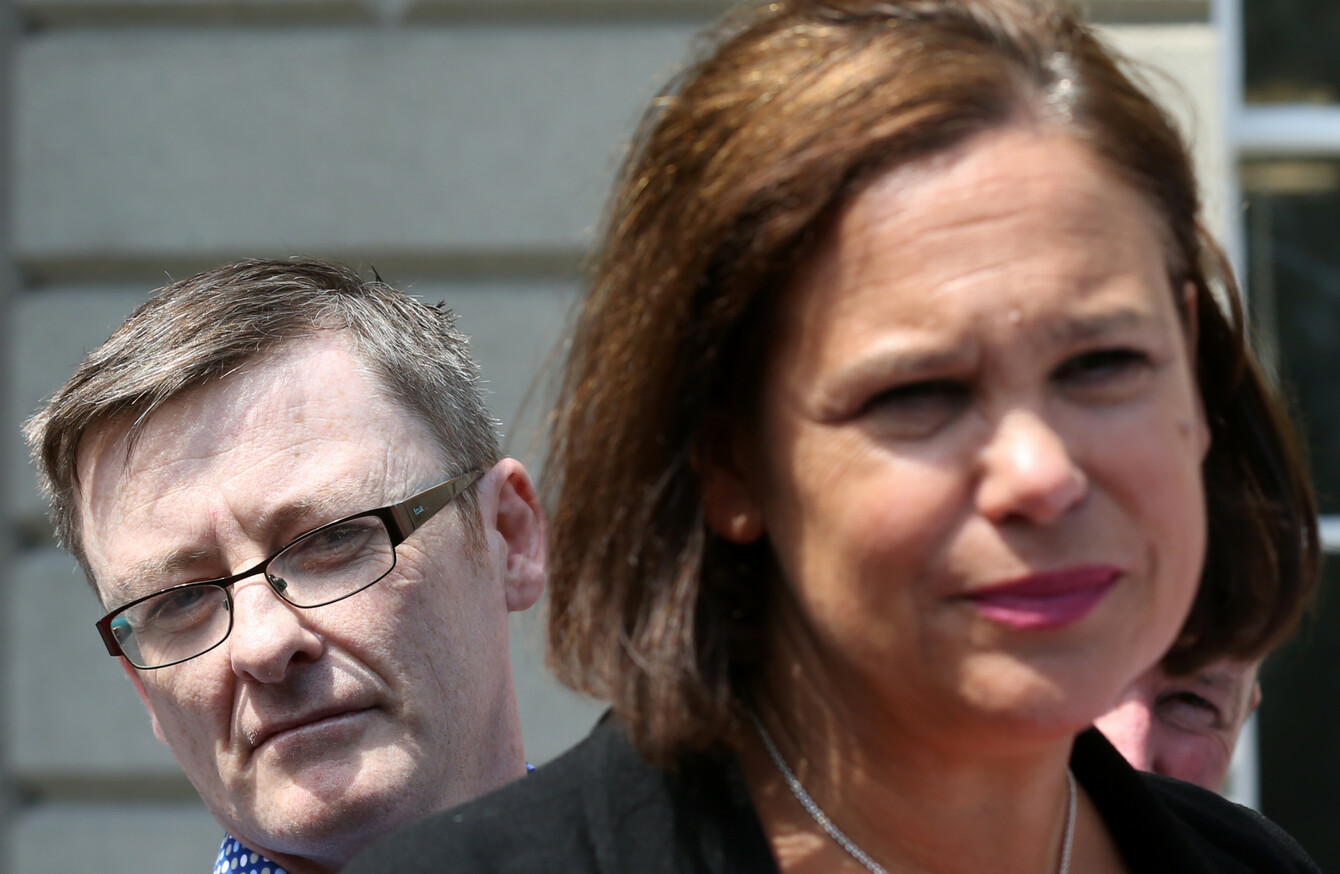 Sinn Féin's David Cullinane and party leader Mary Lou McDonald
Image: Sam Boal
Sinn Féin's David Cullinane and party leader Mary Lou McDonald
Image: Sam Boal
LIBERAL, PROGRESSIVE AND willing to start a conversation about a united Ireland.
These are just some of the qualities the party want in a Sinn Féin presidential candidate.
Today, Sinn Féin outlined its selection process for a candidate for the presidential election, which is due to take place at the end of October.
The chairperson of the party's election committee, David Cullinane, said the nomination process would begin on 20 August and will be completed by 10 September.
The party's Ard Chomhairle will then decide the candidate at a special meeting on 16 September.
Nominations will be submitted by the five Cúige regions or regional bodies to the Sinn Féin leadership.
A maximum of two candidates can be selected, and under the selection process each candidate will have to receive the support of the six Cumann.
If two candidates emerge, party hustings will take place, but they will be held behind closed doors, where the candidates can make their pitch to the Ard Comhairle.
So, what is the party looking for in its candidate? 
Cullinane said the best quality someone can have is the ability to connect with where the people want Ireland to be in the next number of years.
He said there has been profound change in Ireland – both socially and politically – citing  changes seen in the abortion referendum and the same-sex marriage referendum.
Politically, Sinn Féin has risen in popularity, he pointed out, adding that his party has become more "dominant" and "stronger" than "we have ever seen in our history".
"People are up for profound social change," he added, stating that the Sinn Féin candidate should embody that.
"All of our candidates would be open-minded, progressive and liberal and embody the qualities we in Sinn Féin have which are based on equality," said Cullinane, who added the republicanism is about equality.
"We want somebody that will strike up a conversation about Irish unity – the reunification of Ireland is very important to those of us in Sinn Féin and those outside Sinn Féin.
"We want any conversation about a united Ireland not to be shaped through the eyes of any political party," said Cullinane, who said every party and the people of Ireland should take ownership of that conversation.
"We believe it [a united Ireland] is inevitable," he said.
With the party revealing its candidate on 16 September, that will leave a six-week lead-in campaign to the election date.
Cullinane said that "is a long enough campaign", adding:
"Sinn Féin is in this campaign to win."