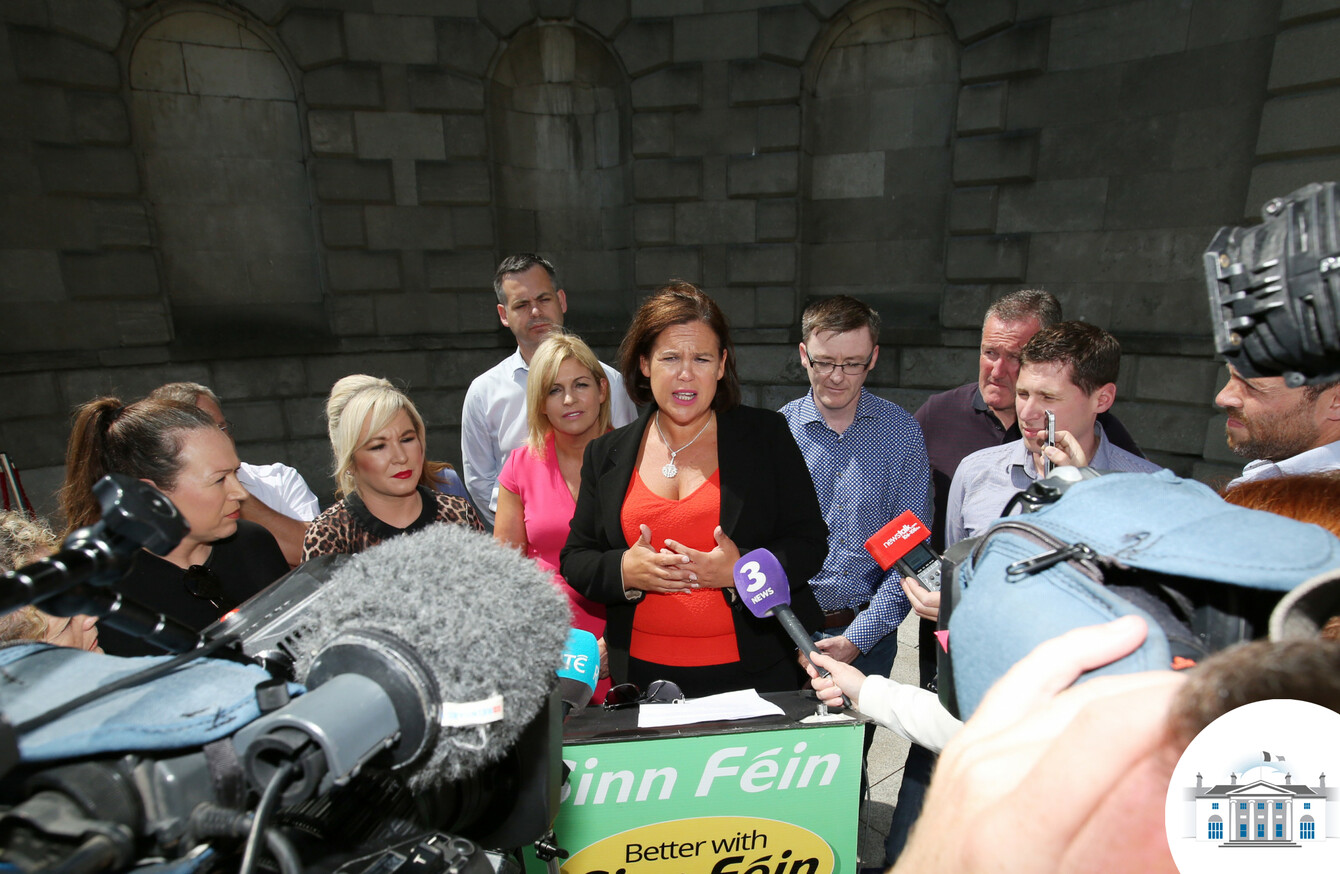 Image: Sam Boal
Image: Sam Boal
IT'S JUST OVER two months since Sinn Féin announced that it will run a candidate in the presidential election. 
Since July, the campaign has already got underway, with four official candidates getting on the ballot paper so far. 
Today is D-Day for Sinn Féin, with the party's Ard Comhairle due to announce its decision.
During the summer, the party leader Mary Lou McDonald said she had a few names in mind, but she was quick to point out that the decision would be made by governing body of the party.
There has been a lot of talk about who the party might select to run – names such as Caoimhghín Ó Caoláin, who is due to step down at the next election. However, the veteran TD has ruled himself out. 
Belfast solicitor John Finucane was also dubbed as a strong contender.
Then there was MEP Matt Carthy who found himself at the centre of the debate when a Kildare Branch of Sinn Féin declared Carthy as its preferred candidate. 
Speaking to TheJournal.ie about his Kildare support, he said: 
"Well I was surprised as I hadn't been seeking any nomination. Obviously I was very humbled when a branch within Sinn Féin would consider you for any position especially that one."
However, his focus right now is on his job in the European Parliament and as a future candidate running in the next general election for Cavan/ Monaghan.
One name that appears to be the certain contender for the presidential election is Liadh Ní Riada. 
When TheJournal.ie caught up with her, Ní Riada said to be selected as the party's presidential candidate would be a huge honour. 
"It is obviously a huge accolade to be held in such high esteem with my party colleagues. 
"We still have to wait for the process and see where that lands, of course, if the support is there, and I am asked to consider it and do it, then you'd obviously step up to the plate," she said. 
There had been speculation that more than one candidate could emerge – in which place party hustings (behind closed doors) would take place and be selected by the Ard Comhairle. 
Ní Riada said "democratic debate is always a healthy thing to have". 
"We have lots of people and potential candidates in the party and any number of them would be terrific candidates and I think it is a healthy thing to have a contest, have a debate, and discussion and tease ideas out ideas about the best way forward – that has always been the way with us – that we have democratic accountability, that people get to nominate who they want," she added. 
If Ní Riada is selected, she would be the second woman in the race, going up against Senator Joan Freeman, the incumbent Michael D Higgins, and the two former Dragon's Den businessmen, Gavin Duffy and Seán Gallagher. 
Ní Riada said having women present in the race is important, just like it is in every walk of life. 
It is really important that women get the same bite of the cherry as our male counterparts. We need to encourage more women to become a lot more active in politics. It is not an easy space for women – there are a lot of constraints for women. Obviously if you are a working mother like myself, for instance, being an MEP, it is not the easiest thing to try and balance work and family life. I have three daughters still going to school.
Nonetheless, it is good to be a role model for other women, to say it can be done and we need to have a voice because we are 51% of population and it is about time that women are facilitated if they want to go down that path.
As speculation mounted about her candidacy, Ní Riada did an interview on RTÉ with Marian Finucane. She was pressed hard on the issue of the HPV vaccine after an article emerged about her fears surrounding it. 
She was quick to state that the anti-vaccinations claims were "utter nonsense".
"I made it very clear I am absolutely in favour of vaccinations. I think it is a healthy thing to do. Anything that is going to help people in terms of their health care has to be something positive – so I am completely in favour of vaccinations for girls and for boys…
"I think we also have to be aware though that people have issues with it and that has to be respected. But the science is there to back it up, so yes, you do everything you can as a parent to make sure your child is healthy, so of course vaccination is a good, healthy thing to do," she told TheJournal.ie recently. 
If she gets the nod, what would be the issues she would campaign on? She is keeping them close to her chest. 
#Open journalism No news is bad news Support The Journal

Your contributions will help us continue to deliver the stories that are important to you

Support us now
"I am sure there are many things close to my heart, however at this point in time, I think it would be unfair to candidates who have to declare themselves to even go down that road. Because you need to create at least a level playing pitch for everybody to put forward what their ideas are, so I don't think it is fair to come out, prematurely, on that issue, so I would rather wait to see what the party position is on the 16th."
That date has now arrived. If she is selected, the first question to be asked is how will the Sinn Féin candidate stack up? Will they have a chance of going all the way?
While Sinn Féin TDs such as David Cullinane state that his party is in the race to win, others have a more sceptical view as to why the party has chosen to put someone forward. 
With McDonald only relatively new in the job, and with the threat of a 2018 or 2019 general election, the party is gearing up to enter government. With McDonald at the helm, she is eager to drive the message of a "new Sinn Féin" – one that will appeal more to the middle classes, working families and people like herself – working mothers, who may never have contemplated voting for Sinn Féin. 
With the right presidential candidate, it is a sure-fire way to get the new image out in the public domain, even if it is a risky move, it is one that could pay off. 
Carthy indicated this is the case, stating that members are more interested in the campaign than the candidate. 
"Sinn Féin members are more interested in the politics of the campaign rather than the candidate. They want to see us use this campaign as an opportunity to outline Sinn Féin's vision," he said, adding the presidential campaign is an opportunity "to have a discussion about big politics" like Irish unity and the creation of a new Ireland". 
He added that oftentimes, general elections are about short-term policies, and the big issues of the day, but presidential elections give the chance to put forward a new vision. 
Carthy said the presidential election will be a dry-run for his party, acknowledging that it will be a "precursor" in terms testing the party organisation on campaign organisation.
If it is just a test-run for the party to promote its new "vision" it certainly is a very costly way to go about it.