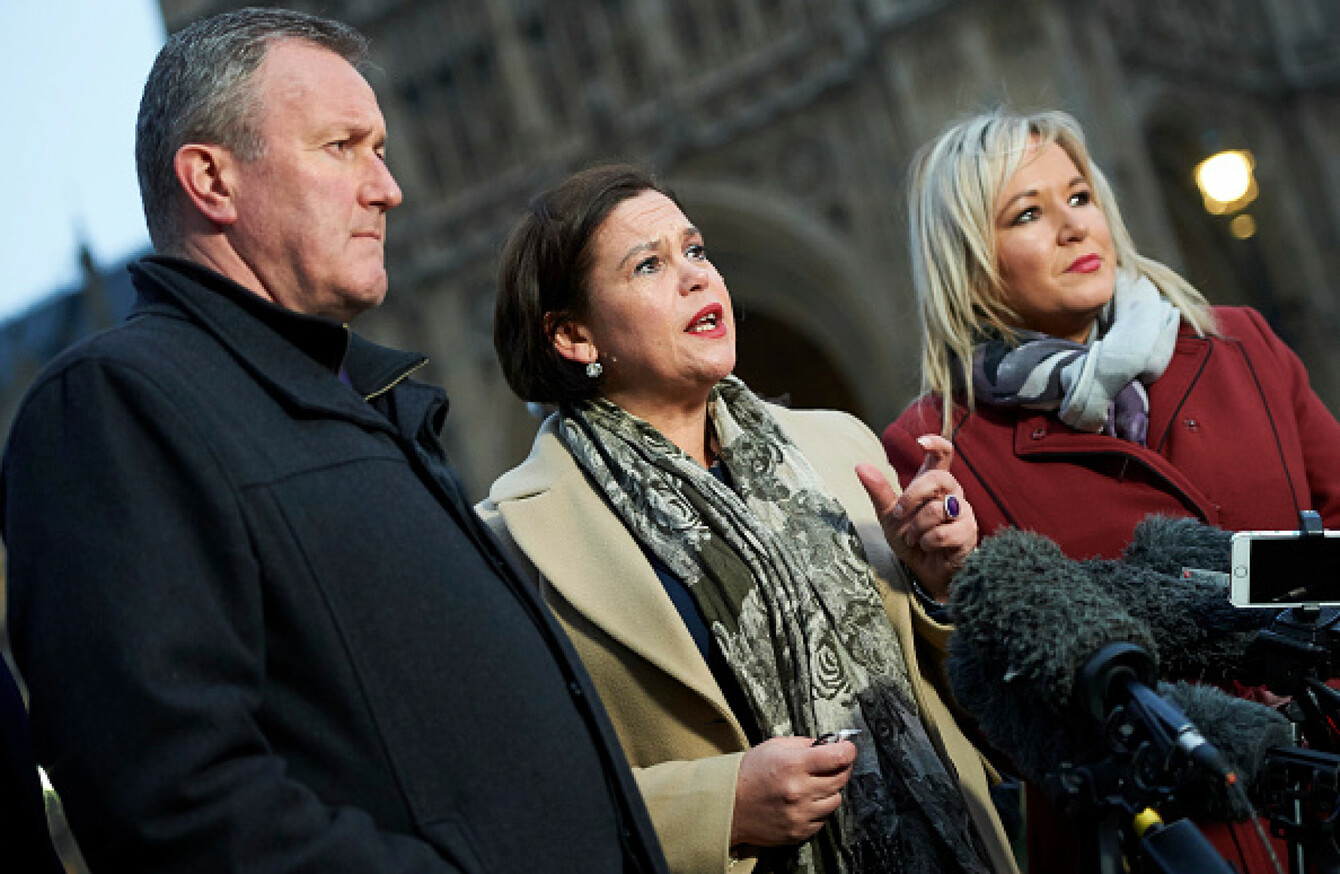 Sinn Féin's leadership in Westminster last month.
Image: AFP/Getty Images
Sinn Féin's leadership in Westminster last month.
Image: AFP/Getty Images
TWO-THIRDS OF people polled have said that Sinn Féin MPs should take their seats in the UK parliament in order to vote on Brexit issues.
The party has seven MPs elected to Westminster from constituencies in Northern Ireland but has long operated an abstentionist policy whereby it refuses to sit in the parliament.
The party says it will not swear an oath of allegiance to the British queen and argues that the interests of its constituents should only be served by representatives sitting in the island of Ireland.
The policy has previously been criticised by other Irish parties and this criticism has intensified in recent months as Westminster debates the ongoing Brexit process.
Fianna Fáil leader Micheál Martin said that Sinn Féin was "refusing to take part".
In last year's UK general election, Sinn Féin won seven of Northern Ireland's 18 seats in the House of Commons, including all those that were held by the SDLP.
It has been argued by some other Irish party leaders that Sinn Féin could provide a vote for Northern nationalists, and indeed Irish people in the south, on issues relating to Brexit in Westminster.
Now, a new poll carried out on behalf of Claire Byrne Live and TheJournal.ie has found that 67% of people think Sinn Féin MPs should take their seats to vote on Brexit issues.
13% of people said they should not take up their seats while 20% of people said they didn't know.
The numbers
Currently, Prime Minister Theresa May's Conservative government is operating with the support of the DUP's 10 MPs. Combined with the DUP, May's government has a working majority of 13 MPs.
It means that Sinn Féin's 7 MPs would not alone remove the government's majority in the House of Commons.
On Brexit issues, this could be more complicated with some MPs voting against their own party leadership.
The Financial Times reported last week that about seven pro-Brexit Labour MPs could potentially vote in line with May's government while 12 Conservative MPs may rebel.
#Open journalism No news is bad news Support The Journal

Your contributions will help us continue to deliver the stories that are important to you

Support us now
It makes things very tight and could potentially mean Sinn Féin's votes could tip the balance.
In an opinion piece published earlier this week in The Guardian, Paul Maskey MP said that Sinn Féin MPs are elected on a mandate of abstentionism.
"Sinn Féin goes to the electorate seeking a mandate for that position. We are elected as MPs by people who vote for Sinn Féin not to take seats at Westminster," he said.
On Brexit, Maskey said that: "Westminster cannot provide the solutions when Westminster is the problem."
"The people of Ireland will not find a solution to Brexit in the parliament that is imposing it. On Brexit, Irish people in the north look to Sinn Féin, to the Irish government, the Irish parliament and to Europe to defend their interests," Maskey said.