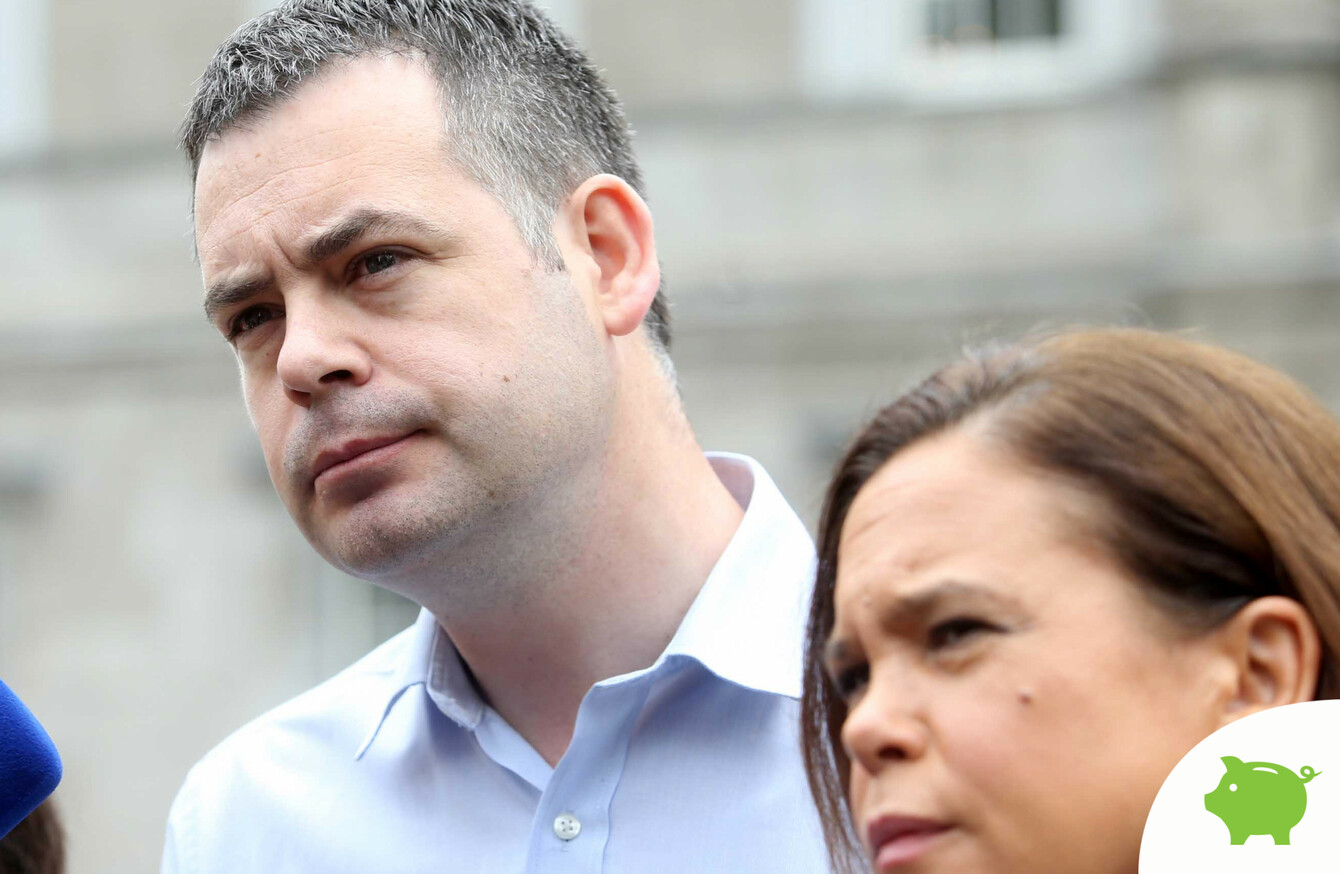 Image: RollingNews.ie
Image: RollingNews.ie
SINN FÉIN HAS proposed an increase in weekly social welfare payments, including pensions, by €5 from next year in its alternative budget.
Seen by TheJournal.ie, the party's budget plan, which is due to be announced this week, also proposes a €1 hike in the minimum wage and three weeks paid parental benefit.
The party's document entitled "A New Ireland" proposes over €2 billion worth of tax increases, from introducing a 5% income levy on incomes over €140,000 to restoring the 13.5% VAT rate for the hotel sector.
A measure, also included in last year's alternative budget, is for a second home tax of €400 (bringing in €68m).
The document also proposes increases in betting tax and the bank levy, a rise in commercial stamp duty of 1% and a 50c extra on a packet of cigarettes.
The alternative budget looks to target high-income earners and employers, with proposals to:
Taper out tax credits on incomes over €100,000 up to €140,000 (€185m in tax revenue)
Introduce a 5% income levy on income over €140,000 (bringing in €310m in tax revenue)
Introduce additional 4.9% employer PRSI rate on portion of salaries over €100,000 (bringing in €376m in tax revenue)
A Wealth Tax of 1% on net assets over €1 million with exclusions, is also contained in the document, though it is one of the few uncosted measures.
On the tax spend side of almost €600 million the party looks to give a month's rent relief to all those renting, while also a phase out of the Local Property Tax.
The budget document states that in "the wake of an unprecedented social tragedy caused by Fine Gael's housing and homelessness crisis, Sinn Féin is allocating an additional €1 billion capital investment in social and affordable housing".
Health is another big spend, with €450 million dedicated to making improvements on the trolley and hospital waiting lists, and an additional 500 beds. 
The party also wants to reduce the prescription charge by €1, while also increase funding by 10% to screening programmes such as CervicalCheck and BreastCheck.
Sexual and reproductive health reforms will cost €12 million, under the party's proposals while the launch of a women's health awareness campaign will cost over €6 million
Other measures include an increase in childcare subsidies, a €500 reduction third-level fees, pay equality for post-2011 public sector workers within two years, triple funding to the Rape Crisis Centre, phased withdrawal of private school subsidy over 3 years, and a cut to the "excessive" wages and allowances to politicians.