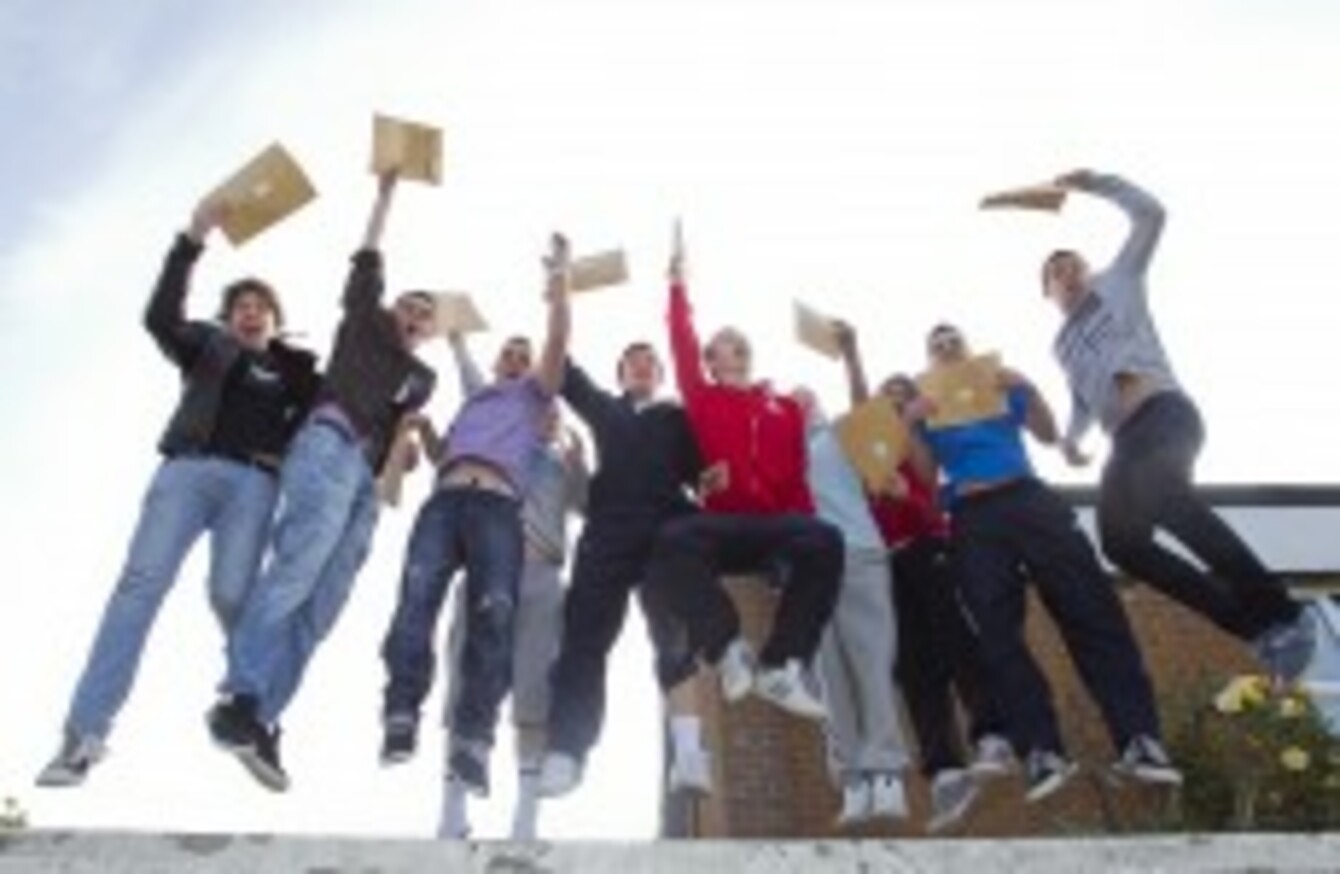 Students from St Kevins in Glasnevin celebrate getting their Leaving Cert results last year
Image: Leon Farrell via Photocall
Students from St Kevins in Glasnevin celebrate getting their Leaving Cert results last year
Image: Leon Farrell via Photocall
YOU'VE WORKED HARD and now the Leaving Certificate results are coming out.
But where are you going to celebrate?
Like a rite of passage, school-leavers across the country will be looking into where to go to blow off steam on their sixth year holiday.
Over the years, Ayia Napa and Crete have been common choices. If late night clubbing on the strip, fishbowl size drinks and sunburn aren't your thing, perhaps you might want to try something different.
Who wants to be like everyone else anyway? Here are some alternatives:
Save the turtles: If you still want to get away to a sunnier climate or are still not mad on giving up on the idea of Greece for the summer, why not help out these guys.
ARCHELON's sea turtle conservation projects in Zakynthos, Peloponnesus and Crete host major nesting areas for the loggerhead turtle. Participants over the age of 18 are recommended to stay for a minimum 4 weeks, but get three days off a week. For the cost of €200-€300 participation fee you can live and volunteer with a team of people that help to conserve and protect the turtles.
Volunteers are expected to patrol the beach, collect data and encourage public awareness at local hostels and campsites. Speaking to TheJournal.ie, Stephen Ryan from Dublin who volunteered a few years ago said:
It was amazing, fulfilling and very worthwhile. Camping out all summer beside the beach in southern Crete – what's not to love.
(Via YouTube/armonize)
Interrail Eastern Europe: A two week holiday in Benidorm is going to cost you a couple of hundred Euro plus your costs of food and (probably) quite a lot of drink.
So why not use whatever cash you have to see somewhere different. Eastern Europe can offer some great sites to see that are a fraction of the cost of hitting some of the western cities like Berlin and Paris.
Interrail tickets can be purchased at USIT.ie or SAYIT.ie but you can also buy your train tickets as you go.
Prague, Krakow and Budapest are just some of the cities that are worth a look, with Budapest offering both the city sights and summer baths, the best of both worlds.
[caption id="attachment_550900" align="alignnone" width="630" caption="Can't make it abroad - camping with friends can be just as fun."]
The Széchenyi Medicinal Bath in Budapest are the largest medicinal baths in Europe. (Via Alex E Proimos/Flickr)
USA – America is not just for the college kids on their J1 visas. School-leavers can also head over Stateside and do a good deed while over there.
New Orleans Area Habitat for Humanity is a volunteer driven organisation that is helping to build and finance new, safe and affordable family homes that were destroyed by Hurricane Katrina. Volunteers need to be over 18-years-old. Work begins at 7.45am, so this is a trip not for the faint-hearted.
Climb Kilimanjaro: What would be cooler than someone asking – "so what did you do for your sixth year holiday?" Only to answer "nothing much, just climbed up one of the biggest mountains in Africa!"
Adventurer Pat Falvey leads groups all year round, with the help of African guides. Described on his website as a hike that can be achieved by a "hillwalker although it is not to be underestimated" this trip will set you back about €1900. The duration is 11 days in total with 7 days climbing.
One testimonial on the website from Ciara, describes the experience as the "best adventure of my life". Tempted? Here are some of the porters and guides singing the chant you will hear when you complete your trek on Kilimanjaro:


(Via Vimeo/Pat Falvey)
Having problems watching the video? Try it on http://vimeo.com/31911290
Camping in Ireland: The weather certainly won't be the same as the Greek islands, but it is all about holidaying at home this year.
Camping Ireland says that caravan and tent camping is now "big business" in Ireland and although you might not get the sun, sea and sand, you might get at least two.
Sitting around a camp fire with your mates, before you all head off on your separate ways in life – what could be better than that?

[/caption]