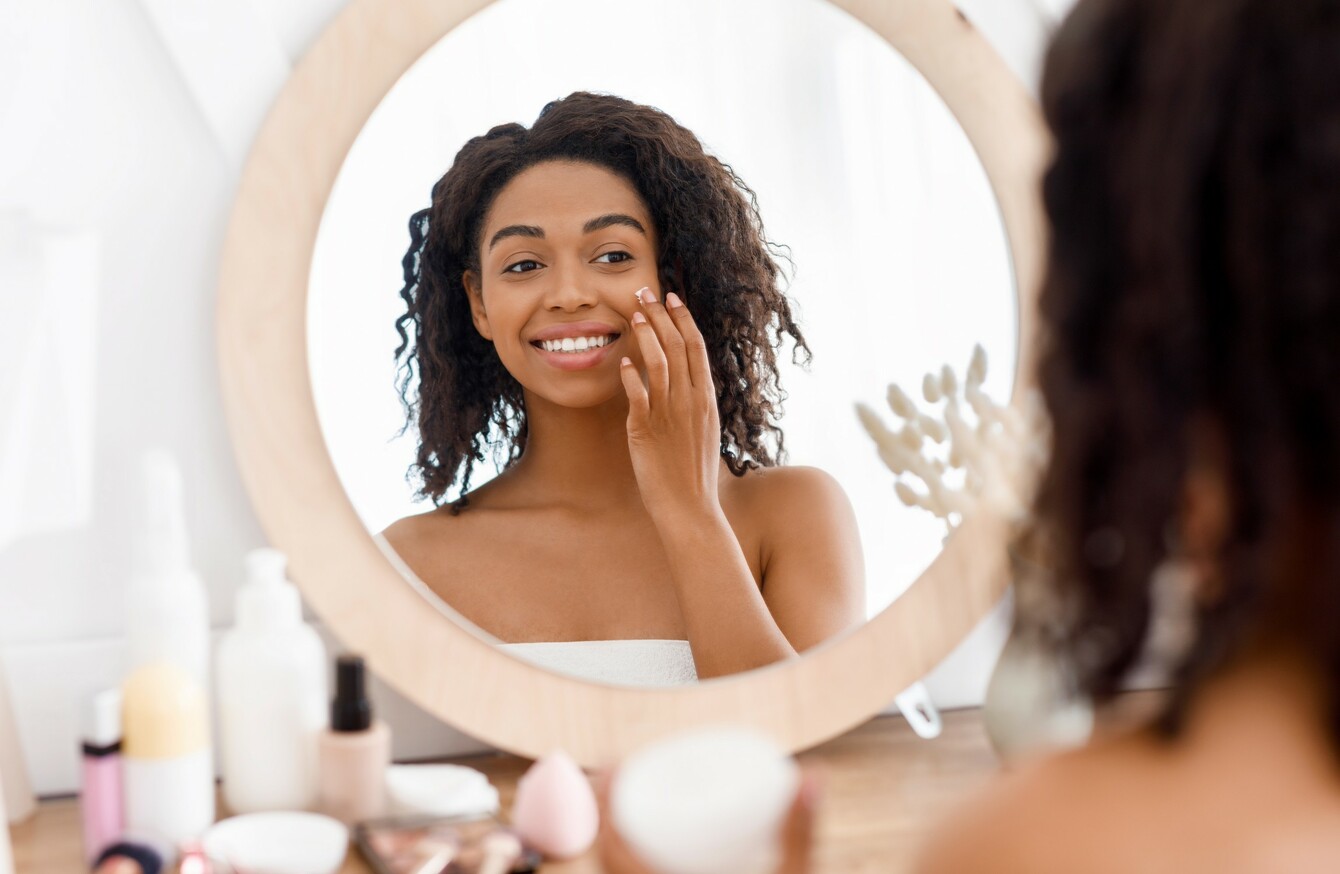 Image: Shutterstock
Image: Shutterstock
"I DON'T REALLY buy into the 17-step skincare philosophy and all of the gadgets that come with it." 
According to Jennifer Rock, CEO of The Skin Nerd and Skingredients, your skincare regime should be designed to fit into your daily routine – not vice versa.  
"Get your skincare to work hard, but be smart in how you do it," she says. 
Jennifer compares finding the right skincare regime to finding the right exercise routine – some people know they can only make time for a 20 minute workout, while others will happily spend hours out walking.
It's about fitting it into your life.
It goes without saying, then, if you're making the time to look after your skin each morning and evening, you'll want to make sure that you're doing it correctly.
With countless sources of information available online and various products hitting the shelves daily, it can be hard to know what's right and what's wrong when it comes to skincare. To make your skincare routine work smarter, not harder, we spoke to Jennifer about the common skincare mistakes people make – and what to do instead. 
Mistake #1: Not cleansing correctly
"People don't see skin as an organ. They don't think about it like that," she says. "They see it as a place where they put on makeup or apply tan." But, according to Jennifer, cleansing correctly is the cornerstone of any good skincare routine.
"People tend to invest in serums and lotions and potions that cost an arm and a leg, but if you haven't cleansed properly, you're not going to get the result that you deserve." So, what does cleansing correctly look like?
First, pre-cleanse to remove make-up, pollution, SPF and oils. A cleansing oil is great for this, as is the brand's Cleanse Off Mitt. Then, get a regular, cream-based cleanser and cleanse for 60 seconds. 
Mistake #2: Using makeup wipes to cleanse
If you're thinking about using a makeup wipe as part of your cleansing routine, think again. "If you're using a makeup wipe to cleanse your skin, you're not removing makeup, you're not taking pollution away," says Jennifer. "There are a lot of chemicals in them, they can cause irritation and, long-term, they can cause dehydration, and exacerbate pigmentation and sensitivity."
Mistake #3: Not wearing SPF every day
Many of us wouldn't dream of not wearing suncream when we're abroad in a hot country, yet we might go weeks or months without applying it while at home in Ireland. However, applying SPF daily is a non-negotiable for The Skin Nerd team. 
"Even if you're staying indoors, our screens and electric lights can emit blue light which has been shown to also photo-age your skin," says Jennifer.
As well as that, sunlight streams through our windows even when we're avoiding the great outdoors, so make sure you protect your skin from the effect of light every day, even Christmas Day.
Jennifer recommends applying half a teaspoon of suncream from your collarbone to your forehead every morning, and using a standalone SPF product like Skingredients Skin Shield as, if you're depending on the SPF quantity in your foundation alone, "it tends not to be sufficient." 
Mistake #4: Popping spots carelessly 
Popping spots at home has been considered a skincare sin since day dot but, according to Jennifer, it's all in the technique. 
"As a facialist, I think I'm supposed to say not to pop your spots. But if you're going out to dinner and you've a big spot on your chin, you're hardly going to leave it there," she says. "The way that people who aren't trained to do skincare tend to pop spots can cause inflammation and spread bacteria as they don't treat it like a wound." 
"If you're going to pop a spot, wash your hands, get a tissue and wrap it around your forefingers. Put your fingers either side of the spot – don't go at it head-on – press down with pressure and allow all of the oil to rise to the surface. If you do it like that, you tend not to spread the bacteria underneath."
The sooner you treat the spot, the sooner you treat the inflammation and the bacteria, and the less likely you are to get a red mark thereafter. 
Mistake #5: Not paying attention to the ingredients in your skincare products
To the average consumer, it can be hard to know what ingredients to look out for in skincare products. "It's quite overwhelming," says Jennifer. "People say one size doesn't fit all, which is completely true, but what's missing is that there's a common base needed for skincare.
There are key ingredients that I believe that everybody needs.
"The analogy I use is a dinner plate. So we all know that you should have protein, carbs and vegetables every single day, and that's the same for somebody who's 90, 50 or 20 years old. There are key ingredients you need to maintain the healthiest version of yourself, and the same applies to skincare," she explains.
"In my opinion, these ingredients are polyhydroxy acid, hyaluronic acid, peptides, Vitamin A, Vitamin C, Vitamin E, antioxidants and SPF. They're kind of my checklist of key skincare ingredients that I feel that everybody needs, although some people may need them in greater or lesser amounts depending on their skin type and concerns." 
Discover your ultimate daily anti-aging skincare routine at Skingredients.com. For more expert information on skincare, and to join the Nerd Network, visit TheSkinNerd.com.