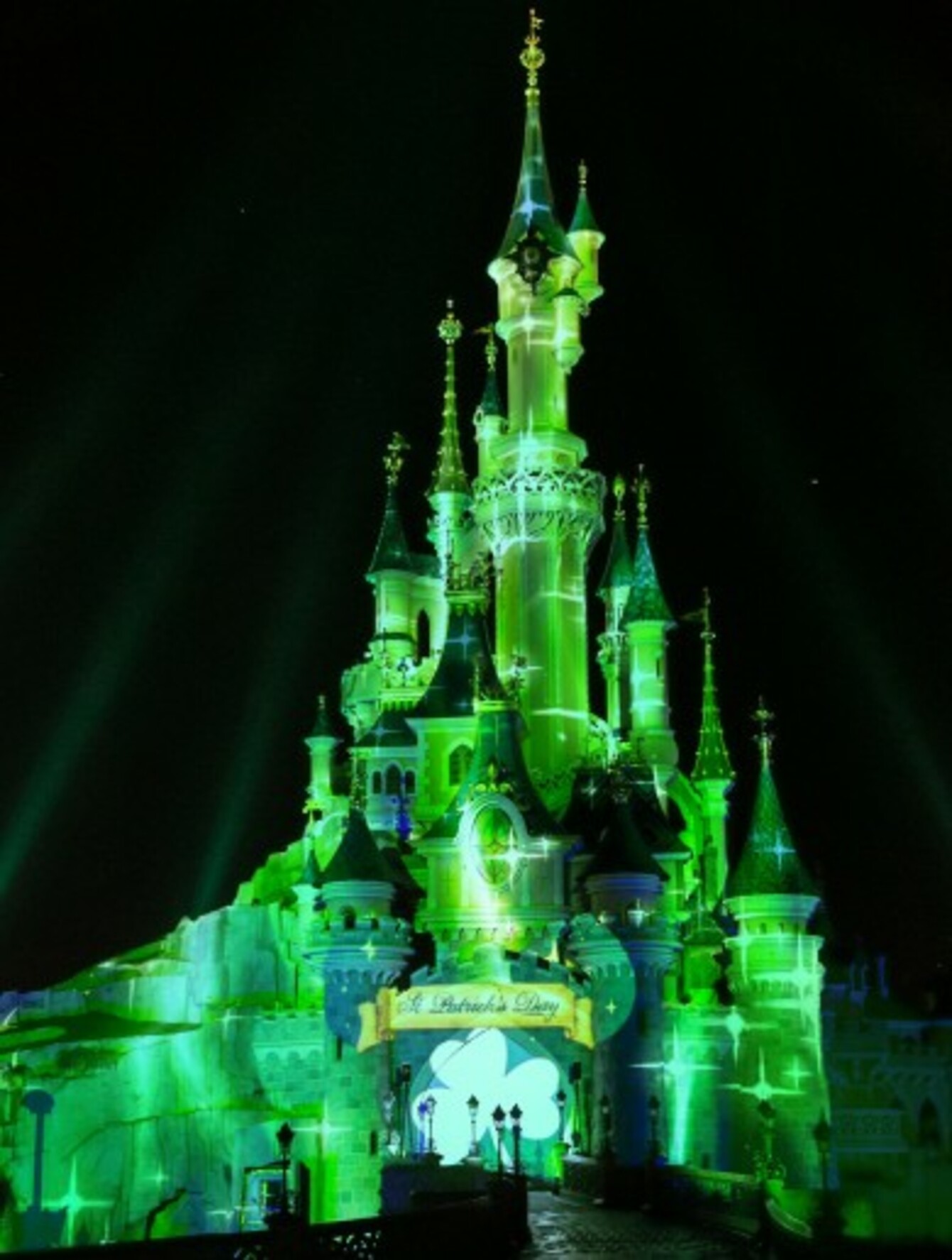 Image: Tourism Ireland
Image: Tourism Ireland
TOURISM IRELAND TODAY announced the line-up for St Patrick's Day green sites across the globe with Sleeping Beauty's Castle at Disneyland Paris, the Holmenkollen ski jump at Oslo and Trump Tower joining the sites which are going green this year.
Other new sites include the UNESCO World Heritage Site of Petra in Jordan, Canada's Whistler ski resort, the Taj Mahal Palace hotel in India and the Rhine Falls in Europe, which is one of the highest in Europe.
The new sites will join some 'old favourites' which have gone green in previous years like the Pyramids in Egypt, the 'Welcome' sign in Las Vegas, the Sydney Opera House, Niagara Falls and the Leaning Tower of Pisa.
Niall Gibbons, CEO of Tourism Ireland with Tánaiste Eamon Gilmore and Minister for Tourism Leo Varadkar (Image: Tourism Ireland).
"St Patrick's Day is a unique and unrivalled annual opportunity to promote Ireland worldwide, particularly in terms of tourism, but also to encourage people to study and invest in Ireland, and to showcase Irish companies, products, services, food and drink," commented Tánaiste and Minister for Foreign Affairs, Eamon Gilmore today.
Minister for Tourism Leo Varadkar said: "This is a great way to get the world talking about Ireland on St Patrick's Day. It's a simple idea with minimal costs, but it's also an incredibly effective marketing strategy. It gets Ireland on to front pages around the world, at a time of year when people are planning their summer breaks."
This is the fifth year of the Global Greening Initiative and a number of Irish sites will also take on a green hue this year.
Here's a full list of the sites going green this year, with an asterisk beside the new ones:
Britain
(Image: Carl Court/PA)
Clyde Auditorium, affectionately known as the 'Armadillo' (SECC), Glasgow
Manchester Town Hall
The SSE Hydro, Glasgow *
United States
Niagara Falls (on both the Canadian and US sides)
'Welcome' sign, Las Vegas
Empire State Building, New York
(Image: Seth Wenig/AP/PA)
City Hall, San Francisco
Chicago River
Chicago MYSTERY GREENING on 17 March *
Chicago "Taking it to the Streets" on 10 March
Congress Parkway *
State Street *
Chicago "Tall Buildings and Chicago Icons" on 11 March
311 South Wacker Drive "White Castle Building" (65-storey skyscraper) *
Blue Cross Blue Shield Tower *
Chicago Board of Trade *
Millennium Park /Jay Pritzker Pavilion *
Soldier Field stadium (home to the famous Chicago Bears team) *
Trump International Hotel & Tower *
Wrigley Building *
Chicago "Eating Green Around the City" on 12 March *
Chicago "Broadway in Chicago Goes Green" on 13 March
Auditorium Theatre of Roosevelt University *
Bank of America Theatre *
Broadway Playhouse at Water Tower Place *
Cadillac Palace Theatre *
Oriental Theatre *
Chicago "Northside Goes Green" on 14 March
State Bank of Countryside *
Four iconic buildings in Philadelphia including:
Cira Center (29-storey skyscraper in west Philadelphia)
One Liberty Place (61-storey skyscraper) and Two Liberty Place (58-storey skyscraper)
BNY Mellon Center (54-storey skyscraper)
Canada
Whistler, Canada's premier ski destination in British Columbia
City Hall, Toronto
Cabot Tower on Signal Hill, St John's, Newfoundland and Labrador *
Canadian Museum of Nature, Ottawa
Austria
Burgtheater (City Hall), Vienna
Kaprun Castle, Zell-am-See region *
Skiwelt Söll (ski resort) *
Benelux
Manneken Pis statue, Belgium ("dressed" in Irish costume)
Czech Republic
Petřín Lookout Tower, Prague *
City Hall Viewing Tower, Ostrava *
France
Sleeping Beauty's castle at Disneyland® Paris *
Germany
TV tower in Berlin's Alexanderplatz
Allianz Arena, Munich
(Image: Matthias Schrader/AP/PA)
'Lighthouse' building in Düsseldorf
Odeonsplatz in central Munich
Neumünster church (built over the tomb of St Kilian), Würzburg
Town Hall, WürzburgOlympic Tower in the Olympic Park, Munich *
Town Hall, Hannover *
Irish consulate, Munich *
Aer Lingus check-in desks at Frankfurt, Berlin, Hamburg and Munich Airports *
AVIAREPS building, Frankfurt *
Irish pubs network
Italy
Leaning Tower of Pisa
Porta San Giacomo, Bergamo (the imposing entrance to the Città Alta) *
Fountain of Piazza dei Martiri, Reggio Emilia *
Virgin Fitness Centres in Milan will green their spinning classes *
Monaco
Netherlands
Norway
Holmenkollen ski jump, Oslo *
Spain
Cibeles Fountain and Palace, Madrid
Palacio de Communiaciones, Madrid
Switzerland
Rhine Falls, near Zurich (one of the highest waterfalls in Europe) *
Australia and New Zealand
Sydney Opera House
Sky Tower, Auckland, New Zealand
Emerging markets
The Treasury in the ancient city of Petra, Jordan, pictured below *
(Image: Tourism Ireland)
Pyramids and the Sphinx, Egypt
Taj Mahal Palace hotel in Mumbai, India *
Table Mountain, South Africa