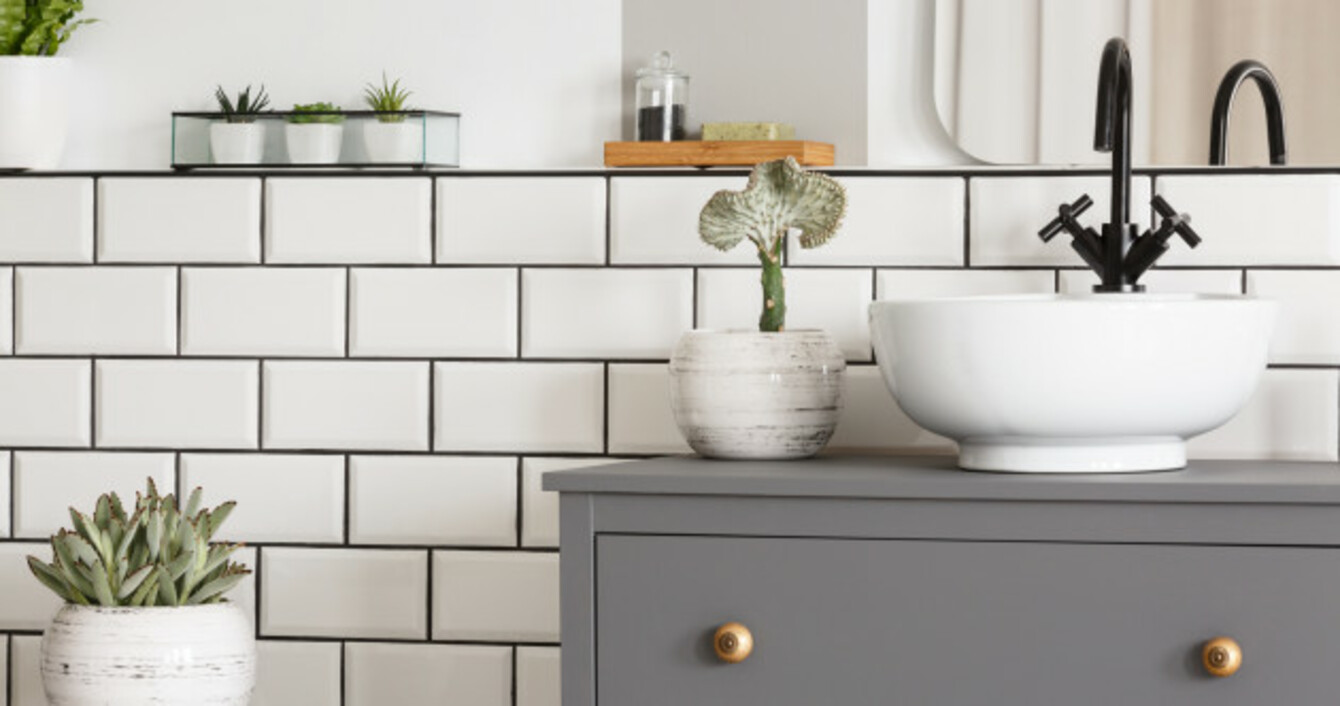 Image: Shutterstock/Photographee.eu
Image: Shutterstock/Photographee.eu
AH, THE TEENY tiny bathroom. You can't live without it, but you also can't stand it.
While it may be the one room in your house that you would never dare to show on Instagram, and you might not have the luxury of expanding on the square footage, there are certain things you can do – clever switches and tricks of the eye – to create the illusion of more space.
Follow our foolproof guide and you'll be throwing your very own tiny bathroom housewarming party in no time.
1. Ditch the loud patterns
If you want your bathroom to be fun and full of personality, vibrant patterned tiles or wallpaper are fine but that's not our goal here: to make the space seem bigger, we need to pare everything right back. If it's a downstairs loo, leave the tiles to the floor and choose one block colour for the walls – or if you're a tile fiend, keep it relatively subtle.
If it's got a shower, you might want to tile the whole shower area but consider something as simple as white tiles on white grouting. It's okay not to have everything be white – we're more relaxed about those rules these days – but lighter hues, especially on the floor, will open up the space.
Try to keep all colours within the same tone family to create a serene experience for the eye. Another option is to paint the ceiling the same colour as the walls as it visually expands the space and prevents more disruptions for the eye.
2. Look upwards
There are certain things that need to be stored in the bathroom – toilet roll for one – but to keep things roomier, introduce shelves above head height. This will clear the floor space which has obvious benefits, and it will draw the eye upwards making the ceiling appear higher and the room appear – you guessed it – bigger.
If you've got things you'd rather not have on display, get a minimal storage box to fit the shelves and pop your bits and bobs in there. This will also do away with the need for a cabinet at eye level, giving you even more space. You might even be able to fit a shelf above the door frame.
3. Round is sound
Swap out your square or rectangular mirror for one that's ultra plain and round. You don't need any fussy decor here filling up the space. Keep it simple and notice the instant impact that a round mirror has in a room.
By the very fact that it shows a little bit more wall space, you've tricked your eye into thinking the room is bigger. But be sure to get a round mirror that is proportionate to the wall space available. Something too small will have the opposite effect.
4. Be smart about your accessories
In the same way the round mirror works, a round bath/shower mat will also show off more floor tiles and maximise the space – but keep things as seamless as possible colour wise. What's more, rather than have a free standing toilet roll holder, go the extra DIY mile and fit a holder onto the wall if you've got the room for it. Again, clearing things from the floor area will all contribute towards your end goal.
There are plenty of smart storage shoulders to keep in the shower for the things with which you wash. That said, be ruthless. If you have a three piece hanging unit for the shower you will absolutely fill it. If, however, you have one built-in recess shelf, you will only keep what's absolutely necessary.
One of the quickest ways to create more space in the bathroom is to grab a bin bag and ditch whatever you're not using and recess storage – where possible – is always a smart move.
5. Shower swap
Ideally, you would treat yourself to a wet room shower area. This keeps everything seamless and streamlined with fewer transitions and nothing bulky to break up the space. One ultra plain glass shower screen and your bathroom will feel twice the size.
If that's not possible, and you're stuck with a shower curtain, don't just go for a plastic translucent curtain. In this instance you're better off making a style statement out of your curtain. If everything else in the room is neutral, you can introduce a pop of colour – or a very subtle pattern – that will compensate for the small size.
H&M's shower curtains start at €9.99 and manage to remain chic while so many other shower curtains look like something with which you might dispose of a dead body.
6. Go with the float
At this point you're probably sensing a theme: keep the floors clear. A sink cabinet (or vanity cabinet) that goes right down to the floor is sucking up most of your space. If you can't have a floating sink on its own, and you need the extra storage, at least have one fitted that doesn't come down to the floor. Your space seeking eye will thank you.
If you're not able to pull out the existing cabinet, paint it in a colour similar to the walls and tiles so that it blends in. Wherever there is an opportunity to remove a visual disruption that's particularly jarring to your eye, do it.