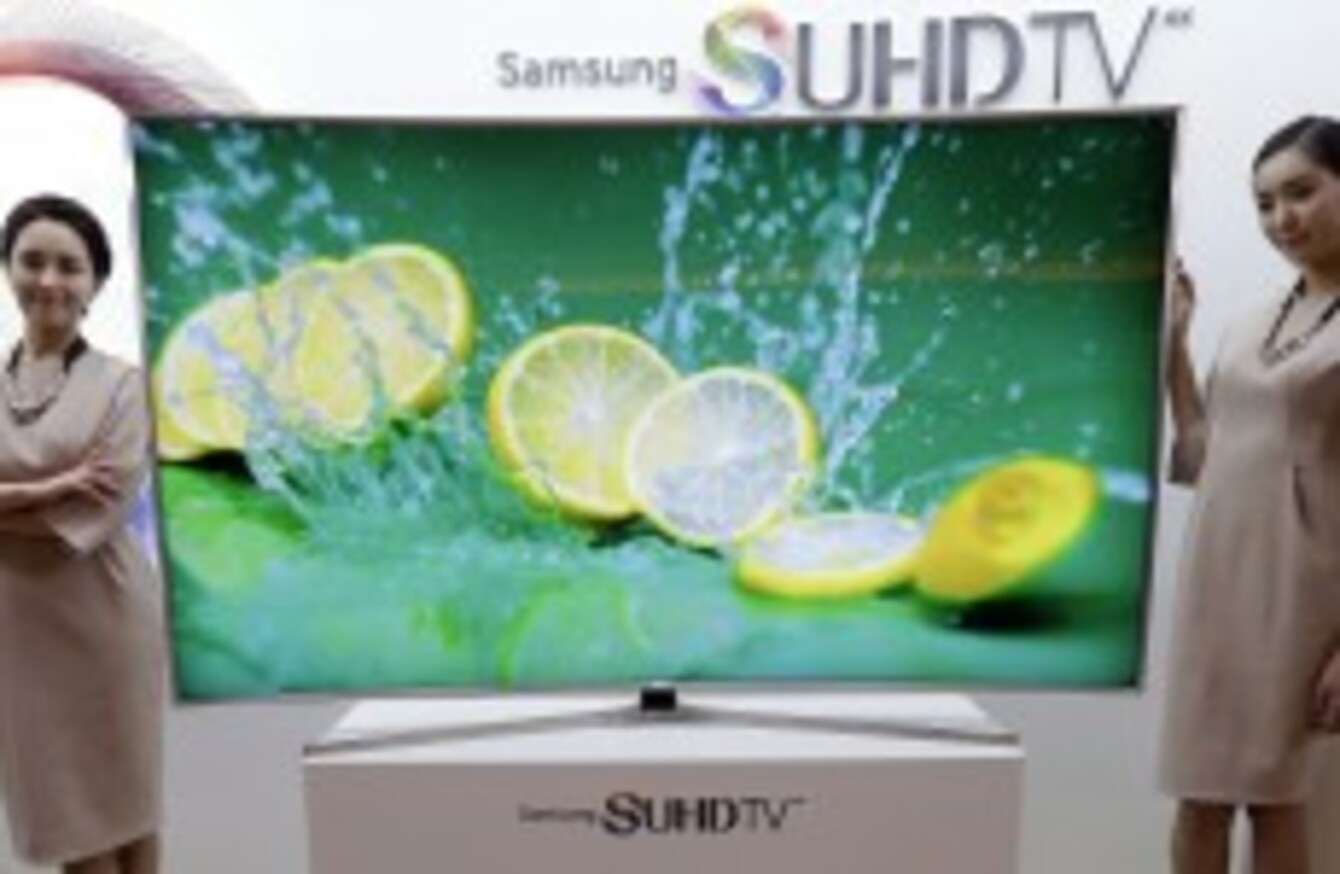 Smart TVs like Samsung's may be the norm now, but are they necessary?
Image: AP Photo/Ahn Young-joon
Smart TVs like Samsung's may be the norm now, but are they necessary?
Image: AP Photo/Ahn Young-joon
NO MATTER WHAT TV you go for, it's going to have some kind of smart capabilities built into it. It's unavoidable really, devices are given more capabilities, the ability to surf the web, voice controls and access to apps like Netflix and YouTube.
But if you can't avoid them, what should you keep in mind when buying one, and is it better to get a set top box like Apple TV instead?
Why would you want a smart TV?
Considering that the vast majority of TVs released now have some kind of smart capabilities, it's probably not something that you would have a choice in anyway. Yet the features that are included are useful under the right circumstances.
Smart TVs already incorporate certain aspects of features you would find in the likes of Apple TV and Chromecast or consoles like the Xbox One or PS4. the main difference is it allows you to access these services directly instead of using a third-party service like the ones mentioned above.
If you have one of those already, then there's less reason to get one, but as mentioned earlier, the vast majority of new TVs come with some kind of 'smart' capabilities so you may as well factor in the
Since they connect via WiFi, it means that it can download its own TV optimised apps used to watch shows on Netflix, access your social media accounts or browse the web. Really, you will be using them for things like video, audio and slideshows instead of using it as a replacement for your computer.
What's the specs should you look at?
The physical specs of a TV have value for a few reasons although they're not as important as you might initially think. The main ones are:
Screen Type: either LED or OLED, the latter delivers brighter and more fully saturated colours.
Resolution: the higher the numbers, the sharper the resolution.
Video definition: Normally advertised as Ultra HD or 4K. TV makers tend to use both interchangeably even though they're not the same thing (4K is associated with film, and refers to both the resolution and how its content is encoded).
Motion clarity/refresh rate: Expressed in Hertz (Hz), this describes how many times per second a picture is refreshed on the screen.
Port and connections: Not as important, but if you wanted to connect your laptop up to your TV, you would need an HDMI, VGA, S-Video, or DVI port for this to work. The type of port available will depend on your TV.
What OS is running?
There's no real consistency when it comes to smart TVs so the interface and options differ from manufacturer to manufacturer. There's no standard, meaning the quality of OS will vary massively.
The main ones you want to be aware of is customisation and interface, the former for getting the right settings, apps and services while the latter needs to be as easy as possible.
Another thing would be mirroring, which is the process of displaying a laptop or smartphone screen on the TV. This very much depends on device compatibility (an iPhone won't be able to be mirrored on a Samsung device, for example) and it's worth checking to see what laptop or smartphone you have first if you're seriously thinking of using it.
What about tracking?
Something that had been brought up recently, thanks to the controversy surrounding Samsung, was the fact that Smart TVs track data. While the concerns surrounding this particular example were overblown, there is a serious concern over what data is collected when you're using it.
The benefits of allowing this is for ease of access and personalisation suggesting things to watch and services to download. The downside is this can be used to send targeted ads to your TV, and where they appear really depends on what service you're using.
While there isn't much consistency across the board, be aware that the T&C you agree to when setting it up normally gives these services permission to do this. You can disable these features, but you end up losing some 'smart' functionality as a result.
So what's the verdict?
If you already own a device that allows multimedia capabilities like a games console or set-top box, then the usefulness of a Smart TV is limited.
However, if you don't and you want to watch the likes of Netflix and YouTube on it, then there's a good argument for it. Just don't expect it to change your world as the concept is still very young.