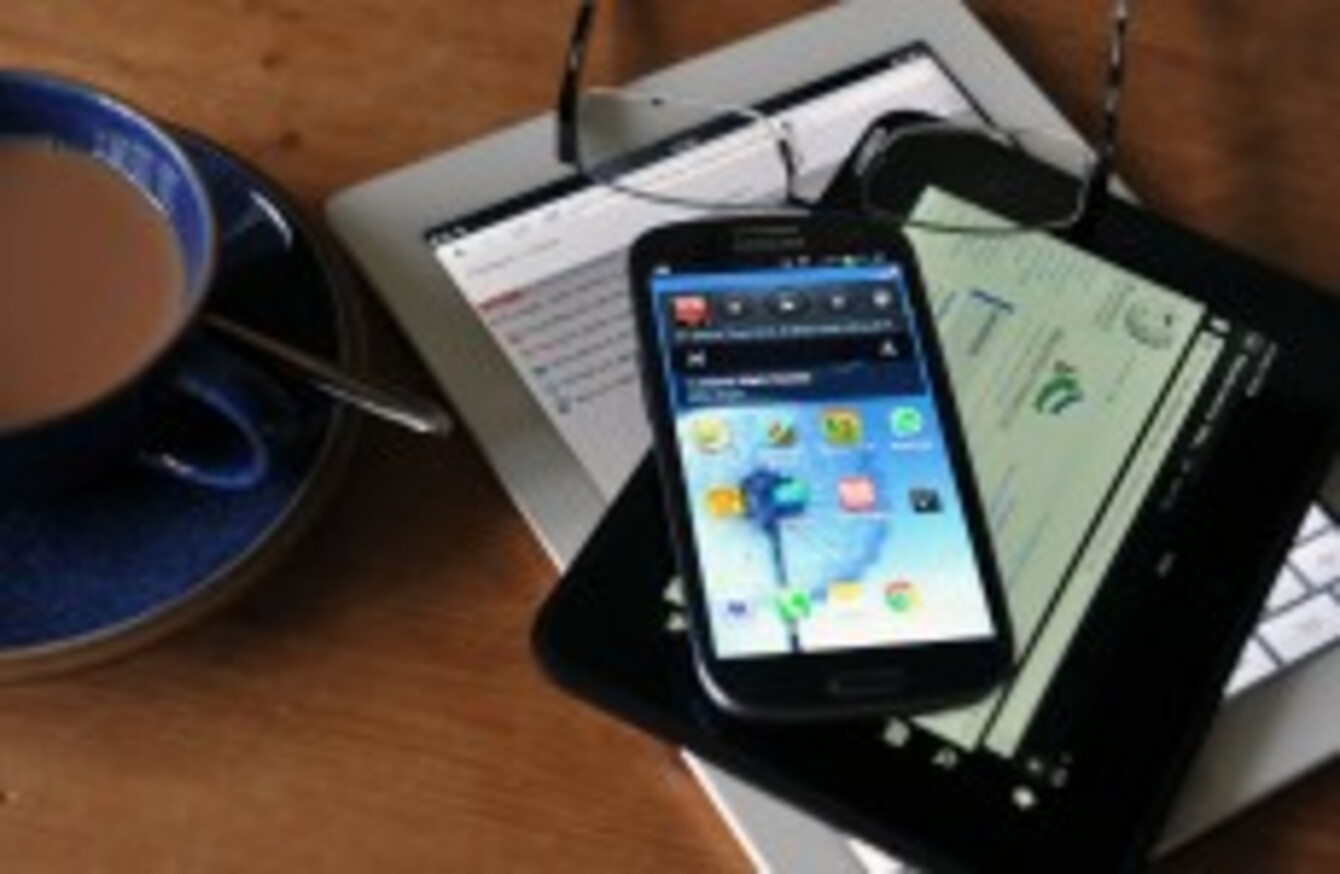 Image: Nick Ansell/PA Wire
Image: Nick Ansell/PA Wire
WHEN YOU'RE THINKING about what smartphone to get, either for yourself or as a gift for someone, we tend to only think about the phone itself.
What's just as important, if not more, is the type of plan you choose, the OS you want to use and which provider offers the best deal.
In the first part of our smartphone guide, we will go through all the factors that you should consider before parting with your cash. The second part tomorrow will look the best smartphones while on Sunday, we will pick out the tablets worth looking at.
Before you start
Before you decide what phone to get, it's important to consider what your needs are and how you will use it. Here are some of the questions you should ask yourself:
- Will I be using it primarily for calls/texts or for web access?
- How often will I be using apps that require 3G/4G connections?
- Will I be regularly in areas that have a WiFi connection (home, work, cafés, etc.)?
- How often will I be making calls or texting people? Will you be using apps like Whatsapp or Viber instead of normal SMS?
- Are you based in a rural or urban area (important for 4G users)?
- How often will you watch videos, read articles, view photos? Will you be doing these tasks away from home often?
While these are obvious questions, it's good to decide in advance what kind of user you are. Not only is it important to choose the right provider, but it will help you decide whether you want to go for bill pay or prepay.
Which OS?
Another thing to consider is the type of smartphone platform you will be using. While it's easy to just settle for an iPhone or Samsung Galaxy S IV, the operating system mightn't be what you're looking for. Each one has its own strengths and weaknesses and it's worth knowing what they are. The three major ones to consider are iOS, Android and Windows Phone.
iOS
Type of phones: iPhone range
Pros:
Best range of apps available. Majority of new apps tend to be released on iOS first.
iPhone range is high quality.
Ease of use means it's better suited for beginners.
Cons:
Little to no customisation afforded. Using it feels very rigid compared to Android and Windows Phone.
iOS7 is still buggy and rough around the edges.
Siri still lags behind Google Now.
iPhones are usually the most expensive smartphone range out there, the 5S costs €699.
(Image: Apple)
Android
Type of phones: Samsung, HTC, Sony Xperia, Nexus, Huawei
Pros:
Range of features allows for a great deal of customisation.
Wide range of high, mid and low range smartphones to choose from.
Full range of Google apps integrated into the service including Google Now which continues to improve.
Cons:
App store, while still good, isn't of the same quality as iOS.
Apps mainly designed for high and mid range smartphones. Low-range will have problems running the more demanding apps.
Inconsistent experience across phones. What you get on Samsung phones would be different on HTC or Sony.
(Image: Android)
Windows Phone
Type of phones: Nokia Lumia, HTC, Samsung, Huawei
Pros:
Live tiles deliver updates to your start screen and are customisable.
Integrates with all Microsoft products such as Xbox Live and Skype.
Kid's corner is handy for parents, allowing their child to use the phone without accidentally ringing or texting someone.
Like iOS, straightforward design and customisation means it will appeal to beginners.
Cons:
Limited number of apps available in its store. New apps on iOS and Android may take a while to arrive on Windows Phone.
Nokia Lumia the only high-end smartphones range available. Samsung, HTC and Huawei have phones with WP but are mid-range.
(Image: AP Photo/Bebeto Matthews)
The providers
Similar to the type of OS you want, the type of provider you go for should reflect the way you use your phone. Will you just text and call people? Will you use it solely for its web capabilities or do you want to strike a balance between the two? Here are the main providers in the country and what they have to offer.
(Note: all information provided are for bill pay contracts, and images provided are of main deals for each provider).
Vodafone
Bill plans: 18 - 24 month contract
€25 – €80 per month
Pros
Extensive phone coverage across the country, both for reception and 3G/4G.
Numerous plans to choose from.
Spotify Premium a nice inclusion in certain deals.
Cons
Data packages are decent, but there are better options out here.
Spotify Premium only available with RED deals, adding it onto other deals will cost an extra €10 per month.(Image: Vodafone)
O2
Bill plans: 6 – 24 month contracts
€35 – €70 per month
Pros:
Great plans for those who rely on calls and SMS.
Contracts are flexible, can commit to 6 month contract if you wish.
Like Vodafone, phone reception is rarely a problem.
Cons
Poor data plans for cheaper options, 200mb data for cheapest deal.
No cheap deals, minimum contract is €35 per month.
(Image: O2)
Meteor
Bill plans: 24 month contract
€20 – €60 per month
Pros
Affordable contract deals for all users.
Good all-rounder, caters to both heavy data users and callers.
4G deals are the most affordable, starting from €30 per month.
Cons
Add-on plans for internet are quite pricey. For prepay, an extra 500MB will cost €5 and 1GB will cost €10.
(Image: Meteor)
Three
Bill plans: 18 – 24 month contract
€25 – €55 per month
Pros
Best data plans out of all the main providers, perfect for those who regularly use social apps.
Flexi units deal are a handy addition, one unit equals 1 call minute or 1MB,
Cons
3G Reception isn't the best in rural ares.
No longer lets you use your phone as a hotspot, meaning you can't use your phone as an impromptu WiFi connection.
No 4G deals available yet.
(Image: Three Mobile)
Tesco Mobile
Bill plans: 12 – 24 months
€10 – 50 per month
Pros
Cheapest deals out of the main providers for both sim and smartphones. Also unlimited data for monthly contracts over €30.
Great opening deals for prepay. Free data for 3 months when you join pay as you go deal.
Cons
Limited range of smartphones available and more expensive than other providers
Poor data plans for cheapest deals. €10 per month only provides 100MB and data add-ons are expensive.
(Image: Tesco Mobile)
48
Bill plans: No fixed contract plans, all prepay
€10 – €20 per month
Pros
Great variety of deals for all types of smartphone users.
No charge for texts to any mobile network, with the exception of the internet deal.
15GB internet for €15 per month is one of the best data deals per price you'll find (This deal is available until March 2014).
#Open journalism No news is bad news Support The Journal

Your contributions will help us continue to deliver the stories that are important to you

Support us now
Cons
You must already have a phone to avail of the service, 48 only provides SIM cards.
Deals only available to 18 – 22 year olds.
EU roaming plan and extra landline calls deal are poor.
(Image: 48months)
eMobile
Bill plans: 12 – 24 month contract
€14.23 – €70
Pros
If you're already an Eircom user, you can add the mobile bill to your landline and broadband bundle for cheap.
Good deals for both internet users and traditional calls and texts.
€32 per month deal, providing unlimited calls, texts and 15GB of internet, is great value.
Cons
Only one deal for 4G users. €54 per month and only 5GB of internet per month.
Special iPhone deals are expensive.
(Image: eMobile)
Bill pay or prepay?
While the cost of a prepay phone is much more than bill pay, it's usually the latter that ends up costing you more in the long-run.
For example, let's assume you want to buy a 16GB iPhone 5C from Vodafone. The minimum bill per month is €35 for 24 months and you will have to pay €149 for the phone itself.
That mightn't sound so bad at the beginning, but when you add up the costs over two years, you will have spend €840 on bills, bringing the total cost to €989.
In comparison, getting the same phone under a prepay plan will cost you €599. It's more to pay immediately, but unless you're a heavy user and topping up every month, it would work out cheaper over time.
Also, all of the providers listed provide you with incentives like free calls and texts if you top up every month. While this is to ensure you're regularly spending money on your phone, such deals should help you go longer without topping up.
That said, a prepay plan mightn't be the right fit. If you're using WiFi connections regularly and you use your phone conservatively, prepay would work. If you're a heavy 3G/4G user, a bill pay plan would be the better choice. Either way, it's worth considering how you currently use your phone  efore you commit to a new contract.
3G or 4G?
Since it's the faster of the two, the obvious answer would be 4G, but there are two major factors to consider before you break the bank.
Since it's only been introduced, 4G deals are more expensive and normally start around the €50 mark.
The second thing to consider is that it's only really available in major urban areas. If you live in a rural area, depending on where you're based, you mightn't be able to avail of it often. So far Vodafone has the greatest reach, covering the southern part of Ireland while Meteor covers the main towns and cities.
The infrastructure for 4G is quickly improving, but if you're in a rural area, you may be better off relying on 3G for now until this happens.
Map of available (Image: Meteor)
Map of Vodafone's 3G/4G reception. The area covered in dark purple is where 4G is available (Image: Vodafone)
Deposits
Sometimes when you're getting a new smartphone, you will be asked to pay a deposit on top of the payment. The reasons for paying the deposit and the cost vary between each provider, but normally it's either paid back to you directly or used to pay your bills in advance after a six month period.
However, there's always the chance that this be forgotten about either by the provider or the customer. When you're paying, make a note of what the deposit will be used for and set a reminder on your smartphone so you will remember by the time the six month period is up. Also, keep your receipts handy in case they're needed.
Most people tend to forget about it so even if you've bought a smartphone in the last year or two, it's worth checking if you haven't already.
(Tomorrow, we take a look the best smartphones on the market and help you decide which one is for you)