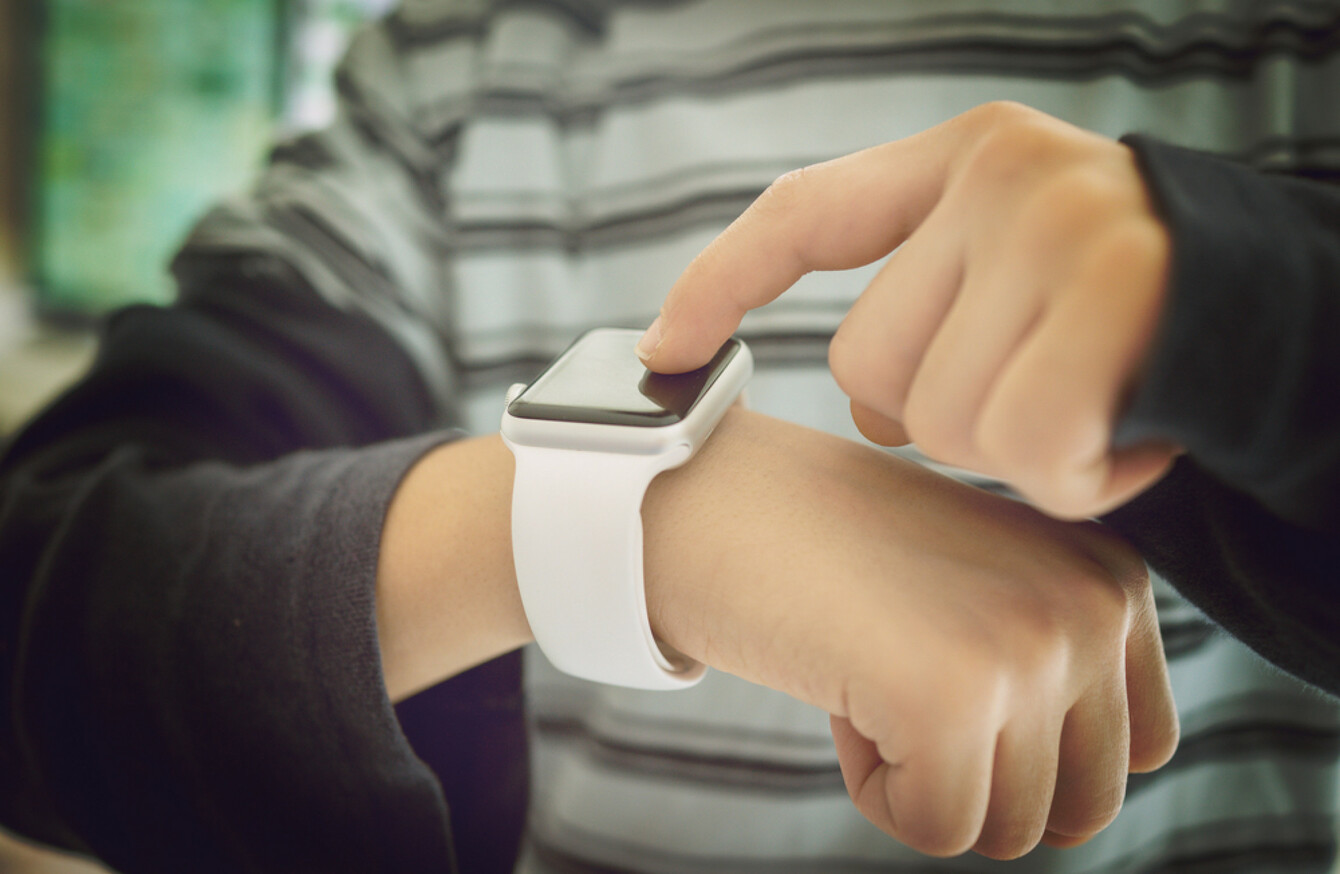 Image: Zurijeta via Shutterstock
Image: Zurijeta via Shutterstock
PARENTS WHO ARE using smartphones or smartwatches to keep tabs on their child's whereabouts could be creating risks to their privacy and security.
This warning is coming from CyberSafeIreland, the children's internet safety charity, as activists and consumer groups call for probes by regulators.
A coalition of child protection, consumer, and privacy groups asked the US Federal Trade Commission (FTC) to investigate the risks posed to children by smartwatches and also called on retailers to stop selling the devices.
The groups said consumer organisations in Europe were expected to file similar complaints with EU regulators.
The organisations contend that the devices, instead of keeping children safe, could make them vulnerable to hackers or criminals.
"By preying upon parents' desire to keep children safe, these smartwatches are actually putting kids in danger," Josh Golin of the Campaign for a Commercial-Free Childhood in the US said.
The actions come after research by the Norwegian Consumer Council highlighted security flaws in smartwatches designed for children, which transmit and store data without encryption.
With two of the watches, an attacker was able to take control of the watch, eavesdrop on conversations, communicate with the child, and access stored data about the child's location.
Advice to parents
Programme Director of CyberSafeIreland Cliona Curley spoke to TheJournal.ie to offer advice on how to avoid sharing your child's data and location with strangers accidentally.
She said that if a child is given a smart device, be it a phone or watch, it's vitally important to ensure that they are not sharing their location, either through the device or through a particular app.
"Obviously, parents may be buying these devices specifically so that they can monitor their children's movements and hence these devices would be sharing location," Curley said.
"Another thing we suggest is, really, that you don't rely on technology to monitor or protect your children because, as well as giving away data on your child, they may give their location to somebody else," she said.
It could give you a false sense of security.
Curley said that it's important, when relying on technology, for parents to have conversations about staying safe online, that they are setting rules and keeping an eye on what children are doing.
'A new vulnerability'
The Norwegian group also found that a "geofencing" feature, meant to notify parents when a child leaves a specified area, did not work as advertised, according to the organisations.
The study examined smartwatches sold under the Caref brand marketed as Gator in Europe, as well as SeTracker, Xplora and Tinitell.
"The devices implicate not only the data privacy of children but also their personal safety," said a letter to the FTC by the Campaign for a Commercial-Free Childhood and a number of other interest groups.
"The devices create a new vulnerability that allows a third-party to find a young child at precisely the time when the child is separated from a parent or guardian."
Widespread location tracking
Similar privacy warnings were issued back in July when Snapchat introduced to 'Snap Maps' feature, which puts users and their photos onto a new interactive in-app map where friends and other Snapchat users can track where they are at any given time.
Users who have chosen to share their location with their in-app friends can be seen on the map that's precise enough to show a person's exact location on a street, in real-time.
Snapchat isn't the only app that uses location tracking – it's a common feature on the majority of social media apps including Facebook, Messenger, Instagram and Twitter.
CyberSafeIreland's 2016 annual report found that 28% of children surveyed are in contact with a stranger either occasionally or every day through online gaming or accepting social media requests from strangers.
Whilst many connections are harmless, there are cases where the contact with strangers is of significant concern, particularly for the 5% of children who are in contact with a stranger on a daily basis.
The survey also found that whilst 84% of primary school teachers do cover internet safety in one form or another, the majority of them (64%) said that they did not feel sufficiently resourced to effectively deliver educational messages on internet safety.