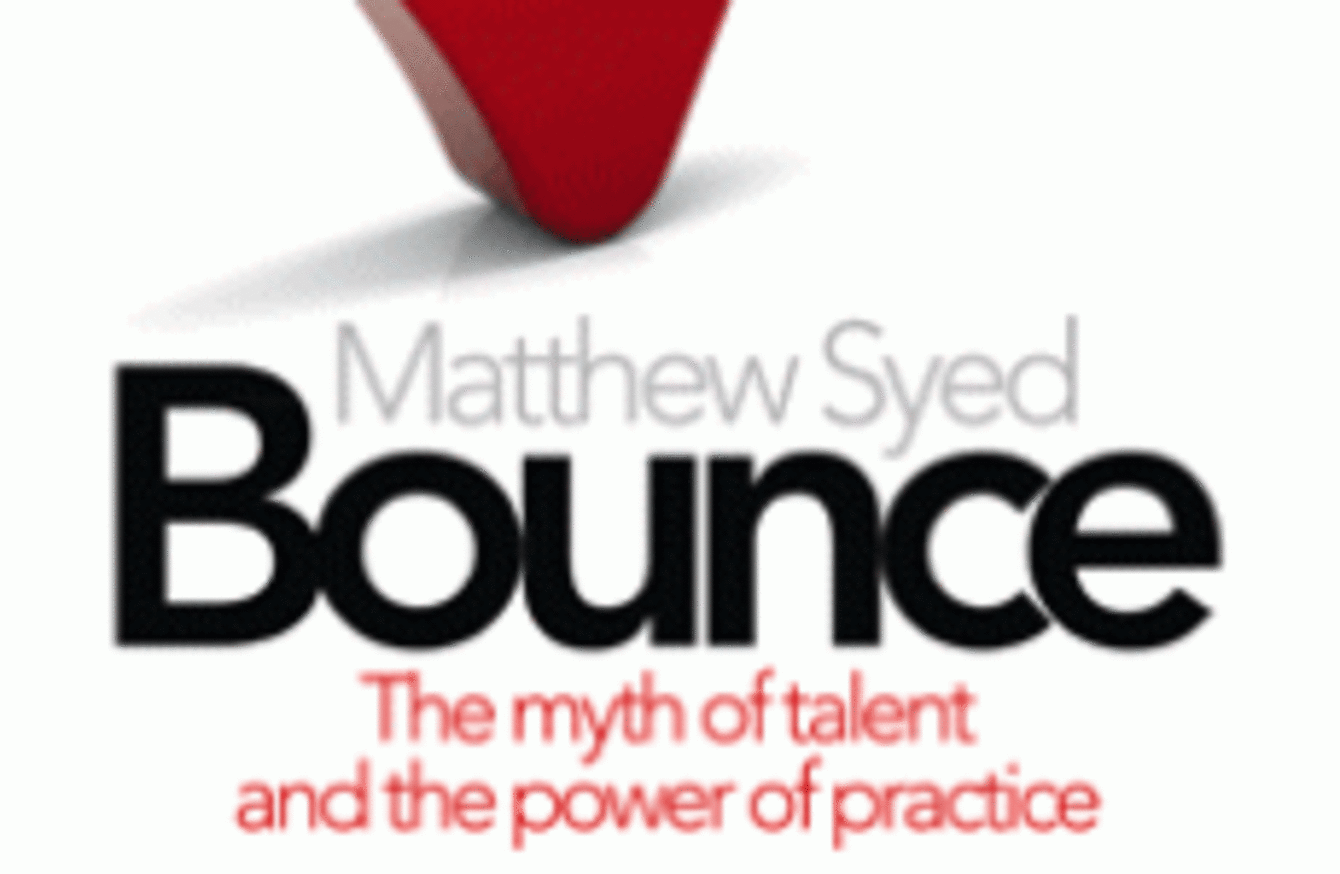 Image: http://www.matthewsyed.co.uk/books/
Image: http://www.matthewsyed.co.uk/books/
KENYANS AREN'T PARTICULARLY good long distance runners.
That might seem strange, considering the country has amassed an impressive 79 Olympic medals for athletics, nearly all for distance running.
Nonetheless, the author of Bounce, study on "the power of practice and the myth of talent", maintains that genetically, Kenyans are no better disposed to distance running than any other random population.
Why should I read this book?
The difference, Matthew Syed argues, is in nothing more complex than practice, with a bit of luck and circumstance thrown in. The majority of elite Kenyan runners come from near a town called Eldoret.
Eldoret, it turns out, is at high altitude.
Running and training at altitude will increase lung capacity, making you a better endurance athlete. And why are Kenyan athletes better than those from other high altitude countries? Syed says that Kenyan children run huge distances to school, sometimes as much as 20 kilometres each day.
They do it not for fun, but out of necessity – but the upshot is, that by the time they're in their mid teens, they have unconsciously accumulated thousands of hours of practice.
What does that have to do with business?
On the face of it, Bounce doesn't have a whole lot in common with the business world. However, if you can get past the Duncan Bannatyne quote on the cover, there is an awful lot that small businesses can learn from Syed's work.
His central thesis is that practice, no matter what the field, opens the door to efficiencies and abilities that seem unattainable to a non-expert. Expertise, which seems like it is god-given talent at first glance, is more the product of hours of purposeful practice.
The lessons for businesspeople are clear. Business leaders, like sports stars, are more creatures of habit and diligence that talent. There is nothing god-given about success, just as it isn't genetically encoded in Kenyan runners that they will become world beaters.
Syed himself, as well as being a journalist and one-time unsuccessful UK general election candidate, is a former Olympic table tennis player. He attributes his success to having the luck to be born in a house with a table tennis table, a brother to play against, and the coincidence of having as his teacher Britain's top table tennis coach.
Source: ABC News (Australia)/YouTube
Syed manages to get his point home without labouring it, and takes in plenty of entertaining asides which support the main argument, from East German state doping programmes to rituals, superstitions, and why great sportspeople feel sad after winning.
A reader familiar with Malcolm Gladwell's Outliers will find much of Syed's argumentation familiar (indeed, it takes just nine pages for Syed to mention Gladwell), but he has managed to create his own fusion of narrative, sports science, psychology and philosophy to create an entertaining and useful book. 

In a nutshell
Being the best at something has more to do with hard work, practice and dedication than talent
Even the abilities of child prodigies, including Mozart, were defined more by their circumstances and upbringing than by their supposed genius.
If you liked this, you'll love:
Outliers: The Story of Success>
The Talent Code: Greatness isn't born. It's grown.>
Practice Perfect: 42 Rules for Getting Better at Getting Better>