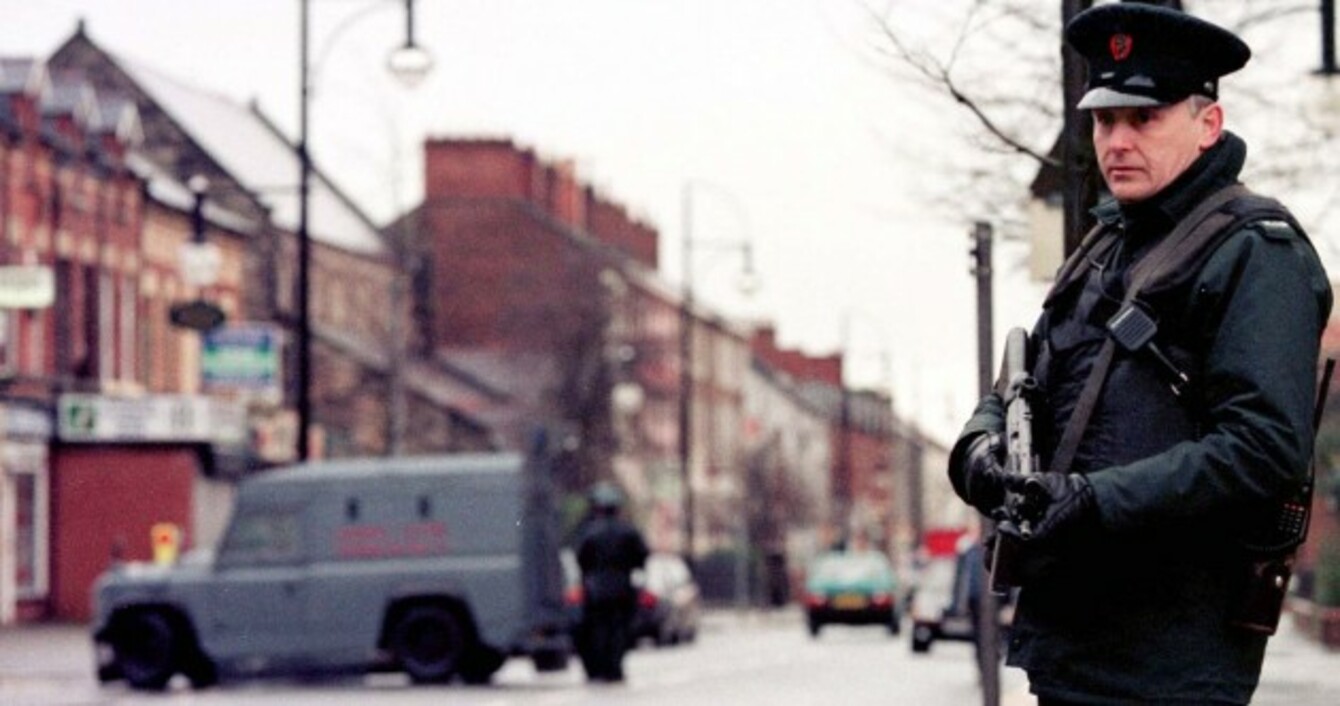 RUC officer on the streets of Northern Ireland (File photo)
Image: Paul McErlane/PA Archive
RUC officer on the streets of Northern Ireland (File photo)
Image: Paul McErlane/PA Archive
THE PUBLICATION OF the Smithwick Tribunal report this evening confirmed what had long been suspected: at least one member of An Garda Síochána was more than likely involved in passing information on to the IRA which led to the murder of two RUC officers.
The devastating findings took the Tribunal almost eight years to establish exactly what happened on 20 March 1989, when Chief Superintendent Harry Breen and Superintendent Bob Buchanan were ambushed and killed on an Armagh road, shortly after leaving a meeting at Dundalk Garda Station. The two were the most senior RUC officers killed during the Troubles.
Judge Peter Smithwick this evening noted that while direct evidence is all but impossible to find almost 25 years after the killings, the findings from more than 100 witnesses suggest that someone in Dundalk Garda Station let the IRA know when the officers were leaving the station.
"Collusive acts are, by their very nature, surreptitious," he says in the report. "There is no record of a phone call, no traceable payment, no smoking gun. That is not surprising".
The events leading to Breen and Buchanan attending the meeting in Dundalk were set in motion three weeks before their death. Here's how it unfolded.
The first day of the Smithwick Tribunal in March 2005. (Pic: Photocall Ireland)
Beforehand: Gardaí and the RUC agree to work more closely together
Part of the Anglo-Irish Agreement in 1985 called for more cross-border co-operation between the RUC [now the PSNI] and An Garda Síochána in order to exchange information and operational resources. This led to the setting up of a working party with members of both police forces working together.
Bob Buchanan was a member of the working party and became a Border Superintendent, responsible for cross-border matters and acting as a liaison between the RUC and An Garda Síochána. Meetings of the Working Party took place every two months, but Buchanan generally travelled to the Republic between six and ten times every month as part of his job anyway, always using his distinctive red Vauxhall Cavalier.
Harry Breen travelled far less often to the Republic. The Tribunal report notes that he had been in Dundalk Garda Station just once in 1989 before the day he died and had once gotten lost while trying to find Dundalk with his deputy.
April 1987: A Monaghan Detective Superintendent Tom Curran receives intelligence that the IRA plan to murder some RUC officers travelling to and from meetings with the Gardaí. This information is passed to senior gardaí and to the RUC.
Early 1987: Bob Buchanan tells  Tom Curran that the RUC has concerns that Garda Owen Corrigan in Dundalk Garda Station is "associating inappropriately" with the IRA. Curran passes this on to Garda Headquarters.
June-September 1988: Detective Superintendent Tom Curran receives intelligence that Bob Buchanan has been targeted for assassination. Curran told the Tribunal he submitted a report abut this but An Garda Síochána says it has no record of such a report in its files.
Judge Peter Smithwick (Pic: Leon Farrell/Photocall Ireland)
March 1989: How Breen and Buchanan ended up in Dundalk on that fateful day
6 March 1989: Harry Breen attends a dinner with Tom King MP, then-Secretary of State for Northern Ireland. At the function, King learns about a possible illegal fuel smuggling operation taking place on the farm of Thomas 'Slab' Murphy, believed to have been a senior member of the IRA, and demands that a police operation be carried out to stop him, thumping the table to emphasise his point. Harry Breen isn't happy about a police operation being directed by a politician, particularly when there is not enough evidence to back it up.
Tuesday 14 March 1989: Bob Buchanan travels to a meeting at Dundalk Garda Station with Inspector Charles Day. Day told the Tribunal that he remembered the journey because it was so close to Buchanan's death and because he thought at the time that they were being followed by a HiAce van.
Wednesday 15 March 1989: A car known to be used by subversives is recorded by the British Army as being in close proximity to Bob Buchanan's red Vauxhall car in Keady town.
Thursday 16 March 1989: A meeting takes place in Armagh RUC station which Bob Buchanan attends (however there is disagreement among  Tribunal witnesses over whether Harry Breen also attended).  The head of the RUC had earlier that day asked a senior RUC officer – who remained anonymous and was known only as Witness 18 – to look into possible cross-border smuggling by Thomas 'Slab' Murphy. Witness 18 was told to contact Harry Breen.
At the meeting in the Armagh RUC station, Witness 18 said he told both Breen and Buchanan not to go across the border for the purpose of the operation to avoid "creating a situation". However other people at the meeting dispute this, and say that Witness 18 explicitly told Bob Buchanan and Harry Breen that they would have to meet with their Garda counterparts to explore what kind of joint operation could be devised.
Another anonymous RUC officer – Witness 36 – said that at one stage Witness 18 left the room to take a phone call and when he returned, he told Bob Buchanan that he was being transferred. Witness 36 said Buchanan "seemed shocked and that he did not seem to be expecting this transfer".
Another officer – Witness 27 – said it was "wholly inaccurate" to say that Breen and Buchanan had been ordered not to cross the border, pointing out that part of Buchanan and his own job was to deal with the gardaí. "It was totally necessary to meet face to face. That was our role every day of the week," he told the Tribunal.
Judge Peter Smithwick agreed with the RUC officers; in the Tribunal report he says he does not accept that Breen and Buchanan were given an order not to liaise with gardaí south of the border – in other words, they were most likely told to talk to members of An Garda Síochána about the Thomas 'Slab' Murphy operation.
Friday 17 March 1989: Witness 39 meets with Harry Breen to have a drink to mark St Patrick's Day. The witness said that Breen seemed unhappy about having to arrange a meeting with Dundalk gardaí and that he didn't like going to the Republic because of the risk involved. The witness – also an RUC officer – offers to accompany him but Breen said he would get Buchanan to accompany him because he was the 'liaison man' with An Garda Síochána.
Saturday 18 March 1989: Bob Buchanan tells a colleague that it was likely he will be travelling to Dundalk to discuss the Thomas 'Slab' Murphy operation on the following Monday.
Saturday 18 March 1989 (evening): A cream Toyota LiteAct van is near Forkhill while its owner attended mass. The van would later be used by the IRA in the shooting of Breen and Buchanan.
(Photocall Ireland)
March 20th 1989: The day in question
9.20am: Superintendent Buchanan rings Dundalk Garda Station looking to speak to one of two senior gardaí, neither of whom are available. The call is returned but Buchanan is not available.
10.03am: Buchanan rings Superintendent Tierney in Dundalk and this time he gets through after several more missed calls at each end. Tierney tells Buchanan to call the station's Chief Superintendent to directly arrange that day's meeting.
10.15am: Buchanan rings Chief Superintendent Nolan and arranges the meeting for 2pm at Dundalk Garda Station. Nolan later said that the conversation took place on a normal telephone line. There was a scrambler system on the telephones in Dundalk Garda Station but this was not compatible with the system in Northern Ireland at the time.
The RUC report of events differs slightly, saying that Chief Superintendent Nolan made the phone call to Breen, but Nolan says that that never happened. Judge Smithwick said he accepted Nolan's evidence.
That morning: Some evidence suggests that other RUC officers could possibly have joined Buchanan and Breen in travelling to Dundalk that day. At least one officer turned down a request to attend as he was tied up with other duties. Witness 27, an RUC officer, had agreed to travel with the two men but a conference which was due to take place that week was moved forward to that day and he told Breen he would not be able to attend.
Also that morning: Judge Smithwick notes that he believes there was some discussion of Bob Buchanan in Dundalk Garda Station that morning, as several gardaí congratulated Buchanan on his transfer – which he himself had only recently been made aware of – when he arrived at the garda station. This means that a number of people present in the station would have been aware that he was due to visit.
Before 1pm: Breen mentions to a fellow officer that he was concerned that some members of the gardaí were on Thomas 'Slab' Murhy's payroll. The officer said that Breen mentioned Owen Corrigan as someone he did not trust and said he had been investigated for his involvement with the IRA in the past.
11am: The Edenappa Road in Armagh – located just 400 metres over the border – is declared 'out of bounds' until 11am on the morning, most likely due to suspicious activity in the area. It was common throughout the Troubles for areas to be declared out of bounds, witnesses told the Tribunal.
The Edenappa Road, 300 metres inside the Northern Ireland border. (Image: Google Maps)
Judge Smithwick noted:
It is noteworthy, and indeed tragic, that there was a British Army presence in the area from 13th March 1989 to 20th March 1989 and that this seems to have been withdrawn at 11am on the morning of 20th March 1989, just hours before Chief Superintendent Breen and Superintendent Buchanan were ambushed.
11.30am-12 noon: The IRA operation involving up to 70 people – including lookouts – begins.
1.40pm: Breen and Buchanan leave Newry RUC station for Dundalk.
2.20pm: Breen and Buchanan arrive at Dundalk Garda Station to discuss Thomas 'Slab' Murphy's fuel smuggling operation.
Judge Smithwick notes that their presence at Dundalk station was widely known by other people present in the station.  Separately, he noted that there is no evidence to suggest that a phone call was made to a member of the IRA from any kiosk in the vicinity of the station to alert them to the presence of the RUC officers.
2.25pm: Sergeant Leo Colton is on the front steps of the garda station when he sees a grey car enter the forecourt, drive past the front of the station and then drive away. Colton said it looked as though the driver was looking at the vehicles parked in the forecourt.
Colton later reported seeing this car in the immediate aftermath of the murders.
2.30pm: A white van containing an IRA Active Service Unit (ASU) stops at a vacant house on the Edenappa Road in Armagh, close to a border checkpoint. Five men get out and enter the empty house.
3.10-3.15pm: Breen and Buchanan leave Chief Superintendent Nolan's office at Dundalk Garda Station. Buchanan talks briefly to a garda he was friendly with about his impending transfer before the two left the station.
3.30pm: The white van returns to the house on the Edenappa Road, picks up the five men, and parks on the right hand side of the road, near the house. Five minutes later, two men in full combat clothing and carrying rifles get out of the van and take up positions on either side of the road.
3.40pm: One of these two gunmen stops three vehicles travelling along the road. The occupants, including a teacher and a petrol station employee, are taken out of their vehicles and ordered to lie on the road.
Almost immediately afterwards, the red Vauxhall driven by Buchanan drives up and is stopped by one of the gunmen. The white van, which was parked further down the road, drives alongside the Vauxhall.  The red car begins to reverse back, but stalls and has to be restarted. As it does so, four masked gunmen jump out of the van and open fire. The driver's side of the vehicle is hit with at least 24 bullets.
One witness says that the passenger got out of the car at one stage either before or after the shooting began and waved a white handkerchief. A gunman ran towards him and shot him.
The gunmen take some paperwork from the car, get into the white van and flee the scene.
3.58pm: Royal Regiment Fusiliers receive a report of bodies in a red car at Edenappa Road.
4.10pm: The RUC in Forkhill receive a phonecall saying there are two bodies in a car at border checkpoint 10.
After 4.10pm: Witness 33 – an RUC officer  at Forkhill – immediately rings Dundalk Garda Station because he is concerned about his colleagues. When he finds out they have left, he drives to border checkpoint 10 with a colleague and finds the red car. "We assumed the worst," he said. He told the Tribunal:
Superintendent Buchanan was still in the vehicle, and, and from recollection, the seatbelt was still on at that stage. Mr Breen was out, his body was lying on the road. I think, from recollection, it was face down, facing towards the south, and he looked to have been probably shot in the legs and the back of the head.
Witness 33 said that he thought that a pen and possibly Breen's glasses were lying on the road. He also recalled that there was a white handkerchief on the road.