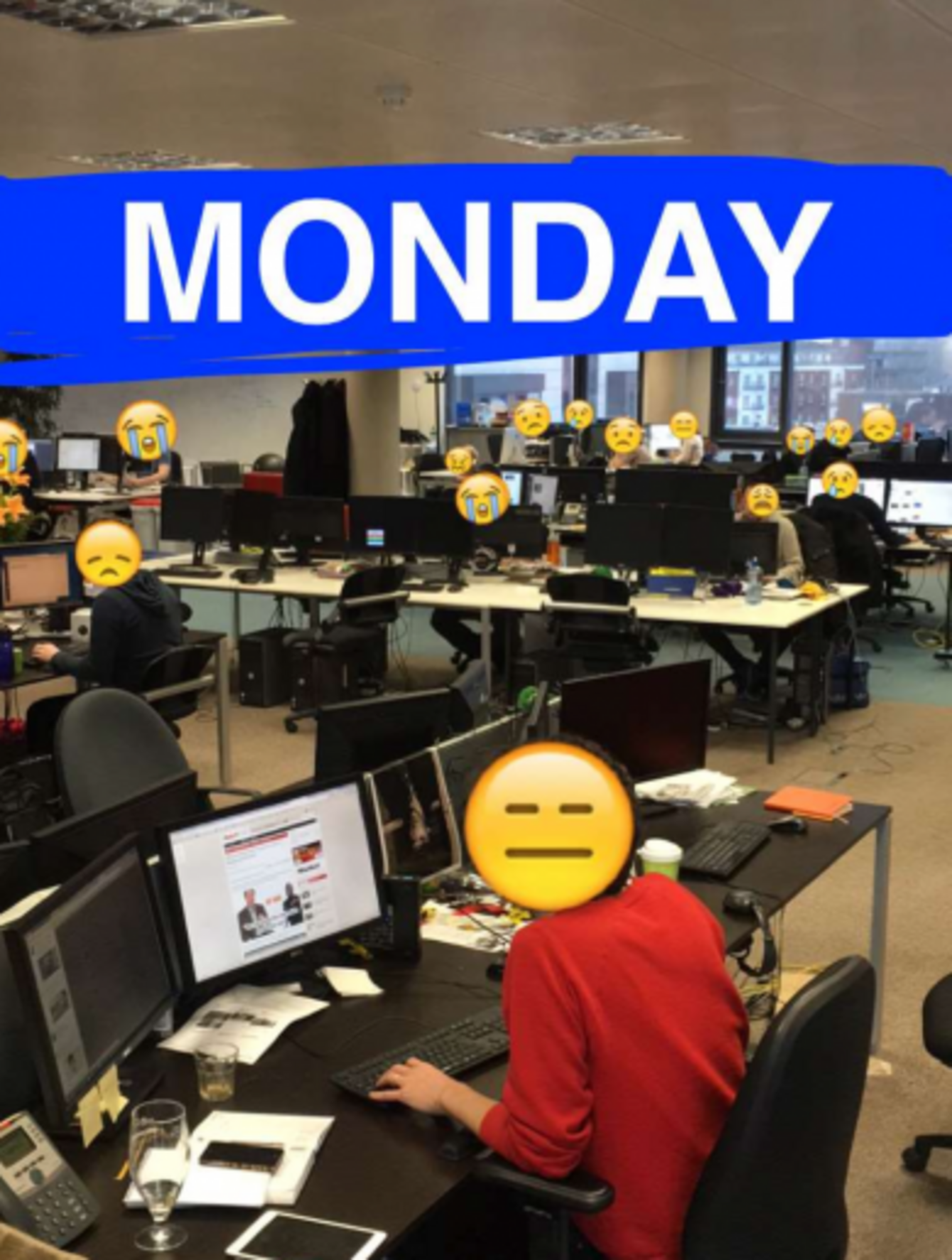 IT'S ONE OF THE most popular apps out there, and Snapchat's growing popularity means it fast becoming the app of choice for those always on their phones.
Almost a quarter of Irish adults have an account and 68% of those use it daily, meaning you will find enough people to follow.
But if you want to try it out but you're not sure how to get started, here's a quick guide to help you out.
What exactly is Snapchat?
Snapchat, which is available on iOS and Android, allows you to share photos and videos with friends.
The hook is anything you post will expire, from as quick as one second to as long as 24 hours. If you send a photo to a friend, they only have a few seconds to look at it before it's gone for good.
If someone posts an image or video to My Story, it will be viewable for 24 hours before it disappears.
The app does allow for creativity thanks to the inclusion of paint, text, filters, and emojis. You can insert them on photos and videos and how people use these tools is one of the app's greatest strengths.
The basics
There are four sections to keep in mind. The home screen is the camera itself but if you swipe in different directions, you can access different menus.
Main screen: Camera
Swipe top to bottom: Profile
Swipe right to left: Stories and Discover
Swipe left to right: Private snaps and chat
The camera (home screen)
Taking a photo or recording a video works the same way as any other camera app. Tap to take a photo or hold down to record a video.
If what you're trying to capture is too dark, a moon icon should appear in the top right-hand corner beside the flash icon. Tapping it will brighten up the scene.
The bottom corners contain icons for private snaps and messages (left) and Stories (right). While you can tap on them, they tell you when a new message or story has arrived.
Editing a snap
Once you've taken a snap, you can do a few things with it.
Text: tapping this will allow you to add text. Tapping the T symbol again will make the text bigger or smaller. When you're finished, you can move the text by holding down or resize/rotate it by pinching the corners.
Draw: allows you to paint over a photo using different colours. Text will appear in front of it, making it useful as a background.
Emojis: hold down on one and drag it to where you want it to be. You can resize them as well so they better fit the context.
Filters: Swiping left or right will cycle through them. Some will be location or holiday specific (eg. if you're in Dublin, a logo for the city will appear).
If you're using the selfie cam, press and hold on your face to bring up selfie lenses. You can also do the same with the rear end camera.
And at the bottom, there are additional options.
Download: if you want to save it to your camera roll, you can do so by tapping the icon.
Time: if you've taken a photo, you can set how long a photo can be viewed for. If you've recorded a video, this will be replaced by a mute on/off icon.
Add to story: this is a quick way to add your snap to My Story.
When you're happy, you can hit the arrow icon at the bottom right-hand corner and send it to My Stories (for everyone to view) or choose what friends you want to send it to. You also have the option of sending it to both My Story and friends.
Viewing a snap
Viewing a snap, either private or public, is just a matter of tapping on the name of the person (in messages) or icon (in stories).
When the snap is playing, the top right-hand corner displays a timer. The inside circle is the length of the snap you're viewing while the outside shows how long the collection of snaps last.
If you want to skip a snap, just tap on the screen and you will be brought to the next one. If you want to exit, swipe down and if you want to send a private message, swipe up.
Your profile
When you swipe down on the main screen, you will see your profile's QR code. Tapping on it allows you to take a selfie or record a selfie video to play whenever anyone sees your code. When it's captured, it will appear within the ghost symbol.
You can also customise your QR code on Snapchat's main site, as well as change your password, unlock your account or delete it.
If you see a QR code, you can scan it through the camera screen (home screen). When it's on the screen, press and hold down on the code. The app will recognise it and ask if you want to add that person as a friend.
The settings screen is here too as well as as the help and achievements screens. You can also add friends here which is done in four ways 
Added me: Recent people who added you to contacts.
Contacts list: If you allow it, you can scan your contacts list to see which of your friends are on the service.
QR code: If you have taken a photo of a QR code or captured a screenshot of one, you can scan the image here.
Add Nearby: If a friend is beside you and not on your contacts list, you can both open this up and connect
Private messages 
Any private snaps (photos or videos) will be located here. You can also message friends through this as well. On the left side of every contact, there will be a symbol beside them.
Red box: a photo has been sent.
Purple box: a video has been sent.
Blue box: a message has been sent.
Side triangle: a screenshot of this photo/video has been taken.
If you swipe right on a name, you can bring up direct chat. You can send a picture directly by tapping on the snap icon and if your friend is also online, you can start a video chat by holding down the snap button (the button will be blue instead of yellow).
Stories and Discover
This is where public stories from your friends are found. You can view any of them by tapping the icon on this screen. It's broken up into three main sections.
Discover: articles and videos from select publishers like Buzzfeed and Sky News. You can swipe right to left again to bring up the Discover page
Live: events happening across the world. These are curated by Snapchat and use individual snaps to populate it.
Recent Updates: New photos/videos from those you follow.
All stories: All photos/videos from those you follow from the last 24 hours. Each entry will disappear after its time is up.
Settings
When you're viewing your profile/QR code, you will find settings at the top right-hand corner.
Some of the options you can access include:
My account: general details like your name, username, number, email and password are all here.
Additional Services: you can turn on filters, front-facing flash (if it's available), travel mode (reduces data usage), customise friend emojis and manage/view permissions.
Who can… : decide who can send you snaps or view your stories.
Advanced: this controls notifications. If you are an Android user, you can sign up to Snapchat beta, which will allow you access to new test features before everyone else.
More information: contains support, Snapchat's privacy policy and terms of service and licenses.
Account details: here you can clear browser data, conversations, manage your blocked list or *whisper it* log out of your account.
Are you on Snapchat or just signed up? Why not follow us on thejournal.ie or scan the QR code below.