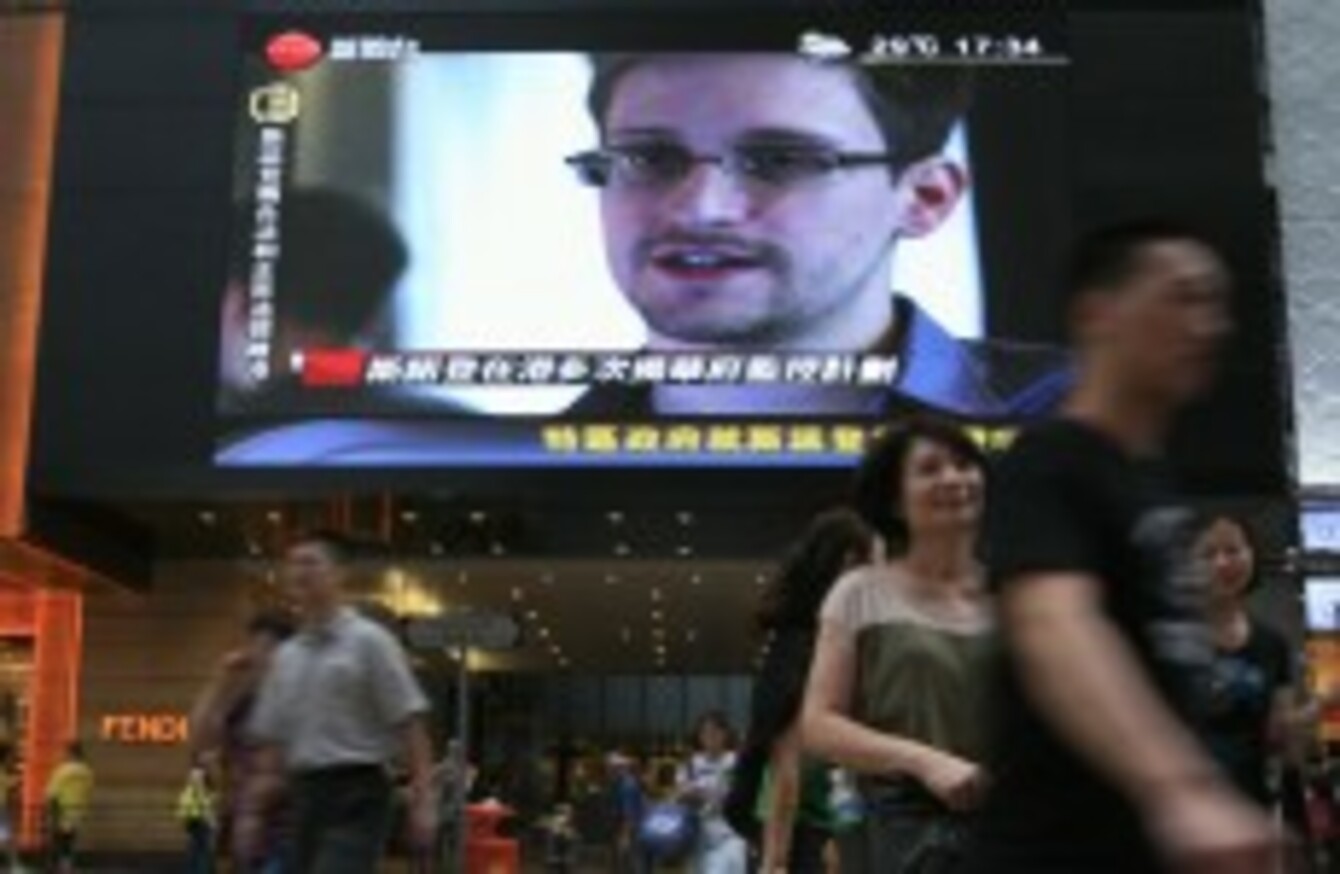 A TV screen shows a Chinese news report of Edward Snowden.
Image: (AP Photo/Vincent Yu)
A TV screen shows a Chinese news report of Edward Snowden.
Image: (AP Photo/Vincent Yu)
UPDATED: 16.30
THE QUESTION THAT most people have been asking over the past 24 hours has been: "Where in the world is Edward Snowden?"
Well, we can now reveal that right this minute, the former CIA agent is in the transit area at Moscow airport.
Russian President Vladimir Putin said the sooner the fugitive American intelligence contractor selected his final destination and left Moscow the better for all.
Putin emphasised that Russia has no extradition agreement with the US in Snowden's case, something that will outrage American authorities and President Barack Obama, who this day last week was rubbing shoulders with Putin at the G8 summit in Northern Ireland.
"He did not cross state borders and therefore does not need a visa," said Putin. "As far as his possible handover is concerned, we can only hand over certain citizens to nations with which we have corresponding international agreements about the handover of criminals. We have no such agreement with the United States," Putin said.
"He is a transit passenger in the transit zone and is still there now…. Mr Snowden is a free man. The sooner he selects his final destination point, the better both for us and for himself," Putin told a news conference in Finland.
Russia's president also added that the arrival in Moscow of the wanted US wikileaker was completely unexpected and dismissed accusations that Russia had helped him get a flight:
It is true that Mr Snowden came to Moscow. For us, this was completely unexpected. Any accusations against Russia on this are nonsense and rubbish.
Snowden was meant to be in this seat to Havana, Cuba yesterday morning but he never showed up, much to the dismay of dozens of journalists who only found out when the doors were closed and had to take the 12-hour flight to Cuba.(AP Photo/Alexander Zemlianichenko)
Snowden had arrived in Moscow on Sunday from Hong Kong, from where he leaked to the media details of secret cyber-espionage programmes by both US and British intelligence agencies.
He was due to fly to Havana, Cuba yesterday morning but never turned up for his flight.
President Barack Obama said Washington was using every legal channel to apprehend Snowden.
White House spokesman Jay Carney lashed out at Beijing for letting him go, despite US extradition requests.
- Additional reporting AFP, 2013