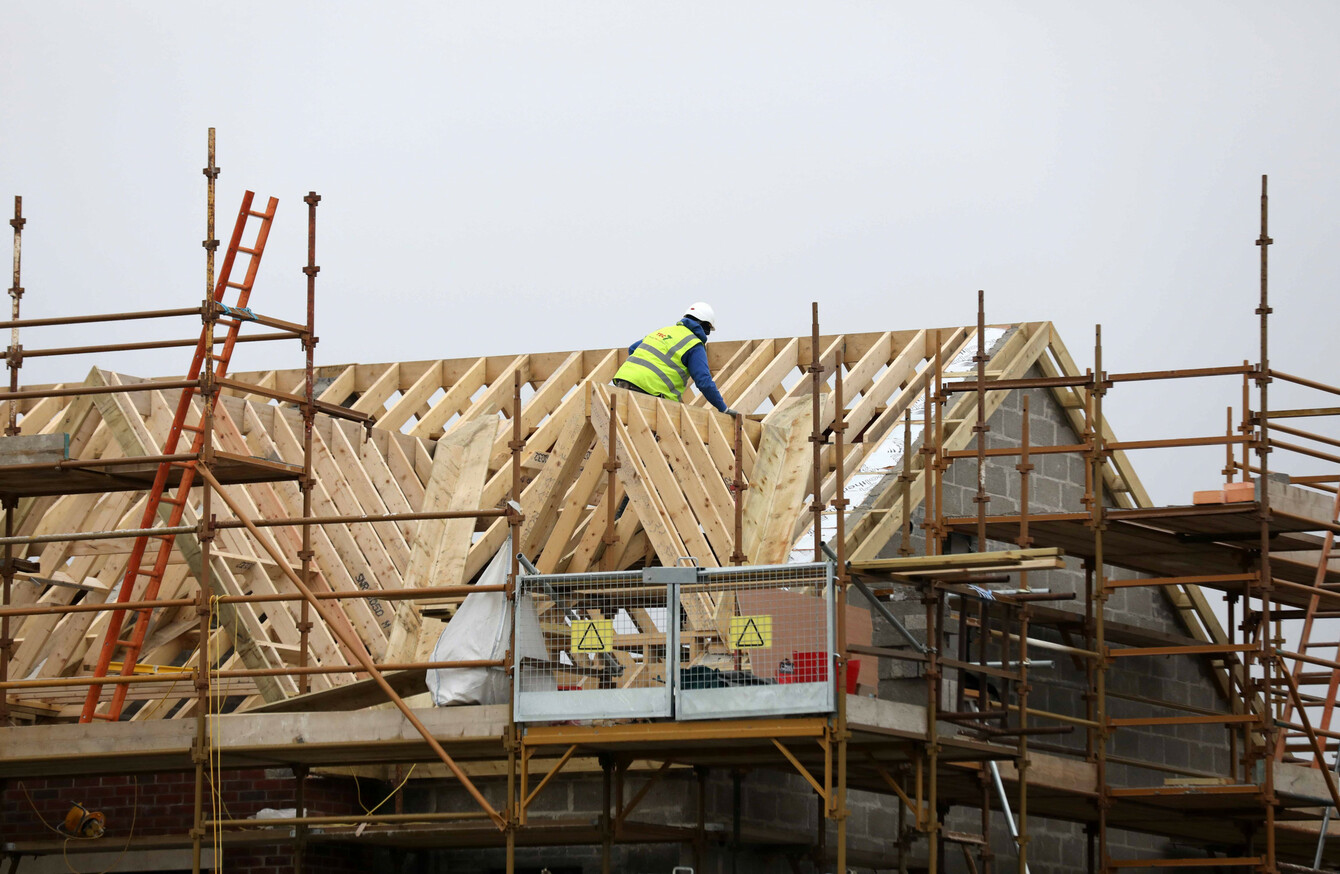 Image: Eamonn Farrell/RollingNews.ie
Image: Eamonn Farrell/RollingNews.ie
DUBLIN CITY COUNCIL – IRELAND'S biggest local authority – built just 74 social homes last year, with 69 of them being rapid-build modular housing. 
Discounting modular housing, DCC built just five social homes over the course of 2018. 
As well as this, it bought 63 turnkey homes – built by contract by a private developer – and worked to regenerate another 127.
In total, the Housing Department puts at 264 the number of new builds in the Dublin City Council local authority area, before taking into account Part V social housing.
Part V refers to the 10% of housing private developers must sell to the council for use as social housing.
Taking into account all of the different building streams, as well as houses built and acquired by housing charities, the total number of social homes delivered in the Dublin area was 651.
The latest Social Housing Needs Assessment shows there were just over 16,500 households in Dublin City on the social housing waiting list. 
Construction report 
The Housing Department released the social housing construction report for 2018 on Wednesday, following a less detailed breakdown being released last month.
It was revealed last month that there were 4,251 new-build social houses built in 2018, with the pace of delivery described by the opposition as "glacial".
Before the figures were made available on Wednesday, there were exchanges in the Dáil between Taoiseach Leo Varadkar and the Social Democrats' Catherine Murphy during Leader's Questions, in relation to social housing.
Murphy called for a more detailed breakdown of social housing delivery to be released other than the one last month.
"According to the 2018 social housing output figures under local authority build, the number is listed as 2,022, but the Minister for Housing, Planning and Local Government has bundled all of those categories and has consistently refused to give a breakdown of local authority build by individual category," Murphy said.
Varadkar responded that the government had ramped up its house-building significantly in recent years, and that he disagreed with Murphy about the "obsession about the different ways in which one categorises social housing as provided".
"There are many different ways to provide social housing," Varadkar said. 
He said he had "seen the joy" on the faces of people when they received their new social home for the first time.
"Nobody ever said to me that it was Part V housing, or built by Clúid or the Peter McVerry Trust, not built by the local authority, and that they did not want it," he said.
'There is a problem'
Speaking to TheJournal.ie yesterday, Murphy said she welcomed the publication of a more detailed breakdown of the social housing builds, saying it was important for transparency. 
"The problem is that if you don't break it down then you don't know what's working or not," Murphy said. 
"No matter what you're talking about, the numbers [of new homes] relative to the scale of the problem are low.
And it does appear that the local authorities have not been able to ramp up construction. 
Murphy said there could be many reasons for this, and that it was important therefore to have accurate, detailed figures. 
Social housing report
Wednesday's report shows significant differences in the number of social homes either built, bought or acquired by local authorities across the country. 
Clare County Council built no social houses at all last year themselves and bought just two. Offaly also built none and bought 12, while Roscommon built none and bought 14.
At the higher end of the scale, Dún Laoghaire-Rathdown County Council built 130 new social homes last year; South Dublin County Council built 238; while Cork City Council built 93.
In terms of builds by Approved Housing Bodies (AHBs – housing charities contracted to supply and manage social housing), there were a total of 1,338 delivered. 
The Irish Council for Social Housing (ICSH) said the figure represented "steady progress", but that more needed to be done. 
"We need to build on the successful partnerships between housing associations and local authorities to maximise social housing delivery," CEO Dr Donal McManus said last month.
In its social housing delivery report, the Housing Department said it had provided 27,103 social housing solutions last year, 106% of its target. 
The vast majority of these (just under 18,000) came from the rent subsidy Housing Assistance Payment. 
Rebuilding Ireland – the government's Housing Action Plan – commits to providing over 50,000 long-term social housing homes through build, acquisition and leasing programmes between 2016 and 2021.